The ice made in an ice maker or any other similar appliance that makes ice can stay around 3-4 hours before it starts to deform gradually. Various factors, like external temperature and the water's density, contribute to how long the ice stays frozen in an ice maker.
There are a variety of ice makers, making it challenging to keep them all straight. They have various features, sizes, and uses. This article takes you through different countertop ice makers that can keep ice frozen. Let's dive in.
Does Countertop Ice Maker Keep Ice Frozen?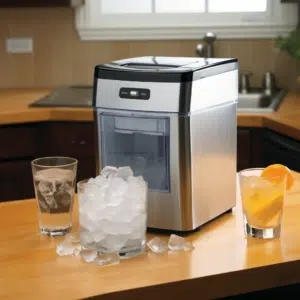 As the name suggests, countertop ice makers are ice makers that sit on your countertop and are ideally portable due to their size, weight, and compactness. They can make ice in 6-7 minutes.
Countertop ice makers are great for producing ice for immediate use but not for storing it. They are not freezers; hence if ice is left in the unit and not used right away, it will melt, and the resulting water will drain back into the reservoir to be converted into fresh ice or drain out, depending on the machine model.
For storage, you will have to remove the ice from the unit and place it in a freezer. But would there be a counter-ice maker that keeps ice frozen? Read on to learn more.
Are There Countertop Ice Makers With Freezers?
Countertop ice makers with freezer compartments exist regardless of not being so popular. Some contain a refrigerated or another system that keeps your ice frozen, so you don't require any drain lines. Let's look at some of the examples.
Frigidaire EFICI89-Silver Compact Ice Maker
It makes up to 26 lbs. of ice daily and has a great design. It is an ice maker and not an actual freezer because it doesn't keep ice below the freezing point for storage purposes.
Remember, when you take an ice tray out of your freezer that is constantly under at about 0 degrees F, it won't be similar to the 27-degree Fahrenheit countertop ice maker. Consequently, ice cubes out of your freezer will last much longer than those from the countertop machine.
Pros
Stainless colored finishes

It saves space in your freezer

It comes with an ice scoop

No chemical refrigerants
Cons
Luma Comfort Clear Ice Cube Maker Machine
It produces 28 pounds of ice daily, melts five times slower than cloudy ice, and is portable. It has a very powerful compressor that can crush anything. You can keep it at your kitchen countertop ice maker when not in use, as the installation is unnecessary.
It contains a side-mounted drain to catch any excess liquid when changing your containers with silicone rings in the package to cushion the weight.
Its attractive and charming design will sparkle on your countertop. This ice maker is portable, super simple, hassle-free, and ideal for the kitchen or bars.
This model is equipped fully with ease-to-use functionality- a countertop ice maker that keeps your ice frozen with low melting capabilities.
Pros
Compact design

Built-in cooling design

Built-in water reservoir

Makes clear ice

Quiet Big ice buckets
Cons
It makes a slight crashing noise
NewAir Portable Ice Maker 50 Lb
If you don't have the pace for a bigger model yet, you prefer the convenience of having ice handy. This small portable ice maker is the best option for you.
It is attractive with a compact design that makes it perfect as a countertop appliance. Its has low water and full ice alerts to avoid an empty machine and its quick 7-minute freezing time per cycle.
It has a five times slower melting rate. The LED display and push-button controls make it easy to set up and control.
It produces up to 50 pounds of ice daily, is easy to clean, and comes with three size options for choosing the one that suits your needs.
Pros
Steel skin

Faster than the rest

Powerful

It is energy efficient

Auto shut off

Easy to use
EdgeStar IBI20SS
It makes up to 12 pounds of crescent-shaped ice daily and can store up to half that much. It also operates as a freezer, removing the need for a drain as it keeps the ice frozen. Being a front ventilated, you may install it as a built-in undercounter or a freestanding unit that can be anywhere.
What to Look For In a Countertop Ice Maker?
You might be in the market looking for a countertop ice maker, but before you make a purchase, there are multiple factors to consider, such as:
Machine size- countertop ice makers are small enough to fit on your countertop. However, dimensions differ, so look at the dimensions before making your purchase.
Ice Cube Size and Features- Do you want an ordinary ice maker or something with other helpful features like a self-cleaning function, alerts to remove ice, or add water or a transparent window?
Built-in freezer- you may want a machine with an in-built freezer to keep your ice frozen for a constant supply of ice.
Factors Affecting the Output of an Ice Maker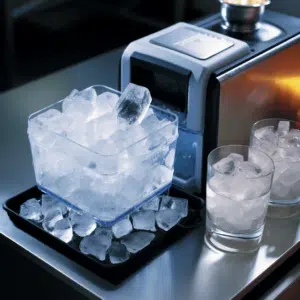 For any ice maker machine to meet the output given in the specifications, it has to be in good working conditions. But due to some elements, this may not be the case. Here is a list of factors that affect their performance and output.
Water Quality
Hard water leads to mineral deposit formation and buildup in the unit's internal components, reducing efficiency. Therefore, ensure to use filtered water for optimal ice production.
Water Temperatures
The ice maker machine works best if the incoming water temperature is 50 degrees F (10 degrees C). Therefore, use water that is too hot, warm, or too hot for the unit; you will notice a significant drop in ice production rate with temperatures over 100 degrees F resulting in no ice production.
Air Temperatures
Room temperature higher than 100 degrees F causes the machine to take longer than the set time, with the stored ice melting faster regardless of being insulated. Therefore, keep the room temperatures around your ice maker at about 70 degrees F with sufficient ventilation.
Machine Cleanliness
Clean your machine four times annually to prevent a slip in output and guarantee ice safety
Ideally, most countertop ice makers make ice quickly but melt at the same rate unless you move it into a freezer. Otherwise, you'll be running the machine repeatedly. If you want to keep your ice frozen for a long time without running the machine repetitively, you need an appliance with a built-in freezer, such as the shared examples above. I hope you find it helpful.