Living room decor ideas should start with one universal goal: to make a great space you can live in. Bringing your personality into the mix is as simple as deciding what items to buy and what colors you want to use. Mixing and matching furniture allows you to decide whether you want a more formal or less formal living room.
You can also change the furniture according to your activities in your living room. For example, some people prefer a coffee table with magazines and books for reading, while others might want more of a kitchen-dining set-up for eating meals. The same goes for color. You can decide to go with one color throughout the room or mix and match different shades of color to suit your tastes. Here are some ideas for mixing and matching living room furniture pieces.
Mixing and Matching Living Room Furniture Pieces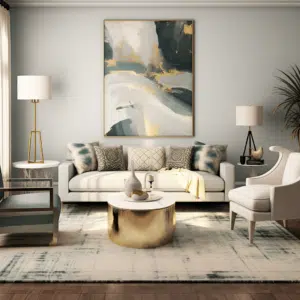 Planning your furniture layout for your living room can be a daunting task. There are countless living room furniture pieces from couches, chairs, coffee tables, rugs, curtains, and much more. The best way to tackle this project is to start by identifying the features in your living room that you want to emphasize. For example, if you have a fireplace in your living room, create a sitting area around it by mixing chairs with a bench or ottoman.
Choose a Suitable Color Theme
When picking furniture for your living room, try to determine the kind of room you are trying to create. If you are looking for a formal living room, think about picking up dark pieces of furniture with fewer patterns. If you're going for a more upbeat and carefree living room, use a rainbow of bright colors. The most important thing is to make sure that your furniture complements each other. The last thing you want is to have two pieces that look odd together.
Having a variety of textures in the living room is essential. You find that some rooms have just one texture, while others have got several textures. It is because using texture adds depth and contrast to the room. Choose furniture and home decor items with different textures such as microfiber, mesh, leather, or suede to feel more interesting. This will give you a more artsy look. Adding texture will also make the room feel comfortable.
Introduce new pieces one at a time. This is the only way to achieve an eclectic and well-balanced mix of furniture. Every time you bring home a new piece, ask yourself: "Does this fit with what's already here? " It's easy to go overboard when you're decorating your first home, so take it slow. You can incorporate unrelated pieces like a chair or a recliner next to a sofa, as well as vases, coffee tables, and side tables.
Shapes can bring your furniture and accent pieces together. Think about rounded backs on the furniture or sleek, straight lines for the home decor. Following this pattern will add cohesion to your space.
Everything in your living room doesn't have to have the same shape. Pick a few prominent features and make sure they complement each other.
If you choose accent pieces from the same collection as your furniture, you'll draw more attention to the entire room. Alternatively, choose accents that seem to blend well together. There are several ways to accomplish this. The materials, the colors, or the themes can unify the accents in your home. You can bring a cohesive theme to the overall picture by using these elements like wall art, coasters, throw pillows, and more.
If you have a matte-finished room, avoid adding accents that don't match, such as an eclectic blanket or a small sparkly picture frame. You get a cluttered appearance if your furniture has different styles.
Mixing furniture with different dimensions adds visual interest to your living room. For example, two chairs of different heights look great on the same wall, while a tall sofa works well with small tables. Similarly, placing a chair in front of the sofa creates space for the headrest. Ensure that the height of the sofas is proportional to the height of the chairs.
It is imperative that you consider the layout of your living room when you decide on the furniture in it. For example, if you have an active family that likes to spend time together in the living room, furniture for living room layouts will be entertaining. If you lead a quiet lifestyle, furniture for living room layouts will focus on comfort and ease.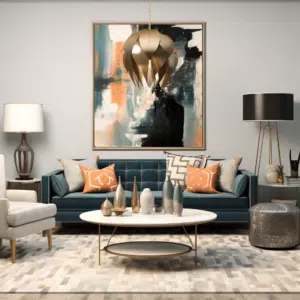 You cannot overestimate the power of repetition in design. When you repeat a similar pattern or item in your room, your room will appear more polished even if it has different styles.
Ensure nothing seems exaggerated once all is done. Once it has been done, it is easier to detect such spots than when working. Choose neutral shades if your accents are overdone. Alternatively, solid colors will be needed to counter patterns.
Frequently Asked Questions
What Is the Advantage of Mixing Furniture of Different Colors in Your Living Room?
The advantage of mixing furniture of different colors in your living room is that it can encourage better moods and bring a sense of serenity to the room while adding a pop of color to your space. You can combine organic, earthy tones with bolder, more vibrant colors for a lively feel or go for a tranquil color palette for a calmer atmosphere.
Can I mix leather and fabric furniture?
Families often find themselves with mismatched furniture because they inherit it from their grandparents, buy a deal from a consignment store, or purchase it for a specific space to save money. When considering what furniture to include in your home, there are many styles, colors, and textures to choose from, so your imagination only limits the possibilities.
Every living room needs the right mix of furniture to make guests feel comfortable. One way to get the perfect combo is to select furnishings with different textures and colors to create contrast. This will make your space more inviting while also preventing it from looking like a cluttered, mismatched mess.