If you've limited space in your house, then you are aware that every piece of furniture must be carefully chosen and coordinated to make the most of your space. A dining table is one important piece of furniture that many people prefer to have in their houses. However, if your house lacks a formal dining room, you'll have to get creative with how you set up this piece of furniture in your living room.
If you have a little small dining table that is adequate for your space and needs, it might fit perfectly in a tiny living room. However, this will require you to have much creative imagination and be willing to move furniture around as needed to make it work.
When designing a comfortable living area, sometimes all you need is a little advice and creativity. This post will provide you with some of the best ideas for arranging your dining table in a small living room. But before we dive into that, let's first determine whether you require a dining table in your house or not.
Is a Dining Table Necessary in Your House?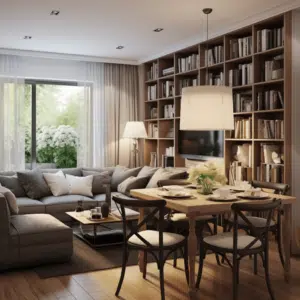 Often, people spend much of their time choosing larger furnishings for their homes, such as a sofa or a bed. Thus a dining table is generally acquired without much thinking. Some people even opt for a TV tray while sitting on the sofa or dining at their kitchen island instead of purchasing one.
But consider this: how will you feed guests if you don't have a dining table? The beauty of a dining table is that it provides a lovely space for you to do so much more than sit and eat. The table may be used in a variety of ways and is a smart investment for the home.
To answer the question of whether or not you truly need a dining table, we'd say it all depends on your lifestyle and whether or not you value a multi-purpose piece of furniture in your home. If you answer yes, buying a dining table will be a significant and profitable investment in your home.
How to Arrange Your Furniture in a Living Room Dining Room Combo
If you want a dining table in your home and your house lacks a formal dining room, try out these ideas to help fit the table in your living room. First, it's recommended that you start by removing the smaller furniture pieces and throw rugs that delineate your space areas. You want to feel like you're starting from scratch. Here are some suggestions for how to incorporate that table into your small living room.
Locate a location in your living room that will act as a room divider, and place your dining table there. This will create a barrier between your living room and another area. Because your kitchen is almost certainly the next room after your living room, it's only natural to place the table closer to the food.

Place your couch in such a way that the table can be placed behind your dining table. This creates a distinct space for the table.

If possible, avoid placing the dining table in front of doorways, hallways, or other high-traffic areas in your living room. This will distract those at the table, making your dining table less functional and enjoyable.
Ensure your dining table's perimeter has around 30 inches of room around it. This will allow you to draw out a chair and sit properly without crashing into other furniture in your living room.
Small Apartment Dining Table Ideas
If you live in a small house, then you may have a limited amount of living space. Finding a dining table for such a space can be hectic at times. Below are some dining table ideas for small apartments:
A floating shelf:

Locate a suitable wall in your living room or kitchen for a floating shelf. You can buy a ready-made shelf, which is the simplest option. You might also make your own. If you're on a budget and can't buy it right now, this would be a better option. Adjust the height of the table to fit the chairs you'll be using.

Bistro tables for two people:

If it's just you and maybe one other person now and then in your house, a Bistro-style table will suffice. If you have a balcony, you can buy one of these outdoor tables and move it inside your house when you need it.

A fold-away table:

If you live in a small house, a fold-away table is another excellent alternative. You'll only need to carry this table out of the storage area when you need it. After your meal, you can then clean, fold, and store it back in the storage area.
Dining Table Ideas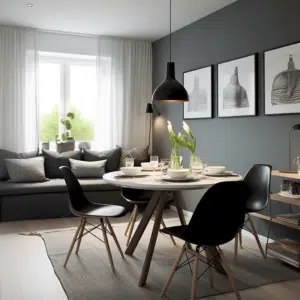 Card table:

A card or games table can be converted into a dining table. Drape a tablecloth over it, and you're ready to go.

It's not a problem if the game table's surface has holes in it. Before adding the tablecloth, cut a piece of 3/4 inch single-sided plywood to the shape of the table and set it on top. This provides you with a stable and secure dining surface. After dining, the plywood can be removed and kept in a safe location.

A desk:

Working from home frequently necessitates using a desk, and hence this piece of furniture is typical in many houses. If you have one, clear it out, cover it with a tablecloth, and you're good to go.

An entertainment center:

You can use a unit that is around the height of a table and free of electrical things as a dining table. It isn't the best solution, but it will work perfectly well.
Conclusion
Now you should be able to squeeze a dining table into your small living room confidently. If you don't prefer having a dining table, you can easily choose one or more options listed above. Just keep in mind that there is always a choice, regardless of your space or budget. It will also help if you use your imagination and are creative.