There is no denying that many homeowners are installing patio doors that come with built-in blind. By far, there are plenty of advantages and disadvantages to having such kinds of patio doors. Some homeowners find these patio door types useful due to the passageway attractiveness and ease of use. However, learning the ins and outs, you discover patio doors with built-in blinds problems. If you consider them, you will always have to rethink your purchase of patio doors with built-in blinds.
So what are these disadvantages of having such additions for patio doors? Plus, what benefits can you get once you get a patio door with built-in blinds problems? Let's learn.
Pros And Cons Of Patio Doors With Built-In Blinds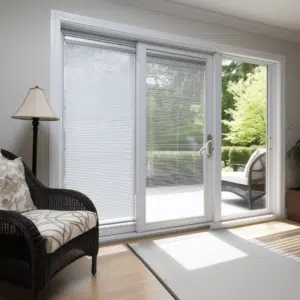 Any home project aims to improve the home's value and enhance the house's convenience. While they have plenty of advantages, you can also count on doing more harm than good when investing in such patio doors. Our focus today is why your built-in blinds inside the patio doors could spell more doom rather than enhance your doorway.
Cons With A Built-In Blind Patio Doors
Build-up of Dust and Debris
Patio doors with built-in blinds come off as the best doors with easy-to-clean convenience. Since the binds are sealed between the glass panes, dirt or dust do not get in quickly. However, you can always count on the seals to become loose or break after a while. There is also a possibility that such doors can not remain airtight forever. Once the seals come loose, you will need to repair the in-built blinds or replace the entire patio door completely. Failure to do so means dust and dirt flow into the seals, onto the blind, and ruin the patio door's whole interior.
There is much debate on whether patio doors with built-in blinds are energy efficient or not. According to house designers, having built-in builds instead of a space between the panels would reduce the patio door's insulation. As a result, the door energy efficiency also reduces if there is a drop in the door's insulation. But some manufacturers solve this problem by installing a triple glass structure to make up for the panel door not having the built-in blinds. However, such patio doors are expensive, and you will have to fork out more money for efficiency.
Simply put, an advanced patio door option means you will need extra bucks, unlike going for a typical patio door. Of course, this is a drawback since the built-in blind can end up costing you a few hundreds of dollars more due to the convenience and functionality they offer. Keep in mind that the expense could even be higher, especially when working with advanced patio door options. Be sure options such as a motorized or smart built-in blind in patio doors are as expensive as buying a whole new door. Not forgetting the cost of repairing built-in builds is also higher than fixing a standard patio door.
Suppose you are into experimenting with different patio door designs. In that case, you are out of luck with patio doors having built-in blinds. This is due to patio doors with built-in builds reducing the option of having any material, color, or design you want. Unlike traditional patio doors, you only get to work with a few techniques on offer.
Quite Impossible To Repair or Replace
Top among the most common issues for most homeowners having patio doors with built-in blinds problems is the subject of repairability. The debate always centers on how hard to fix are patio doors with built-in blinds. Remember, built-in blinds may be working through mechanical functions as the primary internal mechanism.
Once the mechanical part malfunctions, there is a good chance the built-in blinds fail to work entirely. And once such patio doors fail, most homeowners find them hard to fix. The uphill task of disassembling the whole door just to get the built-in blind working normally again. Now imagine getting rid of your entire patio door because the built-in blinds fail to work correctly.
Pros of A Built-In Blind Patio Door
Although patio doors have built-in blind problems, this does not mean you have to write off the option wholeheartedly. There are indeed benefits that come to mind for most homeowners looking to have these advanced patio doors with built-in blinds. Here are the leading reasons why you should go for a built-in blind patio door.
A patio door with a built-in blind offers the convenience of controlling light coming inside and the view from outside. That is especially the case for blinds that can tilt and hide the interior from outside view. Even better are motorized blinds which can work remotely without having to rotate or tilt them manually.
The daunting task of cleaning blinds is something that most homeowners dread to encounter. Luckily, having built-in blinds reduces the menace of cleaning since the structure allows for blinds to be between panes of glass. Inside the glass panes, the blinds don't get dirty or dusty because they are in a sealed environment. Therefore, be sure you can ease up on the cleaning when working with such built-in blinds.
Without the capability to get dirty or dusty, patio doors with built-in blinds give you an everlasting sharp and attractive look to your doorway. This is unlike other regular blinds, which can be damaged whenever harsh weather conditions hit your entrance. Therefore, count on these kinds of built-in blinds to enhance the beauty of your door.
If you need a long-lasting doorway, patio doors with built-in blinds are the definite home feature to go for any time. For starters, such patio doors do not need frequent replacement like your regular blinds door. The blinds are slotted inside the glass panes, leaving them out the way and unexposed. Such a design means damages and defects are not familiar, which leaves you with a patio door with a longer lifespan.
Are Built-In Blinds Worthwhile in Patio Doors?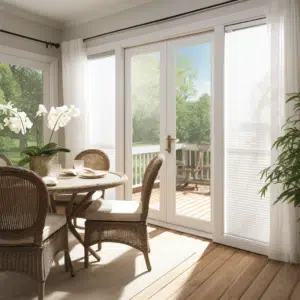 The downsides to having patio doors with built-in blinds are evident but should not worry you. Patio doors with built-in blinds are worthwhile since they have advantages you can look forward to and enjoy. So, rather than focus on the problems, only consider that such patio doors offer the necessary home convenience, safety, and style.