Cupshe vs Beachsissi are two of the most popular brands in the swimwear industry. These two companies manage to capture the attention of more than 70% of consumers in the swimwear market, and they both have impressive reviews mostly due to their excellent swimwear designs.
In this article, we will look at the different aspects of these two brands and how they compare to each other in terms of branding, product categories, pricing, and more.
Cupshe vs Beachsissi: Overview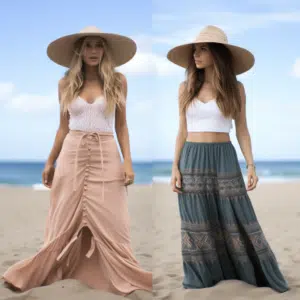 Cupshe Overview
Our impression was that Cupshe boasts a quite strong online community with over 900k followers on Instagram. But that's too good to be true; so let's dig deeper.
Reading on the company's website, we realized that Cupshe has been in the business since 2015 and focuses on empowering women with any body shape. The brand was started in sunny California and they sell arguably everything you need: from cute cover-ups to bikinis. Plus, they offer swimsuits that range from extra small to 4XL, meaning buyers will find the correct fit easily.
Customers at Cupshe will also receive offers that go up to 50% off, alongside a 30 days return option after purchase. They have a dedicated chat support channel for those with questions and queries. Not to mention that they have 288k approved reviews, a satisfactory indication for the skeptical shopper out there.
Beachsissi Overview
Beachsissi, on the other hand, is relatively new, having been established in 2017. However, Beachsissi already has over 2 million orders sold under its belt. The company has garnered almost 300k followers on Instagram, which is impressive for a 4-year-old brand.
Based in China, Beachsissi offers a wide range of swimsuits, dresses, cover-ups, and other beach clothing. They also offer jewelry that would go would go well with beach outfits.
Beachsissi beachwear comes in unique and feminine designs that are hard to come by. If you are looking for eye-catching styles, but not over-top, the Beachsissi brand is a great recommendation.
Another impressive thing about Beachsissi is that they're moderately priced, as the average Beachsissi swim set costs around $130. It is not highly-priced or overly cheap that you'll start questioning its quality.
Ordering at Cupshe
On the Cupshe website, shoppers can explore a whole range of swimsuits, from high-waist bikinis to those cute one-piece varieties. They also feature a cover-up category where buyers can shop for lightweight summer dresses, kimonos, tunics, and more.
Shoppers are entitled to free shipping within the USA when they hit $49 and if you're interested in just one or two pieces, shipping is still quite affordable at $2.99.
Cupshe also offers expedited shipping to select addresses so buyers can receive their orders in less than a week. And in case you're on a budget, you're bound to be impressed by their after-pay. This is where you get to choose to pay off your clothes in installments rather than upfront.
Cupshe Swimming Suits: The Fit
Well, this is where things get a bit tricky; swimsuits from Cupshe could look great on the model but have a terrible fit on you. While this does not always happen, it is important to pay attention to the item in question before making the final move.
Of course, when it comes to sizing, the measurements on their charts are promising and true to size. But before ordering, consider updating the measurements of your but, under-bust, and hips, and remember to wear minimal clothing as you take your measurements.
What Customers Say About Cupshe
Everyone loves Cupshe at the beach. They're Instagram stars!
The quantity of Instagram beach selfies tagged with their products is staggering. Among the top 100 women's clothing brands on Sitejabber with a 4.22-star rating. Cupshe is praised for its quality, shipping, and value. Cupshe is known for its excellent customer service and high-quality fabrics. Others may praise the swimsuits' true-to-size fit, which is rare in beachwear.
Ordering at Beachsissi
Just like Cupshe, Beachsissi offers many different types of swimwear, outwear, and accessories. They break their products into various categories to make sure shopping isn't overwhelming. Swimsuits, in particular, come in a range of styles and colors – from bikinis and one-piece suits to tankinis and beyond.
Beachsissi also has activewear that'll keep you looking good while exercising, such as yoga pants and tops for morning workouts by the coast. There're also other casual options such as breezy dresses that can be worn out to dinner overlooking the water. One can even find jumpsuits and rompers in this section.
Cupshe vs. Beachsissi looking to up your beachy fashion game, pair some of their accessories with a cute bikini that they also sell. For those on a budget, you can also score tons of deals in their sale section. In addition to a great deal, many items are launched at exuberant prices due to their seasonality – so definitely take advantage of this feature because the sale section is always permanent and regularly updated.
Overall, Beachsissi is awesome for those looking to do a haul not just for bikinis. They offer free shipping for orders above $59 and it takes anywhere between 12-18 days for standard shipping. Note that they're based all the way in China. Although this could be a long wait time, it's perfectly agreeable as you won't have to pay for the extra delivery.
Beachsissi Swimsuits: The Fit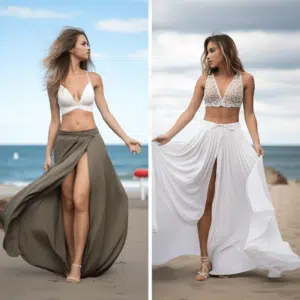 Instead of worrying about ordering the wrong size, you can feel assured that each swimsuit appears exactly as cupshe vs beachsissi will appear on yourself; thanks to the product pages on beachsissi.com tagging photos from Instagram.
These tagged photos also display models who have tried and tested the products during their photo shoots. This gives you real and accurate visuals for how you'll look in a swimsuit of your choice.
Bodysuits are hand-finished and fitted to an exact body type for a perfect fit after delivery, but comfort has been addressed during manufacture, so all swimming suits will fit well despite this little alteration. There are also numerous additional options to check your size before buying, including free details on selected items.