We all adore our pets, which is why we let them sleep on our beds and couches and let them rub against our clothes. Therefore, pet hair is easy to find anywhere, whether on clothing or blankets. Unfortunately, cleaning pet hair from clothing and upholstery may be a hassle.
The effectiveness of washers and dryers is measured by how well they can clean and remove stains, how much water and energy they use, and how gently they can remove pet hair from particular materials.
Additionally, the specialty cycle and rapid cleaning are incorporated with these machines. Furthermore, another crucial aspect of being considered is how simple they are to use. While you load your clothes into the machine, you may also evaluate the control panel, its response time, the opening and closing of the door, and how many points it earns.
What if you could locate the top washers and dryers for removing pet hair efficiently? Well, let's look at the top designs and products.
Best Washer and Dryer for Pet Hair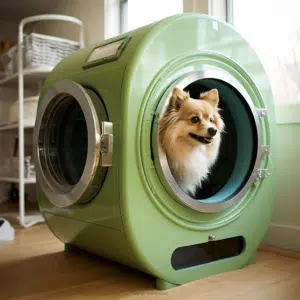 GE Top Loading Pet Hair Washer
The GE High-Efficiency top loader machine is a classic option on the more expensive side and has an agitator that is very simple to use. The fact that it has an automated two-hour pre-soak mode where you can leave any fabric covered with pet hair is very impressive.
You will be astonished by the machine's cleaning effectiveness and the amount of pet hair removed from your fabric. There are also deep fill and rinse choices for specific water levels. It offers you an excellent capacity and is power-efficient.
Best Dryer
Samsung Large Capacity Electric Dryer
This dryer is for you if you frequently have many clothes filled with pet hair. With an astounding 7.4 cubic feet capacity, this Samsung model can successfully dry a large amount at once. It has sensor drying in addition to the ten preset drying cycles, so you won't have to worry about it finishing the job. Last but not least, this dryer offers smart care, allowing you to diagnose problems using a smartphone.
Best Stackable Washer and Dryer
LG WashTower
Consider a stackable washer and dryer set like this one from LG if you're limited on space. This washer can manage much laundry at once: The washer is 4.5 cubic feet, whereas the dryer has a huge 7.4 cubic feet of space.
Other noteworthy aspects of this combination include allergenic detecting technology that eliminates 95% of household allergens and the ThinQ app that allows you to do the laundry while you're out and about living your life.
What To Consider When Selecting the Best Washer and Dryer For Pet Hair?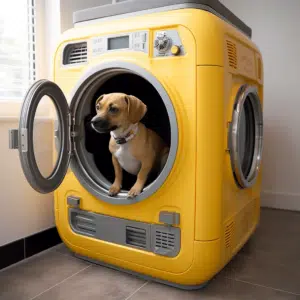 Since washers and dryers are expensive expenditures, it is advisable to conduct research before making appliance purchases. Keep these things in mind to make the best decision possible.
Size
When it comes to washers and dryers, size counts in terms of capacity and available space for housing your equipment. Measure the available area for the equipment before making a purchase, keeping in mind that wires, water hookups, and vents will require additional space.
Think about the size of your family and how much laundry you produce before choosing a capacity. For instance, larger families would require washers and dryers with greater capacity unless the household doesn't mind doing laundry more than once per week.
Budget
Contrary to popular belief, you can get a high-quality appliance for less money than you might expect. Just be aware that there aren't likely to be many extra features, such as automatic soap dispensing, sensor-drying options, or smart capabilities.
Top-Loading versus Front-Loading
Appliances can be front- or top-loaded depending on personal preference and available space. A top-loading option is typically preferable if you have a narrow space; if the room is limited, you might prefer a stackable set that opens from the front.
Unique Features
These days' washers and dryers have many unique features, like WiFi connectivity and steam drying choices. But remember that these extra features come at a higher price, so decide in advance if you'll utilize them.
Set Vs. Solo Acquisitions
Purchasing a washer and dryer combo is undoubtedly practical. The cost of going this approach may also be higher than purchasing the appliances separately or when required. Consider your budget to assist you in deciding what's best for you.
Frequently Asked Questions
What is the Most Dependable Washer and Dryer Brand?
It makes sense that this is a difficult question. Nowadays, several reliable businesses are producing high-quality washers and dryers. Whirlpool, GE, LG, Samsung, and Maytag are among the most well-known (and dependable) brands, but there are many others that are equally good. Basically, if you recognize the brand, chances are good that they produce a quality item that will endure.
Which Month Is Best For Buying A Washer And Dryer?
Sometimes you urgently require a new washer and dryer. However, if you have some time to spare, think about purchasing one over a holiday week when businesses and merchants frequently cut prices. Is President's Day, Labor Day, Fourth of July, Black Friday, Thanksgiving (Black Friday and Cyber Monday), or New Year's Day approaching? Usually, those are the best moments to buy. (Of course, there are always going to be major sales.)
How Frequently Should Washing Machines and Dryers be Replaced?
You don't need to replace your washer or dryer unless it constantly starts to operate poorly; for example, if you frequently pull damp garments from your dryer or have leaks in your appliance. Sometimes all that's required is a minor fix. However, if your washer or dryer is over ten years old or frequently gives you problems, it's probably time to consider purchasing a new one.
Final Take
We hope this article has shed some light on the best washer and dryer for pet hair. The tips given above on how to choose the best washer and dryer for pet hair can be useful if you plan to buy a new washer and dryer.