Are you in a dilemma to choose the best oven from Electrolux vs. Miele Ovens? You are not the only one in this condition. Both brands have some impressive options to choose from.
The list of features can be quite overwhelming if you're unfamiliar with the ins and outs of the best ovens available in 2022. However, we want to help you narrow down your search for the perfect range.
This article explains everything about these two prestigious companies to give you some insight into what to look for before investing in one of these premium Oven ranges.
Electrolux vs. Miele Oven Comparison: Brand Overview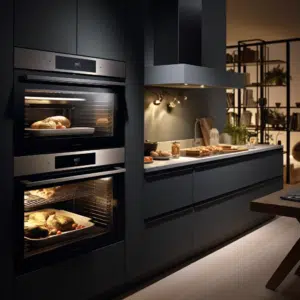 If you've been looking for new appliances, you've probably noticed that a few major players dominate the market.
Electrolux is one. A global appliance giant, the Swedish company was founded in 1919 and has a long history of invention. The company makes dishwashers, washers, and dryers, but its ovens stand out.
Miele is another prominent appliance company. The German electrical repair shop founded in 1899 has become a global giant recognized for its sturdy kitchen appliances. The company makes vacuums, laundry machines, and coffeemakers.
Compare these two brands on several factors. Both brands sell everything from basic, affordable ovens to high-end professional ones. Miele ovens are reliable and efficient, and Electrolux offers some of the best budget ovens.
How Often Will You Use Your Oven?
One of the biggest factors to consider when comparing Electrolux vs. Miele ovens is how often you and your family use the stove. If it's just for special occasions and gatherings, then a smaller capacity is fine, but if you want to bake regularly, a larger capacity might be a better fit for your lifestyle.
Both Electrolux and Miele have single and double-wall oven options.
A double wall oven is great if you have the space in your kitchen since they don't take up much more room than a regular wall or freestanding range but provide extra cooking space.
Electrolux vs. Miele Oven: Features
Modern ovens come with various features designed to make cooking and baking easier and more convenient. They are available in different sizes and designs that take into account cooking habits and kitchen styles.
Let's see what Electrolux vs. Miele oven options are available today.
Single and double wall
Miele ovens are available in both single and double-wall oven configurations. With the single-wall type, you'll find that it tends to be more affordable and easy to clean. A downside is that it can be difficult to fit larger items inside.
Electrolux offers both single and double-wall ovens and combination models that include both an oven and a microwave unit. These appliances come in various sizes ranging from 24 inches to 30 inches in width.
The single-wall ovens from both brands can be purchased with an optional warming drawer below the main cabinet, which offers even more space to store dishes.
Gas vs. Electric
Both companies also offer gas and electric models in their product lineups. Gas is generally considered to have superior heat transfer compared to electric models, but electric ovens can achieve higher overall temperatures than gas models. That said, both manufacturers offer gas and electric models.
Both companies offer electric models that feature convection cooking, which uses a fan to circulate air around the food for even browning.
Self-Clean Function
While both brands feature wall ovens that have self cleaning options, Miele has a steam clean feature as well as their regular self cleaning feature. This steam clean option allows you to use less heat to get your oven cleaned by using steam instead of high heat.
Miele also has a unique feature that allows you to choose whether your oven door opens downward or swings out while opening.
Miele offers a number of convection options and settings that make cooking easier, including cooking food at different temperatures in the same oven. Electrolux offers fewer options and settings, but they are generally easier to use.
Electrolux vs. Miele Oven: Designing Choices
If you take into consideration how your oven will look in your kitchen. The Electrolux brand offers a more modern design, especially if you're looking for something with stainless steel finishes. If you're looking for something that matches existing décor or to coordinate with other appliances, this may be an important consideration for you.
Miele models tend to focus on ease of use, with straightforward controls and intuitive interfaces. Electrolux models focus more on style, with luxurious finishes and advanced functionality.
Electrolux vs. Miele Oven: Price Comparison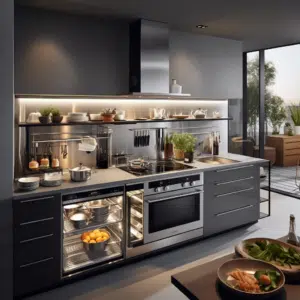 For most people, price is one of the most important considerations when deciding on an appliance purchase.
Electrolux offers a more affordable price tag than Miele for comparable models. The difference may be small in terms of the dollar amount, but it can add up quickly if you're investing in a full suite of kitchen appliances.
Performance
Miele ovens have a reputation for being high quality and powerful, but so do Electrolux ovens. Both brands have models with a range of cooking options and fan-assisted cooking, which means you can cook at lower temperatures and food is cooked evenly throughout.
If you're looking for both brands' top-of-the-line models, the Miele has a slight performance edge over the Electrolux. The Miele MasterChef controls let you choose from more than 100 automatic programs for cooking meat, poultry, and fish, with preprogrammed settings for various types of vegetables.
Which Brand is Right for You?
In fact, you can't go wrong with either brand.
But, if you have some particular preferences, then one of these brands might be better suited to your needs than the other.
Suppose you're a novice baker and don't plan on using your oven for anything beyond basic items like pizza or frozen foods. In that case, Electrolux is probably the better choice because of its smart features and intuitive interface.
However, if you're an experienced chef who wants to use their oven for more complex recipes, then Miele is probably a better option because of their advancements in steam and self-cleaning technology.