Straight from Brazil, Taj Mahal Quartzite resembles the Italian Calacatta marble in appearance, but it's much harder and more durable.
Not to be confused with quartz countertop, Taj Mahal Quartzite is a natural stone product. It is ideal for kitchen countertops without showing the scratching issues associated with marble.
This quartzite boasts a traditional white background with subtle gold veining pretty much like the brush strokes of a paintbrush.
With its soft look and very light color of marble, Taj Mahal Quartzite is just as dense and durable as granite, with beautiful richness and depth to it.
In other terms, it's a stone where style meets sophistication.
What Backsplash Goes With Taj Mahal Quartzite? Here are a few suggestions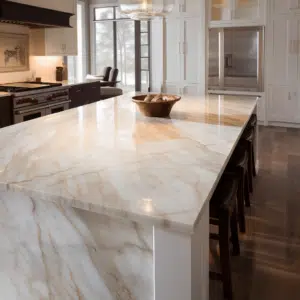 The fairly subdued color and design of the kitchen's Taj Mahal quartzite countertop go beautifully with the Walker Zanger Duquesa backsplash, which appears a little bolder in design.
Colors are mostly warm in tone, white with creamy tan or beige marbling, and sometimes sandier taupe hues. Overall, this countertop is light in color and serves well in neutral or warm-toned kitchens.
With its prominent creamy gold tone that creates a grand elegance, Taj Mahal quartzite is also best complimented with a warm cabinet color and backsplash.
This is especially the case when utilized in the kitchen or bathroom design.
Medium mahogany brown or vibrant cherry wood are also great pairings with the golden shine of the Taj Mahal.
While cabinet hardware in oil brushed bronze-tone virtually appears to camouflage within the cabinets, Brass is yet another chick fixture that does a wonderful job with this goldstone.
Chandeliers and reflective glass tiles also showcase the richness of the Taj Mahal's bullion veining.
Moreover, this stone is a stunner and wears smooth in high-traffic common spots. Indeed, Taj Mahal Quartzite is a spectacular alternative to the lavish look of marble, of course with more durability.
Meanwhile, it's great to state that subway tiles are some of the most popular backsplashes. These are named after the tiles employed utilized in most subways. They deliver a classic and clean-cut design.
Should Your Backsplash Match Your Countertop?
Usually, it is best to choose your countertop before your backsplash. This is simply because the countertop is a much more substantial investment in comparison to the backsplash.
Besides, it's the one that gets the most use and is often among the most visible features in your kitchen.
Other people usually ask whether the backsplash should be darker than the countertop.
In regard to this, a backsplash can be an outstanding focal point and still be applicable when you want to feature other parts of your kitchen such as countertops.
Those looking for a sleek, modern appearance would be wise to choose a dark gray or black quartz countertop to set off white cabinets and a white backsplash.
Another important thing to know is that you cannot use chemical cleaners to help clean this goldstone.
Chemical cleaners such as Simple Green, 409, and Windex will strip the sealer away, leaving the surface vulnerable. Besides, this quartzite is almost heat-proof.
Does Taj Mahal Quartzite Require to be Sealed?
Quartzite is generally hard, which prevents etching and chipping during kitchen activity.
As such, quartzite should be sealed at least once per year. This will help to combat stains and keep the counter looking shiny and new for many years.
The most suitable quartzite countertop sealer products are usually made of natural wax, acrylics, or polyurethanes.
Although these are easy to apply, they tend to wear off quickly and often require constant resealing.
In case you want a sealer that will not wear off quickly, consider one made of siliconates or such a substance that repels liquids.
Design Tips
The warmer shades in the Taj Mahal make it an excellent alternative to the common white countertops that are trending.
Matched with off-white, cream, or beige-colored cabinets, designers and homeowners can deliver a look that resembles the clean simple lines of an all-white kitchen. Yet it provides a softer and homier overall atmosphere.
Compliment the look with furniture that features detailed carvings and craftsmanship.
Cabinets pull and handle with interesting tones and textures also work well with Taj Mahal quartzite.
For kitchen décor, opt for antique accents like glass milk bottles as a vase, or ceramic jars to hold flour, sugar, and other staples.
If you want a look with more color, the tan and beige tones of the Taj Mahal design complement navy blue shades, which creates a sophisticated look that blends with today's trend for a timeless aesthetic.
For a more neutral effect, opt for a blue with a grew undertone such as Benjamin Moore's Wescott Navy.
Alternatively, you can choose to go bold with a brighter blue such as Indigo by Sherwin Williams.
Then warm up the overall look with copper or brass hardware to achieve a subtle contrast with the blue tones, while accessing the brown and gold. Meanwhile, you can stick with brushed nickel or gleaming silver for a more luxe touch.
The Bottom Line
All things considered, the Taj Mahal is one of the best premium decorative stones around.
With this post, we hope you're a little more familiar with the properties of this goldstone.
Perhaps now you realize why it's so costly. It brings the beauty of the finest white marble, but with the much-needed hardness that puts almost everything else at bay.
You aren't going to get anything tougher than this, of course, unless you can manage to get a countertop made of authentic diamonds.