Are you interested in getting more functionality to your toilet? Do you want to forget about plumbing issues like your toilet getting clogged? I know you might be wondering how? Never mind, keep on reading. 
Your toilet accounts closely for 30% of water use in your home. Getting an eco-friendly toilet can be of dual benefit to the environment and yourself. While most people are familiar with conventional toilets, a model's design, flushing power, and water conservation are crucial when purchasing a toilet.
Toto toilets are loaded with technology-based features and other amenities, as we will see in the subsequent section. They are top-rated as the best hygienic toilets in the market, environment friendly, and excellent convenience. 
Established in 1917, Toto has a proven track record of formulating and selling high-quality toilets and toilet technologies. Toto toilets are one of the company's products they take pride in; therefore, they are priced highly.
Toto toilets are worth the value and incomparable against their competitors in the industry, and here is why:
 Why Toto Toilets are Expensive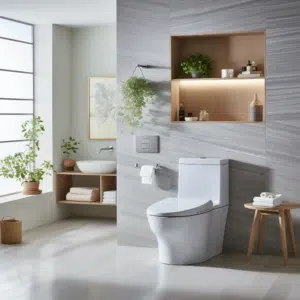 Integrated seats
Toto produces high-end features and premium toilet seats such as a bidet wand, heated seats, rear warm water washing, and a warm dryer.
The Toto seats are unique because they have a built-in night light, instant lid, and remote control.
Remote controls with bidet, heat, flush, and dryer functions. With such features offering excellent convenience, it's worth the price tag.
Flush systems
Toto toilets have a wide range of flushing systems, such as a tornado flush system, a quiet flush system, and a double cyclone flushing system. Each is designed for a specific purpose. 
For instance, they redirect the flushed water for adequate clearance of the toilet bowl, Increasing the pressure or force of flushing and lessening the sound when flushing.
Some of the toilets have a dual flush feature which saves water usage. They offer an option to flush at a high pressure which controls clogging issues.
Self-Flushing
Toto toilets with such a fantastic feature are costly but worth the price tag. The self-flushing toilets have advanced sanitation, minimal water usage, and are durable. Such toilets are standard in malls and other commercial places.
Bowl design
Toto toilets have a variety of designs and shapes like:
One-piece Toto toilets

have a clean and functional aesthetic. They occupy less space and are shorter though most expensive than the rest.

Two-piece Toto toilets

have a separate larger tank and a bowl, which increases the flushing pressure.

Elongated Toto toilets

have a long bowl shape perfect for significant individuals and bathrooms.

Round Toto Toilets are the regular bowls that work in most homes and bathrooms. They don't take up much space, but this option may be unfavorable for more significant individuals.
Easy Cleaning
Toto toilets have a protective glaze referred to as CeFiONtect on the ceramic to prevent particles from sticking to the toilet sides. The glaze enables both liquid and solids to slide down with the flushing water.
High-end Toto toilets may come with an automatic cleaning feature that pre-mists the inside of the bathroom before use and mist after use to maintain high hygiene.
Toto toilets reduce the cleaning and maintenance cost for public areas due to their high quality and hygiene standards.
Quieter
The Tornado flush installed in Toto toilets is quieter than the conventional toilets when flushed.
Variety
Toto toilets manufacture a variety of bathrooms that vary in features and applications. They are priced differently based on their purposes. Hence you cannot lack an option that will suit your preference and budget. 
Seat Height
The height of the toilet seat is paramount. Toto toilet comes in two various sizes. The standard height is (14.5-15 inches) and the universal height (is 17-19 inches) from the floor to the seat.
Too short toilets can be uncomfortable to use. Therefore, the universal height is popular because of its comfort and more natural posture maintenance.
Simple to install
Toto toilets match the traditional standards and can be mounted on a conventional cistern.
The 3 Unique Trio Toto Toilet Technologies
Three distinctive features ensure the efficiency of the flush. The bowl is reachable in all areas and keeps dirt from accumulating. These three collective features make Toto toilets hygienic and perfectly suited for different applications.
Tornado Flush
The essential feature of every Toto toilet is a Tornado flush. Based on the model, two or three presses create a powerful, circulating whirlpool of water that effectively cleans all bowl areas. The circulating water's pull-down to the bottom of the toilet prevents any contaminated mist from spreading to the toilet surroundings.
The water is redirected in one direction for cleansing without any mist or sprays like the conventional flushes reaching every bowl point, giving no room for accumulating dirt and germs. 
Rimless Design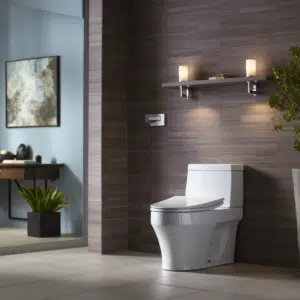 It is a fundamental feature in all the Toto toilets. The rim is without any ceramic lip that can harbor dirt and germs. Its open rim makes it possible for easy, fast, and thorough cleaning of the bowl.
CEFIONTECT
All Toto toilets have durable, ultra-smooth CeFiONtect glaze, making it difficult for dirt and mold to clog. Ceramics get treatment with the glaze for easy cleaning with a mini fiber cloth without eroding the surface over time. 
Toto has a galore of experience, having been in business for over 100 years. The core goal is to produce toilets that enhance hygiene and cleanliness as part of their company philosophy. Thanks to the unique technology they incorporate into their products, Toto toilets are among the most hygienic toilets on the market.
The innovative flush technology makes them iconic both in the bathroom and prevents the spread of bacteria. They are in demand because of their distinct cleanliness after a single flush, ease of cleaning, no difficult-to-reach areas, and attractive modern designs.
Toilets are one of the significant areas of innovation in the home. With technology advancing by the day, new toilets use less water than ever. Bidet-style washing options are tremendously growing. The Toto brand is the most trusted brand for high-quality bathrooms, and even though they are highly priced, the quality pays off.