Corrugated metal material use is on the rise in building fences because they are painted or galvanized and thus won't rust or degrade due to the outer elements such as sun exposure and moisture, unlike wood fences.
The corrugated metal fence has a similar price or less to wood panels. It lasts longer than wood and gives total privacy to your property. Do you want corrugated metal for your fence? Join us as we take you through all the details of the topic.
What Is A Corrugated Metal Fence?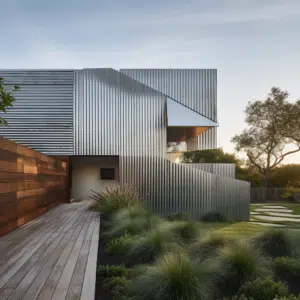 It has evolved from using old tin roofing as fence panels to various colored panels.
Corrugated means material with alternate ridges and or grooves. Corrugated metal is more robust than a plain piece of metal and is used for fencing and roofing. They come in various widgets ranging from 26-29, with the 29 being lightweight and perfect for fencing.
A corrugated metal fence is a fence that includes corrugated metal panels attached to the fence posts using a metal or wood frame to hold the metal panels in place. It is found on agricultural, commercial, and residential properties.
How To Frame Corrugated Metal Fence: Framing Options
The corrugated metal fence is framed in various ways, from wood to modern. For instance:
Vertical Corrugated Metal Fence Frame
It is a traditional vertical fence type with framing the same as a regular fence. For a 6-foot high wall, you will build 3 horizontal rails with two by 4s spaced 6-8 feet apart.
Install your 6-foot high panel vertically, linking them to each rail with a 1-inch metal-to-wood screw through the flat part of the panel with those 3 feet wide; then, you will get two panels at every 6 feet, making it easy to calculate for materials.
Secure the panels that overlap based on the metal with either a screw via the rib or an extra little flap to secure the flat side.
Vertical Panels Framed By Wood Posts And Wood Rails
Add 2 by 2 to the top of the bottom rail and the bottom of the top fence. Install the 2 by 2 toward the back of the 2 by 4. Install the metal panels between the top and the bottom rail screwed through the 2 by 2.
Ensure the pre-cut to make installation more manageable except for the sloping ground
Horizontal Corrugated Metal Fence Frame
It is the modern look where the fence panels are horizontally installed, and it is easier than the vertical and has various ways to frame it, but we will look at the more modern aesthetic fence.
Overlap the 4 by 4 gives a sleek metal look along your entire fence. Install your 4 by 4 posts at intervals of 6 feet along the whole fence line. Have them all ready before installing the panels for this design.
Starting with the bottom corrugated metal panel and with a second person, secure it on the first post, clamp it to the second post, and don't secure the second post until you have the next panel ready for installation.
Unclamp the first panel, hold the second bottom panel in place and then secure them simultaneously to the post. The more straightforward way is to put a screw on the metal panels' second or third flat section.
Get a second person to help you because of this part of the installation. Continue installing before you start on the top metal panel, which is installed the same way as the bottom panel, ensuring an overlap in the bottom panel at the right rib. Place the cut side at the end of the fence line.
Corrugated Metal Fence Pros
Easy to install- they are lightweight and thus can be handled easily in whatever conditions you have on your property. It is direct that enables homeowners to undertake a DIY project.
Long-lasting- It approximately gives a service of 25-30 years for the light range, 30-40 years for mid-range and 50-75 years for the thickest panel.
Versatile: The corrugated metal fence is cut in circular pieces. It is easily integrated with other materials such as vinyl because it is easy to handle and customize.
It is suitable in sloping terrains, for there is no complex groundwork to install the metal panels.
Readily Available- The metal panels are available in building and hardware stores. Contractors are readily available to do the installation. The panels come in various quality options to find the right profile, color, and gauge per your needs.
The requirements for each project vary in terms of materials and cost.
Remarkable appearance: Corrugated metal fence visually attracts rivaling wood and UPVC fencing materials.
Based on your design, you can get a minimalistic look with a sleek, simple profile or the rustic or industrial look of unpainted or matte black metal panels.
Cheap: A tremendous DIY installation, accessible transportation, and availability make it more affordable than most fencing materials.
Long Span: The best part of corrugated fences is that panel kits are from 6-12 feet and 24 inches in width, making it possible to have solid fencing on large properties.
Unique: Its unique corrugated metal look will make your home outstanding to your neighbors. The metals come in various colors to choose from per your preference. Its designs have limitless options and can be blended with other materials to create a modern-looking contrast.
Corrugated Metal Fence Ideas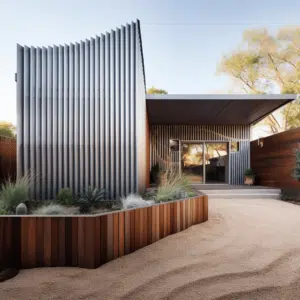 Combine with brick- Bricks or stones posts in equal intervals through a bare corrugated metal fence to form an earthy appearance.
Wood Plank Style Corrugated
It provides the look of natural wood, offering a more harmonious feel for your backyard.
Combined with wood
It is a popular type because the wood and metal complement each giving it an organic look.
The corrugated metal fence on Sloped terrain
The corrugated panels are readily available, flexible to work with and open in sheet form, making them ideal for fencing on sloped ground. In cases of errors, adjustments are easy.
Custom corrugated Fence
You can turn your custom corrugated fence into an art masterpiece with different materials of wood, stones, and corrugated metal.
Corrugated privacy fence
It is good in both residential and commercial markets. Its uses corrugated sheets offering privacy in its entirety. It is durable and withstands a harsh environment; additional painting protective coating extends its durability.
Corrugated metal fences have low maintenance, and a new piece is readily installed if they need to be replaced. The metal is also weather-resistant and easily recyclable. Keep in mind to sink your fence posts at least 18-inches into the ground and ensure it is safe to dig in the area of installation and get the city approval; then choose your style and get started.