Shadow Box Fence, A fence has many functions like dividing a property line, contributing to the outdoor décor, improving home equity, and containing pets safely inside the property. A shadowbox fence is perfect if you are in a sunny area where heat retention and visibility are a bother.
A Shadow Fence is a particular style of privacy fencing that uses tall pickets to formulate a fence similar to a typical picket or dog fence when looked at head-on. However, the pickets are not attached to one side of the rail; instead, the boards alternate. The pickets being two to three inches apart, the construction creates spaces.
The fence's primary advantages are the same as standard privacy fences, but it doesn't block the yard view. Some of its benefits are:
They withstand the pressure of the wind despite having gaps. The overlaps lessen the impact of the wind, thus increasing durability.

It Increases your home value acting as a powerful tool for future buyers.

The space between the pickets enhances airflow, letting you enjoy the breeze in your garden. They let in more light than the traditional fences that are flat.

Suitable for graded properties

It has the same look on both sides, which means the posts and the rails that support the fence become invisible to you and your neighbors.

The alternation of the pickets creates a

3D

visual effect, thus improving the aesthetic look of your property.
How to Make a Shadow Box Fence more Private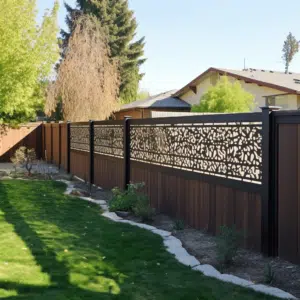 How can you customize a shadow box fence for more personal benefits? It is great to have an extra layer of protection and privacy, and here is how you can achieve it.
To increase privacy, buy a taller fence panel that is opaque.
Paint the existing one for more privacy.
Get the supplies needed, like paint, step stool, painter's tape, and clothes. Take measurements before heading to the store to buy if you plan to go for a new fence.
Change to old clothes and gloves to avoid getting ruined during painting. Remove any weed or plant on top of the fence. With a sturdy plastic bag in your hand, wipe excess dirt and mud off the fence panels.
Do three coats of painting or another opaque material and covers well. Alternative to the paint, you can use a primer for a flawless result. Let each coat dry perfectly before applying another one. For an existing fence, sand it down with an electric sander or medium-grit sandpaper for a smooth, even surface to avoid chipping or peeling off when painted.
If you don't want to paint your fence panels, painter's tape is a great tool to add more privacy. Apply 8-12 inches of tape while overlapping each one slightly to ensure no gaps between them. Your painter's tape should be free of dirt/debris or mud before using it.
Check your work once more before replacing your fence panel. Ensure there is no paint when it joins another panel or post. In case there is paint, scrub it. After confirming that the fence panels fit back on perfectly, tighten all the screws and replace any removed panels to access the other side of the fence.
If paint reaches other panels, add some professional touch by taking them off and repainting them to match the color of your fence panels.
Finally, wrap up the project by cleaning all the tools used in the process and wiping any surface that might have gotten the paint or primer. Use mineral spirit or turpentine mixed with water to clean the paintbrushes thoroughly.
Another way to increase the privacy of your fence is by installing a shadow fence with privacy slats that serve as vertical screens. These bring you the sense of having walls around your home without hindering any sunlight.
Installation of lattice panels alongside rails or on top of the posts is another option for adding protection and confidentiality from the prying eyes.
You can also achieve seclusion by increasing the overlapping of pickets from 1inch to 11/2 inches, thus, lessening the gap size and minimizing the ability to see through the fence.
The Cost of a Shadow Box Fence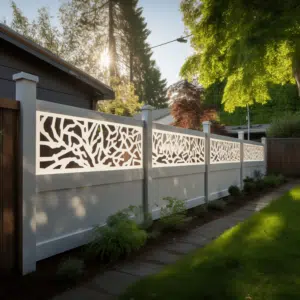 The cost depends on the quality of material and height of the fence. Averagely, the installation cost of a shadow box fence is $ 4500. Labor costs are between $35-$45 an hour, based on the fence size and the job complexity.
Additional cost factors to take note
The cost estimation and the installation process can be tricky. If you plan to build one, you should know these cost factors.
Yard landscape: A property with uneven terrain such as steep inclines, slopes, terrains, etc., is labor-intensive to make it suitable for the installation process. Therefore, the topography and layout of your yard have a significant role in the cost estimation.
Fence height: The standard fence panel boards are 4-ft. However, the manufacturers produce 5 to 6-ft pickets and privacy panels at higher prices than the standard.
Property size: Those with large walls need more materials than small ones; this is why contractors do their estimations per linear foot.
Type of fence: The material you choose for your fence varies. For instance, a vinyl shadowbox fence can cost between $4 to $ 18; moreover, a pine shadowbox of equal measure.
Design: Shadow box fences come in various styles and shapes from straight /dog ear, flat top, cut/ rolling archtop, flat top, etc., to suit your home structure. The more appealing the design is, the higher the cost. Fixing a lattice top design on your shadow box fence will skyrocket the price per linear foot.
Types of Shadow Box fence
Pressure-treated Pine shadowbox

Basic Cedar shadow box

Quality cedar shadow box

Vinyl shadow box
A shadowbox fence is an appealing type of privacy fence that is slightly more costly than the traditional stockade privacy fence. Shadowbox fences are standard where homes are close together, or the owners want to create a sense of privacy out of the public eye. They are helpful if you have children and pets too. They are made from pressure-treated wood, pine, or cedar, making them attractive. If you are looking for privacy that comes with excellent visual effects, a shadow box fence is a perfect choice.