Erie Metal Roofs own a home, you've probably thought about the improvements you could make to enhance comfort, reduce energy bills and boost the home's overall value. However, you're likely to be a bit apprehensive and intimidated by misconceptions about metal roofs.
Metal roofing has some clear advantages over conventional options. They are incredibly durable, fire-resistant, and generally easy to install. Moreover, they provide design versatility and tremendous value that outlasts traditional asphalt shingle roofs by a significant margin.
Founded in 1976, Erie Metal Roofs Company offers a variety of metal roofing styles designed to provide the ultimate defense against everything while also improving energy efficiency and curb appeal.
The company has since then become a recognized leader and innovator in the metal roofing industry. If you're considering roofing or replacing your roof, check out this post about Erie Metal Roofing reviews to understand more about metal roofing and how to make the transition.
Erie Metal Roofs Reviews: Style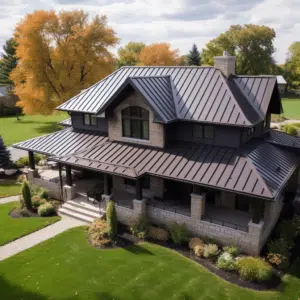 Many people have a basic idea of what metal roofs look like, but don't realize the modern metal roof products actually come in a variety of styles. Erie metal roofing systems are stamped to accurately resemble some of the industry's most popular roofing styles including, Spanish tile, wood shake, and dimensional asphalt shingles.
Each style is not only beautiful but offers excellent durability. In fact, all of the company's metal roofing styles come with a lifetime warranty and are guaranteed not to split, curl, crack, or break.
So if you're looking to complement your Mediterranean-style home, or capture the natural warmth of wood, Erie Metal Roofs can be a nice move.
In addition to a wide array of styles, Erie Metal Roofing is available in many different colors, so you can always achieve a look that you truly love.
You also don't have to worry about the downsides that come with less-durable materials such as tile and genuine asphalt shingles. The stone-coated steel roof will continue to serve and look new for decades.
Erie Metal Roofs Reviews: Durability
The durability and overall lifespan of metal roofs considerably outweigh that of typical materials such as asphalt shingles. In fact, most metal roofs can last a minimum of 30-40 years, which is 2-3 times longer than a normal roof. Besides, they can be repainted to revamp the look of your home over time.
According to the company's website, there's probably no other material that can provide the same level of protection as metal roofing manufactured by Erie Metal Roofs. Made with thick-gauge, stone-coated steel, these roofs will protect your home against everything harsh weather and intense UV rays while improving home energy efficiency.
You can also walk on a metal roof without damaging it. Just as the endurance and texturing of metal roofs make them hard for hail damage, they are also incredibly resilient to any potential damage from foot traffic. Most Erie Metal Roofs actually mask the appearance of minor dents and dings that may occur.
Another major highlight about metal roofs is that they're very resilient in all types of extreme weather. From snow and hail to vigorous winds gusts of up to 140 miles per hour and even wildfires, Erie Metal Roofs are said to withstand decades of abuse from external elements.
Erie Metal Roofs Reviews: Eco-friendly Choice
The benefits of metal roofs to the environment stack high against asphalt shingles. They are usually made with 28 percent recycled steel and the product is fully recyclable too.
Asphalt shingles, on the other hand, end up being disposed of into landfills when they're removed from the application. Not only are metal roofs recyclable, but they can also be installed over old roofing materials, which means less waste in your landfills.
Erie Metal Roof Warranty
As mentioned before, Erie Metal Roofs are designed to last through decades of exposure to harsh conditions such as strong winds and intense sun without needing frequent upkeep. Moreover, the metal roof is backed by a transferable, limited lifetime warranty. That means you can rest easy knowing your investment is well protected.
Are Erie Metal Roofs Expensive Than Other Roofing materials?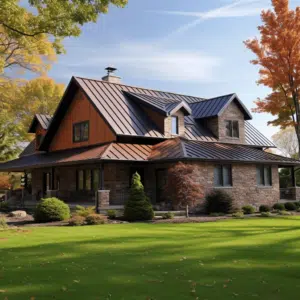 Well, the answer to this question depends largely on the other options you're considering. In comparison to asphalt shingles, a metal roof is a higher-priced premium product.
The cost can be as much as three times more, but on the bright side, metal roofs will come with a 30-50 year warranty. You will never have to worry about replacing your roof again as you would with asphalt.
The cost of a metal roof is comparable to that of cedar shake and tile, but less expensive than slate. Other additional benefits that make metal roofs worth the cost include savings on energy bills and increasing the resale value.
Pros and Cons of Metal Roofing
Longevity, increased efficiency, and a lower environmental impact are some of the major benefits of choosing a metal roof. While the initial cost of a metal roof is significantly higher than traditional asphalt, so is its lifespan. A metal roof can last 30-50 years longer than typical roofing materials, saving you money in the long term.
Premium metal roofing uses a reflective solar coating designed to combat heat buildup and minimize air conditioning costs. They are also generally recyclable as they are made with a minimum of 25% recycled material, depending on the type of metal.
On the flip side, however, metal roofing installation is more expensive compared to other roofing systems. This is because it involves special training, expertise, tools, and equipment. Installation costs are influenced by the complexity of the roof. Things like slope and rooflines also play a role in the overall installation cost.