Whether you're making a space transition or just considering the idea, there are many benefits to having plants around. Some people believe that having plants can increase productivity and decrease stress levels because they offer natural beauty and feedback, such as the changing colors of leaves and flowers. Home Depot offers a wide variety of plants for delivery to your home, office, or other location. Since the plants they sell are so fresh and healthy, it's no wonder that customers from all over order online to purchase their supplies.
Home Depot is one of the largest chain stores for do-it-yourself projects and home improvement supplies. One feature that may not be known about Home Depot is that it can also ‌deliver plants to your home. Whether you need a centerpiece for your living room or make your outdoor space more beautiful, Home Depot is happy to help. They can provide you with anything from the finest herbs and flowers to trees. Find out what plants are available at Home Depot's gardening center, how to order plants, and much more!
Delivery of Plants by Home Depot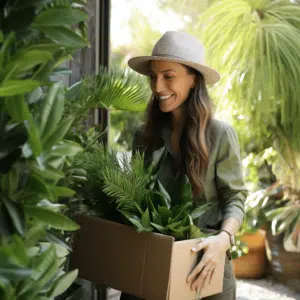 Home Depot Plant Delivery: How to Order
Choose the "Ship to Home" tab at the upper left-hand corner of the gardening center page at HomeDepot.com. All plant results will be filtered so that only those available for delivery at Home Depot will be shown, based on the ZIP code where you are located. Make sure you choose "Ship to Home" when you check out.
How Long Does it Take to Ship from Home Depot?
HomeDepot.com's gardening department offers varying shipping times based on selected items and ‌inventory at their warehouses. Because of the perishable nature of plants, Home Depot tries to ship your greenery order as soon as possible. The delivery of plants usually takes 2 days to 2 weeks, depending on the selected items.
Does Home Depot charge for delivering plants?
Home Depot delivers plants to your home for free for orders over $45. Generally, you do not have to load up your cart with many small plants or bulbs to get free shipping. However, if the amount of your mid-sized or large plants totals over $45, you'll receive free shipping.
What is the Quality of Home Depot's Packaging, shipping, and plants delivery?
HomeDepot.com carefully packages every plant upon delivery, so no adverse health effects or damage during shipping. They also included a return label in the package, so if the plant does not meet expectations, customers can return it.
It's possible to return a dead plant to The Home Depot! A year's guarantee is included with Home Depot's garden sales. You can return a tree or plant even after planting it for a refund if it dies despite proper care. If you are uncertain about your plant care skills, this guarantee will come in handy.
What Plants Does Home Depot Deliver?
Do you know where to go if you're looking for an assortment of plants that are guaranteed to fit any size garden? Home Depot! They have a wide variety of plants available for delivery, so no matter how big or small your space is, they have a plant for you.
Shrubs and Bushes:

You can order shrubs from Home Depot. HomeDepot.com sells a wide range of shrubs and flowering bushes for a wide range of climates and hardiness zones, including full-shade and full-sun plants. Consider ordering a live flowering shrub for a splash of color or a hanging arrangement.
You can ship more than a dozen flowering shrubs directly to you, including Lilac, Hydrangea, Hibiscus, Elderberry, and Caladium. Also, Ligustrum Recurvifolium Privet is a good choice for edging.
Trees: Different trees are available at Home Depot. You can order a wide selection of live trees online and have them delivered straight to your door, including:
A variety of evergreen trees, such as cypress, Thuja, and Blue Point Juniper

Deciduous trees, such as ashes, oaks, and aspens

A variety of ornamental trees, including myrtles, magnolias, and cherry blossoms

Various fruit trees, including lemon, apple, and orange

Shade trees like maples, willows, and birches

Bonsai trees. As part of the Home Depot's partnership with Brussel's Bonsais, Bonsai Trees offer a wide selection of live Bonsai trees, including palms, elms, and ficus.
Grass:

If you're looking for a new lawn, check out the selection at Home Depot. One pallet of lawn grass contains 500 square feet of grass, which can be delivered straight to you.

Indoor potted plants:

Home Depot, the world's largest home improvement retailer, offers an incredible selection of indoor potted plants and vines for your home. No matter the style or shape of your home, they have a plant to fit your space and enhance your living environment.

Home Depot Deliver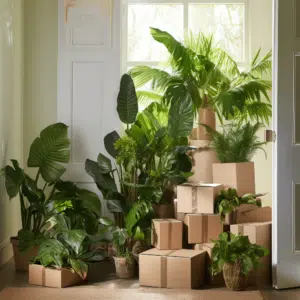 There are three categories in the online gardening center; small plants (under 24″), medium plants (24″ – 48″), and large plants (over 48″); as well as a range of direct-sun and shade-loving options, including:
Birds of Paradise

orchids

Fern

Palms

Lilies
Edible Plants and Bulbs: Home Depot also offers flowers and edible plant bulbs! Your bulbs will be securely packed and shipped to your door for same-day planting in your flower bed or edible garden. They are available in a variety of sizes and maturity levels. Also available at Home Depot are organic gardening products, including vegetable seeds, sprouts, and herbs.
Succulents:

If you are searching for the perfect garden accents to adorn your space, you may find succulents a good option. Home Depot offers an assortment of succulents for sale in its garden center.
Pre-Potted Succulents

Aloe Vera Plants

Hanging Succulents

Cacti

Mini or Variety Planters of Succulents
The Home Depot delivers plants that have been purchased through HomeDepot.com. You can get any piece you need for your next gardening adventure at the store without having to drive all over town. If you need a new orchid, several trees, or even an aromatic garden, this is the place to go. Besides decorating your home with plants, you can also get food-producing garden varieties at a fairly reasonable price at the store.