Home Value, Boosting your home's value? It's possible! From renovations to smart tech, we explore the innovative methods and unique details that can make all the difference.
To add value, consider both the exterior and interior. Upgrading the curb appeal with landscaping, paint, or siding will wow potential buyers. Inside, stylish finishes and efficient layouts increase desirability. Even simple tweaks like lighting fixtures and appliances can make a big impact.
Thinking outside the box can yield impressive results too. Smart home technology offers convenience and positions your property as an investment. Automated lighting systems, security apps controlled by mobile devices – these amenities can really boost value.
History can bring an unexpected touch of grandeur too. Take George Washington's Mount Vernon estate. Its original features allow visitors a glimpse into the past. Highlighting historical elements in your own home – restoring vintage flooring, retaining charming architectural details – adds character and increases worth.
As homeowners strive to add value, exploring various avenues is key. Combining conventional techniques with innovative ideas, and preserving unique historical aspects, creates a blend that enhances comfort and maximizes investment potential. Let's uncover the secrets to making your home invaluable!
Assessing the Current Value of Your Home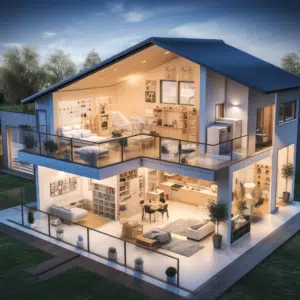 To assess the current value of your home and find ways to add value, delve into researching the real estate market and consult with a real estate agent. These two sub-sections offer valuable solutions to help you understand the market trends and seek professional advice for maximizing the value of your property.
Researching the Real Estate Market
Researching the real estate market is key to determine the current value of your home. Here are some facets to think of when weighing up your property's worth:
Place: Check out comparable properties in the same vicinity to examine local market tendencies.
Size and features: Look at the size of your home and any unique characteristics it has.
Recent sales: Analyze recent sales of similar homes in your area to understand pricing.
Improvements and state: Weigh up any improvements you have made, plus the overall condition of your property.
Familiarizing yourself with these details will help you understand how your home stacks up compared to others on the market.
Here's what you can do:
Speak to local real estate agents who have info regarding recent sales in the area.
Get a professional appraisal to get an independent assessment of your property's value.
Utilize online valuation tools that provide estimates based on real estate data equations.
By following these tips, you can gain a better insight into your home's current value, giving you the ability to make informed decisions when it comes to buying or selling property.
Consulting with a Real Estate Agent
A real estate agent is key when figuring out your home's current worth. They have market knowledge and can give you an exact price based on factors like the area, size, and recent sales close by. Plus, they are experts in negotiating and can help you make it through the difficulty of buying or selling a property.
Real estate agents have access to tools that can help them value your home. They can do a comparative market analysis (CMA) by looking at similar homes in the area to find an appropriate price range. By looking at recent sales and market trends, they can give you a guess that's in line with the current market.
Also, real estate agents know how to show off properties to get potential buyers. They can suggest improvements or staging that can make your home attractive and raise its worth. Their network gives them the ability to reach more people with advertising, like online listings, open houses, and printed ads.
Along with giving you an exact valuation, real estate agents can help you in the negotiation process. They know how to deal with buyers' offers and can assist you in objectively judging their proposals. Plus, they know the legal stuff involved in buying and selling properties, to make sure all paperwork is done properly.
Tip: When talking to a real estate agent, make sure to have any info about your property. Things like recent renovations or upgrades. This will help them more accurately value it and give you advice on how to get the most money when selling.
Improving Curb Appeal
To improve curb appeal and add value to your home, explore the section on enhancing the exterior appearance with landscaping and gardening tips. Discover the simple yet effective solutions in creating a visually appealing and well-maintained exterior that will captivate potential buyers and make your home stand out in the neighborhood.
Enhancing the Exterior Appearance
Enhance your property's exterior to increase its curb appeal! A well-maintained and aesthetically pleasing exterior not only adds to the beauty of the property but also boosts its value. Here are some tips to help:
Landscaping: Add colorful flowers, trimmed hedges and well-manicured lawns to create a welcoming outdoor area.
Lighting: Use fixtures to light pathways, emphasize architectural details and accentuate landscaping elements.
Exterior Paint: Give your property a new look with colors that match the architecture and blend in with the surroundings. Add accent colors to doors, shutters or trim for added interest.
Cleanliness: Clean windows, siding, walkways and driveways to get rid of dirt, grime and stains.
Front Door: Make the front door stand out with a vibrant color or decorative glass inserts/hardware.
Be consistent with all aspects of the exterior to achieve a cohesive look. Follow these steps to enhance the exterior of your property and create a lasting impression on visitors or potential buyers.
Landscaping and Gardening Tips
Take your property's look to the next level with some smart landscaping and gardening moves. Here are some tips from the pros:
Give your garden a centerpiece – like a fountain or sculpture.
Choose plants that work with your local climate.
Elevate flower beds with edging materials.
Add hardscaping elements, such as stone pathways or wooden decks.
Water regularly and use mulch to conserve soil moisture.
Prune trees and shrubs to keep the shape and growth.
For a truly unique touch, think outside the box. Try special features like a seating area with fragrant flowers or outdoor lighting.
For inspiration, check out this story: A couple turned their barren front yard into a stunning oasis! They added flower beds, vines, and a water feature. It made their property look better and became a spot for neighbors to gather and enjoy nature.
Remember, with some planning and creativity, you can make a landscape that shows your style and adds value to your property. So get started!
Updating the Interior
To enhance your home's value, upgrade its interior with ideas for kitchen renovation, tips for bathroom remodeling, and techniques for painting and refreshing the walls. These sub-sections provide solutions for transforming your living space and increasing its overall appeal and marketability.
Kitchen Renovation Ideas
Give your living space a facelift by spiffing up the kitchen. It not only increases functionality, but also gives it a modern look. Here are some ideas to consider:
Countertops: Choose granite or quartz for a stylish and durable option.
Cabinets: Select cabinets that are sleek and provide extra storage.
Backsplash: Transform your kitchen with a patterned or colorful backsplash.
Appliances: Invest in energy-efficient appliances with a modern touch.
Lighting: Illuminate the workspace with task lighting and overhead fixtures.
Layout: Arrange the kitchen for optimal flow.
Don't forget the small things! Hardware like cabinet handles and drawers should match the design. Smart tech features like touchless faucets and voice-activated lighting add convenience and sophistication.
Upgrading your kitchen will not only make it look better, but also increase its value. Plus, it'll be more enjoyable for cooking, entertaining, and gathering. A Zillow Digs study shows that homes with renovated kitchens sell faster and for higher prices.
Bathroom Remodeling Tips
Want to up the level of your bathroom? Here are five key tips for a successful revamp:
Replace old faucets, showerheads, and towel bars with modern ones to give your bathroom a fresh look.
Create storage solutions with floating shelves or a vanity with cabinets. This will keep your bathroom neat and essentials within reach.
Pick durable and water-resistant flooring like ceramic tiles or vinyl plank, which are easy to maintain and water-proof.
Install recessed lights or stylish wall sconces for brightness. Skylights or large windows can add natural light, if possible.
Make your shower area luxe with a glass door enclosure or a rainfall showerhead. Decorative tiles will bring extra elegance.
Plus, also consider the following unique details:
Ventilation is key to avoiding mold and mildew. Invest in an exhaust fan that can remove steam and odors efficiently.
These suggestions will help take your bathroom remodeling to the next level:
Neutral colors create a timeless, sophisticated look and are easier to update in the future.
Low-flow toilets and faucets save water and help reduce utility bills.
If you're aging in place or have family members with mobility issues, grab bars, non-slip flooring, and walk-in showers can make your bathroom safe and stylish.
By following these tips, you can make your bathroom a functional and fashionable oasis that's tailored to your needs.
Painting and Refreshing the Walls
Ready to revamp your new home? Start with a fresh coat of paint! Just follow this 4-step guide:
Prep the walls – remove any loose paint or wallpaper.
Fill cracks/holes with putty & sand them smooth.
Use a primer coat for better adhesion.
Choose your desired color & apply two coats.
Plus, here are some unique ideas: eco-friendly paints, fun textures like stenciling or sponging, and don't forget to protect furniture & floors.
Did you know? Accent walls with bold colors can create the illusion of more space in small rooms! (Source: HGTV)
Energy Efficiency Upgrades
To enhance the energy efficiency of your home, explore the solutions in the "Energy Efficiency Upgrades" section with sub-sections: "Installing Energy-Efficient Windows, Upgrading the Insulation, Investing in Solar Panels." These sub-sections offer practical steps to make your home more sustainable, cost-effective, and environmentally friendly.
Installing Energy-Efficient Windows
Measuring and ordering is the first step. Accurately measure the dimensions of your windows to make sure you order the right size. Consider the climate in your area when choosing insulation properties.
Before installation, prepare the area. Clear away obstacles and furniture near the windows. Put tarps or drop cloths to protect flooring and furniture from debris.
Carefully remove old windows. Unscrew, un-nail, and detach from any attachments. Be careful not to damage walls or frames. Dispose of them responsibly.
Install new energy-efficient windows following the manufacturer instructions. Use weatherstripping or caulk around edges for a proper fit and seal. Test each window for smooth operation, making any necessary adjustments.
Look for windows with low-emissivity (low-e) coatings to reduce heat transfer. Double-glazed or triple-glazed windows offer enhanced insulation. Window treatments like blinds and curtains can also improve energy efficiency.
Don't forget maintenance! Check for drafts, leaks, or damaged weatherstripping regularly for maximum energy savings.
By applying this guide, you can experience cost savings and environmental benefits!
Upgrading the Insulation
Upgrading insulation is key for energy efficiency. This means improving the walls, roof, and floor's thermal resistance to reduce heat transfer. It brings advantages like:
More energy savings. Less heat loss or gain reduces energy used for heating and cooling.
Enhanced comfort. No more drafts and temperature fluctuations indoors.
Noise reduction. External noise infiltration is lessened.
Better indoor air quality. High-quality insulation acts as a barrier against air pollutants.
Environmental impact. Less energy consumed for heating and cooling decreases greenhouse gas emissions.
Though there are these advantages, you have to select the right type and thickness of insulation based on the climate and building. This became clear in 1973, during the oil embargo. Fuel was limited and expensive, so countries began conserving energy. Upgrading insulation was an obvious strategy to minimize heat loss from buildings. Since then, insulation materials and methods have improved even more.
Investing in Solar Panels
Solar panels offer big advantages! Reduced energy bills, tax credits and rebates, plus a jump in property value. Furthermore, they mean less pollution and reduced dependence on fossil fuels.
To get the most from your solar panel investment, consider these steps:
Do an energy audit to assess your property's needs.
Find the right system for you.
Consult with experts for proper installation and maintenance.
Doing research, analyzing your needs, and getting professional advice, help you make smart decisions. You'll save money and help the environment too!
Adding Livable Space
To maximize the value of your home, adding livable space is the key. Enhancing your basement, converting your loft, and creating an outdoor deck or patio are effective solutions. Explore these sub-sections to discover basement renovation ideas, loft conversion tips, and insights on building an outdoor deck or patio.
Basement Renovation Ideas
Create a Home Theater! Embrace the cinema in your basement. Install comfy seating, surround sound speakers and a big screen for an unforgettable movie night.
Design a Home Office! Unlock the potential of your basement and turn it into a workspace. Set up a desk, lighting and storage for a productive environment.
Build a Playroom! Give your kids a special space for fun and play. Add storage, decorations and interactive areas to keep them busy.
Craft a Guest Suite! Transform the basement into a cozy retreat for your visitors. Include a bedroom, bathroom and amenities for their privacy and comfort.
Think outside the box when it comes to renovating. Tailor the design according to your needs and preferences. Plus, HGTV reports that you can get a 70-75% return on investment by renovating your basement.
Loft Conversion Tips
Transform your home with a loft conversion! Here are some ideas to make the most of it:
Let the sunshine in! Install skylights or dormer windows to light up the space.
Maximize the area with built-in storage. Say goodbye to clutter!
Insulate the loft for year-round comfort and lower energy costs.
Utilize vertical space by adding loft beds or mezzanines. Make the area multi-functional and stylish!
Fun fact: Loft conversions can potentially increase property value by up to 20%, according to ***source name***.
Building an Outdoor Deck or Patio
Outdoor decks and patios add extra space for fun and relaxation. Here are 3 tips to remember when building one:
Location matters! Pick a spot that fits your lifestyle and is convenient. Sun exposure, privacy and accessibility all factor in.
Choose materials wisely. Durable materials like wood, composite decking, stone and concrete are popular.
Design with purpose. Think about how you plan to use the space. Seating areas, outdoor kitchens or fire pits are great features.
For a unique touch, add lighting fixtures or greenery. These small details can make a huge difference!
Pro Tip: Before beginning, check local building codes and regulations. Also, speaking to a professional contractor is a great way to make smart decisions.
Smart Home Technology
To add value to your home with smart home technology, consider installing a home security system and upgrading to smart thermostats and lighting. These additions not only enhance security but also optimize energy efficiency and provide convenience at your fingertips. Discover the benefits of each sub-section and unlock the potential of turning your home into a smart haven.
Installing a Home Security System
To protect your home and the ones you love, get a security system. Follow these
easy steps:
Work out what you need. Think about which parts of your house need surveillance. Decide which system is right for you.
Pick the right equipment. Buy dependable cameras, motion sensors and alarms from trusted brands. Look for easy installation and compatibility with other products.
Plan where to place the cameras. Put the cameras in places that are vulnerable, like entrances and outside areas. Make sure the angles are right. Get weatherproof ones if needed.
Install the cameras and sensors. Put up the cameras using the manufacturer's instructions. Put the sensors on the doors and windows to stop unwanted entries.
Connect everything. Set up a hub or control panel to link all the devices. Follow the instructions for linking cameras, sensors and alarms.
Test it. Check each component works. Check the camera angles, the motion sensor, and the alarm.
Plus, get professional monitoring services for fast help in emergencies.
Pro Tip: Update the security system software often to stay safe from new threats.
Upgrading to Smart Thermostats and Lighting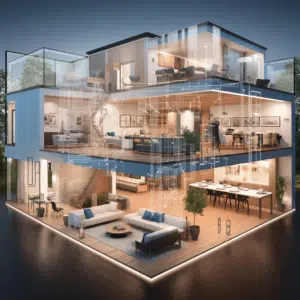 Upgrading to smart thermostats and lighting is a wise decision for homeowners wanting to give their living spaces a boost. With this cutting-edge tech, you can adjust temperature and lighting remotely for improved comfort and efficiency.
Steps to upgrade:
Research different smart thermostat and lighting systems, and look for features that fit your needs.
Buy the best system suited to you. Think about things like cost, warranty, and installation.
Follow the manufacturer's instructions. Check that wiring connections are correct, or seek expert help. Connect devices to your Wi-Fi.
Sync your phone or computer with the system via the app or web interface. Now you can control these devices from anywhere.
For a top experience with smart thermostats and lighting, schedule temperature changes based on your daily habits. For instance, lower temperatures while away from home or asleep, to save energy.
Also, take advantage of motion sensors, to turn off lights when no one is in the room. This not only reduces electricity usage, but also extends the life of LED bulbs.
By upgrading, you can have both convenience and sustainability. Get your smart thermostats and lighting to enjoy the benefits now!
Conclusion
Wrapping up – adding value to your home is a smart move. It can bring financial rewards in the future. Here are some strategies to increase the marketability and appeal of your property.
Look into curb appeal. Maintain the exterior of your home. Landscaping, painting the front door and making the property look attractive can make a great first impression on buyers or appraisers.
Improve energy efficiency. Put new insulation, get energy-efficient windows and use smart technology. This makes your home more eco-friendly and reduces costs. Buyers like sustainable and budget-friendly options.
Upgrade key rooms. Give the kitchen and bathrooms a modern look with new appliances, fixtures and finishes. These rooms are a priority for buyers when assessing a property's worth.
Expand living spaces. Conversion of basement into a usable room or adding an extension can boost the value of your home. It gives buyers extra space which they really want.
Frequently Asked Questions
FAQs on How to Add Value to My Home
Q: What are some inexpensive ways to add value to my home?
A: Some inexpensive ways to add value to your home include decluttering and deep cleaning, giving a fresh coat of paint, enhancing curb appeal by landscaping, upgrading lighting fixtures, and organizing storage spaces.
Q: How can I increase the value of my home through renovations?
A: You can increase the value of your home through renovations by updating the kitchen and bathrooms, adding energy-efficient features, improving the flooring, replacing old windows, and upgrading the HVAC system.
Q: Is it worth investing in home staging to add value?
A: Yes, it is worth investing in home staging as it helps potential buyers visualize the space and increases the chances of selling your home faster and at a higher price.
Q: What should I consider when adding an additional room to my home?
A: When adding an additional room, you should consider factors like the size and layout of your home, obtaining necessary permits, hiring a reputable contractor, choosing materials that match the existing structure, and ensuring proper insulation and ventilation.
Q: Can upgrading the home's energy efficiency add value?
A: Yes, upgrading the home's energy efficiency can add value as it reduces energy costs for the homeowner while being an attractive feature for potential buyers. Upgrades like installing energy-saving appliances and improving insulation can contribute to this value addition.
Q: Does investing in a backyard renovation help increase home value?
A: Yes, investing in a backyard renovation helps increase home value. Creating an outdoor living space, adding a deck or patio, installing landscaping features, and enhancing privacy all contribute to the overall appeal and value of a home.