Drywall Installation, A building material made from gypsum used to cover framing on walls and ceilings is referred to as "Drywall." It is also known as gypsum board, wallboard, and sheetrock. Drywall plays a vital role in the interior of residential and commercial buildings.
To hang drywall needs attention to detail. The right direction of the drywall creates a massive difference in the quality, strength, and appearance of the finished product. However, there are two ways you can hang them, depending on the building type, whether residential or commercial.
In this article, we aim to share helpful information about drywall, its benefits, hanging option, and the advantages and disadvantages of vertical hanging to enable you to weigh what works for you. Keep reading to find out more.
Pros And Cons Of Hanging DryWall Vertically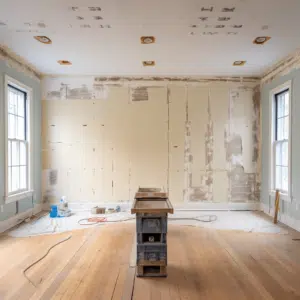 Pros Of Hanging DryWall Vertically
Most people don't know how to do it- whether to hang it horizontally or vertically. According to the general principle for commercial buildings, it is best to install drywall vertically, while residential facilities are installed horizontally to improve structural strength. 
To help determine what will work for you, here is a write-down of the pros and cons. 
 Enhance Durability
Though the drywall installation process is quick, having the drywall horizontal or vertical has been a topic of discussion.
You would want something that lasts for years and achieves durability via vertical installation.
When the drywall is vertically mounted, it holds its shape for longer, thus offering consistent value for years to come.
Vertical hanging of drywall minimizes the possibility of breakage, eliminating any underlying worry that property owners have regarding setting up dry walls.
No Sagging
Drywall Installation becomes frustrating seeing the drywall sag. If it happens consistently, it becomes an issue because your repair bills will shoot.
Therefore, it is better to vertically hang your drywall for it is more effective in preventing sagging.
Easy access
It is common in commercial buildings because they allow easy accessibility during inspections. Vertical hanging allows easy panel replacement without interfering with any other.
Improves Safety 
In emergencies like fire outbursts, the vertical installation allows every drywall panel to fall vertically away from the site of the scene.
Faster installation 
Due to the drywall being lighter than plywood, the installation process is easy and quick for commercial buildings.
More Refined
To get a more elegant solution that works well with your preferred standards. Even though they may vary as per each set, the core purpose remains the same.
Vertical hanging of drywall creates a redefined finish.
Cons Of Hanging Drywall Vertically
Time-Consuming
In vertical hanging, the panels cover less space, which takes time to install. So, if you are on the clock, you will have to seek more workforces for things to be done correctly and save time.
Less efficient
This option is less efficient as a lot of time is wasted and materials too.
You must set aside all the requirements for things to be done systematically. It may take time, but it will be worth it.
Needs more materials 
Vertical hanging demands additional materials, which can increase your financial budget. To avoid going overboard, pinpoint how much you need and how to install it. 
For instance, it is more challenging to conceal hanging wires, thus requiring extra materials. 
Which Is The Best Way To Hang Drywall?
We can precisely say that both ways are used in different setups. Drywall should hang horizontally on residential buildings and vertically on commercial buildings. Both scenarios need support beams running perpendicularly to the wall studs.
What Are The Advantages And Disadvantages Of Drywall?
As water becomes a scarce commodity, the use of drywall is slowly on the rise as it doesn't use water in any form during construction but is still more costly than the conventional wall. What are the benefits and the shortcomings of this building material?
Advantages
Reduces the energy costs during their construction for they are easy to erect

It minimizes loads and saves steel.

It is fireproof due to the crystalline water molecules in gypsum, which prevent the fire from spreading.

It is simple to install and durable thus; it is cost-effective

Its surface is even 

It is easy to apply to paint

No water is needed for its construction; thus, the site remains tidy

Unlike ordinary plaster on a brick wall, drywall uniformity is easily attainable.

There is no shrinkage and creep cracks like those experienced in stonewalls with cement plaster.

It is used to construct regular walls, ceilings, and partitioning. 

It is removable and can be cut in all sizes meaning in case of a hole on the wall, you can quickly patch it up.

It allows you to install recessed lighting and hang things with easy

It is time-saving because it is fast, easy, and cost-effective to install
Disadvantages of Drywall 
Electric/plumbing services or sound insulation aren't allowed on the surface but between two drywall sheets.
Unless they have been treated to be waterproof, they should only be used within.
Bathrooms, basements, and other high-moisture places are off-limits since they are not water-resistant.
They are vulnerable to harm since it has no effect on resistance, however problems can be fixed.
They need to be sandwiched between two layers of soundproofing material.
Require expertise for installation and finishing being satisfactory.
It cannot stand independently and thus requires wooden/ steel/MS framing.                                               
Types of drywall
Additional additives or various types of paper are used to formulate specialized forms of drywall. Even though standard drywall is convenient for most applications, several other options are appropriate for exceptional circumstances. Check the list below. 
Blue Board (Plasterboard)

Lead-Lined Drywall

Flexible Drywall

Soundboard (Quiet Rock)

Moisture Resistant (Green Board)

Impact-Resistant Drywall

VOC-Absorbing Drywall

Type "X" Or "Pertile"/ Fire-Rated

Regular Drywall
Drywall is used because of its many benefits like aesthetic appeal, versatility, dry constructions, excellent performance, and others. When it comes to hanging, drywall vertically is quicker and easier because drywall is lighter than plywood.  
However, if you're ready to handle the rising costs and a more protracted process but be guaranteed drywall that doesn't sag, then Vertical drywall hanging is for you. After going through the pros and the benefits of this option, it all streams down to what you prefer as a property owner. Each scenario is unique and has to be taken into consideration. Now you are ready to take the bold step because you are no longer in a dilemma about drywall.