Lazy Boy vs Flexsteel, Both Lazy Boy and Flexsteel are well-known firms, mainly due to their recliners. However, they both have a large selection of other furniture, including sofas.  The companies also sell their products through retail distributors, with the exception of Lazy Boy, which also sells directly to consumers
But what are the primary distinctions between these two major furniture producers? We'll walk you through a quick comparison of the two leading furniture firms in this article to determine which one is best for you.
Lazy Boy vs Flexsteel: Table Comparison        
             
 

Lazy Boy
Flexsteel

Product range

The manufacturer offers a wide variety of sofas and other household furnishings

The manufacturer offers a wide variety of sofas and other households furnishings

Price

Their product price ranges from $699 to $2999

Their product price ranges from $699 to $3299

Easy of ordering and shipping

The shipping time for a Lazy Boy is 8 to 10 weeks, but this can vary depending on your region and local shops. Depending on where you live, delivery costs range from $105 to $183.

Only the labor price is covered under Lazy Boy's limited warranties based on material or manufacture defects.

Lazy Boy does not accept returns but will offer an equivalent exchange within three days of receiving the item in its new condition.

 

Flexsteel furniture is only available through stores, so prices and delivery times can vary depending on which store you choose.

Many of the core, foundational pieces of Flexsteel furniture come with a one-year limited warranty.

Because Flexsteel goods are offered through retailers, your delivery, setup, and return options will differ depending on your shop.

 

Quality of service delivery

Lazy Boy is known for producing high-quality, long-lasting recliners, sofas, and chairs.

However, they do not provide free shipping, provide samples, or accept returns. They're also strict about their warranties. Some customers may find this unappealing.

 

Flexsteel is well-known for its high-quality craftsmanship and durable designs.

However, some buyers may be put off by the uncertainty that comes with relying on third-party sellers for shipping, delivery, and returns.

 
About Lazy Boy
Cousins Edward M. Knabusch and Edwin J. Shoemaker invented the reclining wood-slat chair in a garage in Monroe, Michigan, in 1927. That chair gave birth to the Lazy Boy Company and a new furniture category: the recliner.
Since then, Lazy Boy has continued its founders' mission of providing high-quality, comfy American-made products globally. Nearly 90 years of R&D, local manufacture, and a strong supply chain support those assertions.
In addition to quality, Lazy Boy prioritizes customer service and an inspiring workplace.
Lazy Boy Pros
A well-deserved reputation for fine craftsmanship

There are several retailers, as well as Lazy Boy showrooms and online, to choose from

There are thousands of fabric and color combinations to pick from

On foundational pieces, a warranty is available
Lazy Boy Cons
No trial period is allowed

There is no option for free shipping

Returns are not permitted

They offer a three-day exchange policy

Limited warranties that only cover the cost of labor

The shipping window is unusually long
About Flexsteel
Flexsteel Company dates back to 1893, when Rolph and Ball Furniture Company was founded in Minneapolis. In 1948, they bought the Flexsteel Spring Corporation. Today, their approach is straightforward: they strive to make durable, attractive, and, most importantly, comfortable furniture.
Their devotion to craftsmanship, responsibility, accountability, and leadership has bolstered their more than a century of production, as evidenced by their namesake Blue Steel Spring, which has functioned continuously for the previous 75 years.
Before an item leaves the factory, Flexsteel thoroughly tests it to ensure it is of the highest quality standards, and materials and construction warranties back all products.
Flexsteel Pros
They have over 75 years of experience in the sector

Their products are available through a variety of retailers

They provide a huge selection of sofas and other home furnishings to choose from

On foundational elements, they offer a one-year warranty
Flexsteel Cons
Their warranty is restricted

The corporation does not sell to consumers directly

Shipping, delivery and return of products depend on the retailers
Lazy Boy Vs. Flexsteel: Which One is Better?
Both companies will offer you quality furniture. However, if you prefer buying directly from the producer and like relative low-priced products, then Lazy Boy is the best option.
On the other hand, if you want your pieces of furniture to be shipped on time, it would be best if you choose Flexsteel.
Frequently Asked Questions
What are Other Brands Similar to Lazy Boy?
Ethan, Wayfair, Joybird, Havertys, and Allen are all brands comparable to Lazy Boy.
What Kind of Leather Does Flexsteel Utilize?
Leather is available in various qualities, from the best grade and most expensive to man-made kinds. Flexsteel only employs high-quality semi-aniline and pigmented leathers to ensure lifespan while keeping the furniture affordable.
Is Flexsteel Furniture Manufactured in the United States?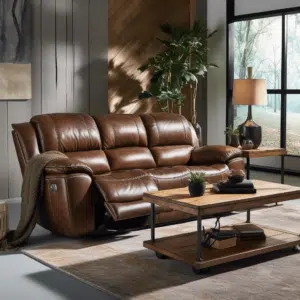 Flexsteel furniture is the essence of the American Dream in many aspects, so they proudly make their exquisite collection of furniture in the United States. The corporation is headquartered in Dubuque, Iowa, and has production facilities throughout the United States.
What is a Flexsteel Recliner?
Flexsteel leather recliners are pleasant, long-lasting chairs that provide you with years of relaxation and comfort. Flexsteel is dedicated to manufacturing robust, trustworthy furniture that not only looks excellent but is also comfortable.
Does Lazy Boy Offer a Lifetime Warranty?
As long as the original customer owns the item and can provide evidence of purchase, Lazy Boy guarantees a lifetime warranty against manufacturing defects on the frame, springs, and mechanism.
Final Take
We hope this article has helped you understand the differences between Lazy Boy and Flexsteel. However, selecting which one is better than the other is a matter of personal preference.