Are you looking for a good and effective fireplace to supply heat to your home? Sitting around the fireplace in the cozy nook while the night unfolds, telling its own story, is a fascinating experience. 
However, to have the best catch-up time with your friends and family members in a warm area, you need a perfect fireplace that generates constant and comfortable warmth.
Introduction
Unfortunately, finding a high-quality fireplace device that meets your preferences is a daunting task. Luckily this article is here to help you out. First and foremost, Mendota and Valor gas fireplaces are the famous brands from the best companies with a good reputation.
Mendota is a company that devotes its core operation to the production of custom-built gas fireplaces. The Mendota gas fireplace is designed with utmost craftsmanship and amalgamated with state-of-the-art technology. They are carefully designed and professionally manufactured in North Attleboro.
All the Mendota fireplaces are ANSI/AGA certified. When you buy one, you will be given tactfully engineered gas inserts.
Mendota gas fireplaces customers usually celebrate the wide range of benefits, including an assorted mix of log sets, fronts, mantels, doors, shapes, and accessors that Mendota Company designs as the complementary supply to its core products.
Mendota is a life-long investment that will serve its main purpose effectively. However, it might be more expensive than Valor fireplaces. Still, they come with an array of authentic fire, designer accessories and high-efficiency gas technology to enable you to lead a simple and comfortable life.
Mendota Vs Valor: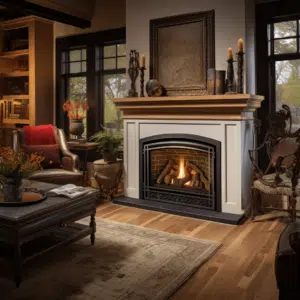 On the other hand, Valor is a close competitor of Mendota and a well-renowned firm specializing in manufacturing gas fireplaces. Valor was first established in 1980, and the brand is now deeply rooted in the market.
In comparison to Mendota, the Valor has always been at the top. Over time, the Valor Company produces high-quality and convenient products that set industry standards.
What is special about Valor products is that the firm always refines the energy efficiency of its products from time to time. Valor gas fireplace has a sleek and unique design that promises ultimate comfort.
Another feature that makes Valor fireplaces more special than Mendota fireplaces is the radiant heat. The radiant heat of Valor fireplaces enables them to produce natural and healthy heat like the one produced by the sun.
Valor Company is again setting the trends after introducing new advancements in HeatShift technology and the safety-related feature that ensures a good user experience.
Mendota Gas Fireplaces Pros and Cons
Pros
Lifetime limited warranty

Customization of the fireplace is possible

Use high-efficient green technology

Wide collection of front and interior linings

Great field of vision to improve your home's aesthetics
Cons
Valor Gas Fireplaces Pros and Cons
Pros
Customization is possible

The shallow depth and tapered sides allow for easy installation

Secondary heat exchange circulates the warm air naturally

HeatShift System is ideal for the heat-sensitive items in the room
Cons
One engine option while other brands offer more than two
What Makes Mendota Gas Fireplaces Special?
Mendota fireplace brings innovative gas technology and artistry superiority to your home. In simpler terms, it's a lifestyle company ready to bring fortune into your cozy nook.
The artisanship embedded in Mendota designs is a careful handiwork and full-seam welding. Heavy gauge steels are merged to build a strong, durable Mendota fireplace that guarantees lifetime satisfaction.
Mendota fireplaces are unique variants that reflect durability. In addition, the company offers a distinctive collection of interior linings, doors and fronts for its fireplaces. You can mix and match different pieces to create a custom-tailored hearth that fits your home aesthetics.
Mendota employs the innovative burngreen technology in its gas fireplaces. Therefore each model validates eco-friendliness. Mendota fireplaces have sealed combustion, and direct vent stems to meet low emission standards.
All designs of Mendota fireplaces meet governmental EPA standards, NAHB and the LEED guidelines. Mendota Fireplace Company believes that true human luxury is built based on tranquility. The firm offers a limited lifetime warranty on the burner, glass, heat exchanger and firebox.
What Makes Valor Gas Fireplace Special?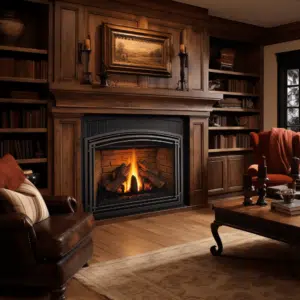 Valor Fireplaces stand out from its major competitors like Mendota gas fireplaces because of its amazing blend of unique fireplace features.
According to various customer reviews, Valor fireplaces are aesthetically pleasing and the most effective units available in the market.
Unlike Mendota fireplaces, Valor Company ensures optimal comfort in its fireplaces by incorporating a natural heat feature and controllability. Valor is an industry leader when it comes to product design and innovations. The company always aims to offer energy-efficient, comfortable products that meet and satisfy customers' expectations.
The radiant heat feature of Valor fireplaces moves the heat in a straight line and ensures the entire room is heated evenly. In addition, the Valor gas fireplace doesn't use electricity.
Therefore you can still run it even if there is a power outage. All valor products meet the Energuide & Enerchoice efficiency rating, and also, the barrier screen is important for user safety.
Bottom Line
Mendota produces the most energy-efficient fireplaces in the sector. The efficiency rating of Mendota gas fireplaces falls between 70 and 84.2%. You won't go wrong with your Mendota Fireplaces with high-efficiency standards.
The best overall Mendota fireplace recommended for your home is the Mendota FullView Timberline. Its color and design are superb.
FullView Timberline also has good controls to allow you to customize all the little facts, including the aesthetics. It's a well-performing fireplace and a symbol of fine elegance and sophistication.
The recommended Valor gas fireplace is H6 1400KN. It measures L x 36 x 25.5 inches and has a power output of 26,928 BTU/h. Valor H6 fireplace is reliable and long-lasting. It doesn't depend on power to run; therefore, it increases your home's convenience.
Ultimately, if you're looking for an effective and well-designed gas fireplace, Valor H6 is the perfect option for your room. It provides natural warmth, is reasonably priced, and has high recommendation ratings.