Washing clothes is a never-ending task, and we all know how much of a pain it can be. But lucky for us, washing machines have come a long way and now come with some amazing features and technology that make the job a lot more bearable.
In this article, we're going to have a detailed comparison between the LG WM8100hva and LG WM9000hva washing machines, looking at their abilities and features. After listing some pros and cons of each, we'll be able to determine which the better option is.
Since they are pretty similar, it makes sense to start with what both options have in common.
LG Wm8100hva Vs Wm9000hva: Overview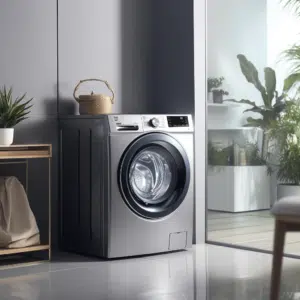 LG WM8100hva vs WM9000hva: Similarities
Capacity
In terms of capacity, both the LG WM8100hva and the LG WM9000hva have a 5.2 cubic feet capacity, which is quiet for a large family. In total, these washing machines have 14 wash programs including normal, delicate, speed wash, perm-press, sanitary towels, heavy-duty, tub clean, hand wash/wool, bright whites, allergenic, small load, and bulky.
Additionally, there are some great washing options with the LG WM8100hva and the LG WM9000hva that make things easier. That means you can delay the wash cycle, rinse and spin, go for an extra rinse, and toss more garments.
6Motion Technology & Cold Wash Technology
Another common thing between the LG WM8100hva and the LG WM9000hva is that both are high-efficiency washers that use 6Motion Technology to provide a gentle, yet thorough cleaning for your clothes.
These washers have maximum revolutions per minute of 1300RPM and 5 different spin speeds, so you can customize the washing cycle to best suit your needs. Additionally, both washers feature Cold Wash Technology, which allows you to save energy by using cold water to wash your clothes without sacrificing cleaning performance.
Steam Technology & TurboWash 2.0 Technology
The LG WM8100hva and WM9000hva washers both come with powerful steam technology that can penetrate fabrics to get rid of dirt, odors, and wrinkles in less time than other washing machines.
When you're in a hurry, you'll appreciate the TurboWash 2.0 feature that can complete a wash cycle in 30 minutes or less. These washers also come with convenient features like an anti-vibration system, low decibel quiet operation, a child lock, and a four-tray dispenser.
Certification and Warranty
There are a few key differences to consider between the LG WM8100hva and the LG WM9000hva washing machines. Both models come with certification from the Asthma and Allergy Foundation of America for their Allergen Cycle, which removes pet dander and dust mites more effectively than 95%. They are also both Energy Star certified.
When it comes to warranty, there are various terms and conditions to be aware of. Both models come with a 1-year warranty on parts and 3 years on the drum. The direct-drive motor has a 10-year limited warranty.
So, when deciding between these two models, it really comes down to your needs and preferences. Do you need a machine that is certified for asthma and allergies? Or are you looking for a longer warranty? Consider your needs before making your final decision.
LG WM8100hva and LG WM9000hva: The Difference
Design and Appearance
There is only a slight difference in size and weight between the LG WM8100hva and the LG WM9000hva washing machines. Both come in graphite steel or white, with front loading and a dial knob control, as well as touch buttons above the door.
The WM8100hva measures 29. X 33.74 x 41.75 inches and weighs 225 pounds, while the WM9000hva has dimensions of 29 x 33.75 x 41.25 inches and a weight of 227 pounds.
Efficiency
No one enjoys doing laundry, but it's a necessary chore. So, to make your life a little easier, we've compiled a list of the best washing machines on the market that will make your laundry days a breeze.
The LG WM8100hva, on one hand, is very easy to use. You can load it, add your products, select your washing options, and press start – just like a traditional washing machine.
On the other hand, the LG WM9000hva comes with built-in Wi-Fi, so you can control it from anywhere with the ThinQ app. It's also compatible with Alexa and Google Assistant for even more convenience.
Pros and Cons
Here's a list of pros and cons between the LGWM8100hva and the LGWM900hva to help determine the best choice for your needs:
LGWM8100hva: Pros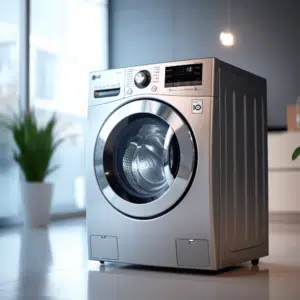 Extra large capacity

Great performance

Very stylish and modern-looking washing machine
Cons
You might have to load clothes in a certain way for a quiet and vibration-free wash. Unfortunately, this is not always practical.
LGWM9000hva: Pros
Quieter and fewer vibrations

Excellent app to notify you when the cycle is over

Since it's designed to sense the load weight, it will end the wash sooner for lighter loads
Cons
More expensive than most models out there
The Bottom Line
The LG WM8100hva and the LG WM9000hva are two of the best-looking washing machines on the market and would make a great addition to any home.
According to previous users, these two options have an excellent range of settings and were able to wash all sorts of different items with no problems – from clothes and towels to bedding and even larger items like sofa covers. The capacity is absolutely well suited to large families, which is a big plus.
It's hard to overlook all of the technology that these washing machines have to offer. At first, you may not be sure if it would make that much of a difference but, after trying out some of the features, you're bound to be impressed. For instance, the cold wash setting works really well such that it becomes hard to tell that the clothes hadn't been washed in warm water.
The LG WM8100hva is an excellent pick for the best washing machine because all of the items you can wash with it, and still, hey will come out clean, stain-free, and smelling fresh – which is really what you want in a washing machine.
Perhaps the only downside is that it's a bit more expensive than other washing machines on the market (you're looking at around $500 more for the option to use Wi-Fi), but we think it's worth the extra money to be able to activate your washing machine from your phone or with your voice.