Solutions for Awkward Spaces, Even if your home isn't small, a lousy organization might make it appear as such. As a result, it's critical to make the most of the storage space you have by maximizing every possible inch. Wasted space between the top shelf and the ceiling is common in finite areas with a predetermined width and height, such as closets and wardrobes. Installing more shelves and rods, or modifying the purpose of the closet itself, can help you reclaim this space and make it more usable.
What to Do With Open Space above Closet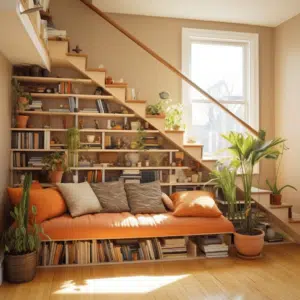 Shelving
In the free space above your closet, you can add three or more shelves. Seasonal apparel, such as sweaters and coats, can be stored on these shelves rather than in the main portion of your closet. However, keep in mind that getting to the shelves could be a challenge. Consider putting a small step ladder or a stool in the bottom of the closet so you can easily access the shelves when needed.
Higher Rod
If you have some extra space above your closet, consider raising the height of your existing closet rod to make use of the area above it. A taller rod expands the amount of space available in the lower area of your closet. This allows you to install additional shelves or drawers. Additionally, the extra rod height accommodates the length of suits, gowns, and other formal attire, allowing them to hang without wrinkling or touching the closet floor.
Second Closet Rod
Installing a second closet rod is another excellent way to make use of the unused space at the top of your closet. A second rod for hanging storage will double the closet's breadth and makes use of the vacant space not just at the top but also at the bottom of your closet.
To install a second closet rod, move the first one to two fits down and then install a rod of similar length above it.
Leave It
Leave it alone! Yes, you can keep the extra space at the top of your closet open for tall or unusually shaped items to be stored. This method works well in a utility or sports equipment closet, where things like skis, extension poles, and dusters are kept.
Stylish Solutions for Other Awkward Spaces in Your House You Don't Know What to Do With
Bay windows bring in a lot of natural light, but what do you do with the awkward pop-out? A small piece of furniture, such as a desk, can be placed in the angled region just within bay windows. This will help free up the rest of the room's floor space while also creating a home office with a nice view.
Upper Kitchen Shelves
Look above or between cupboards if your kitchen counters are getting too crowded. For the extra items in your kitchen, high shelves can give you out-of-the-way storage. Install shelves on the upper kitchen wall to display your most excellent dishes while keeping the counter clutter-free.
Under a Staircase
Solutions for Awkward Spaces is not necessary for the area beneath your stairs to appear dark and empty. With a mod sign and a matching bench, the space will feel more inviting. Just make sure it's clutter-free to keep the stairwell clear.
Above the Laundry machine
You can add attractive storage to your laundry room by utilizing the area above your washer and dryer machines. To make washing less tedious, organize cleaning materials on shelves with wire and wicker bins, and hang motivating wall art. To make room for stain removal and folding garments, leave the countertop mostly clear.
Above the Radiator
Radiators don't have to be a creaking nuisance that you attempt to ignore. Use vented woodwork to hide an unattractive radiator, then dress it up with artwork, vases, and handy hooks. A lovely glass chandelier draws attention to this often-overlooked area.
Behind the Door
The space behind your front door can appear stark and odd when the door isn't open. To stylishly fill the empty area behind the door, place a tiny console table and a tall mirror on the wall. The space can also be used to conduct a final touch-up before leaving or to drop your purse and keys as you enter your home.
In a Nook
Are you having trouble styling the awkward space between the two walls? A tucked-away nook is ideal for setting up an office. Tuck a desk into the area for a personal touch, then add floral patterned wallpaper and vintage-style hanging storage.
A Small Corner
Are you stumped as to what to do with that odd corner space of your house? Simply dress it up. It doesn't have to be tough to decorate that awkward corner. Simply hang a display to fill the gap. Install hooks on two adjoining walls and hang various hanging baskets, lamps, or plants from them.
Using the hooks instead of mounting the elements directly to the wall is advantageous because it allows you to easily remove the planters for watering or alter up the display as you please.
Beneath Open Sinks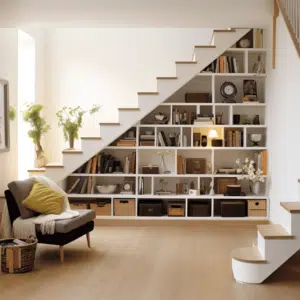 You can use the space beneath your open sinks if you don't have any bathroom cabinets or if they are filled. Fill basic woven baskets with all of your bathroom essentials and arrange them beneath the open sinks for an attractive solution to save space. This way, your toilet paper will be readily available and attractively arranged.
Shallow Mantel
When half of your decor doesn't fit, a shallow mantel can appear to be useless. Look for ultra-thin frames for a mantel decorating concept that takes up minimal space. Fill the frames with some favorite images and place them on the mantel to draw attention to your fireplace.
Hallway Corner
Setting up a dedicated drop-zone inside the door for homes without a formal entryway can be difficult. Solutions for Awkward Spaces house front door opens into a hallway, carve off a spot in one corner for umbrellas, keys, and other grab-and-go items. Instead of a table, choose a smaller dresser with drawers for extra storage. To make a significant impact in the small corridor, use bold wallpaper.