Why Basement Finishing is Essential for Homeowners
When it comes to homeownership, finishing your basement is essential. It adds valuable living space, increases overall worth and appeal, and offers practical benefits.
Modern advancements make transforming dark, dingy basements into vibrant, functional spaces easy. You can choose to create a home theater, gym, or extra guest room.
Plus, it provides extra storage and a safe sanctuary during extreme weather. Investing in basement finishing also increases your home's market value.
Don't miss out on these countless benefits! Take action and unlock the potential of your home. Create a space that is both functional and aesthetically pleasing.
But remember – once it's done, there's no turning back – like a bad tattoo on your house!
Key Considerations before Starting Your Basement Finishing Project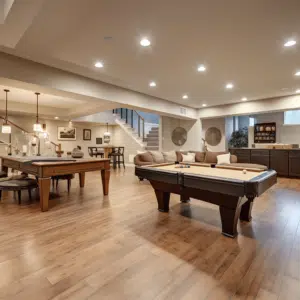 There are a number of elements to think about before starting a basement finishing project to make sure it turns out well. Assessing the condition of your basement is pivotal, as it sets the foundation for the rest of the project. In this section, we'll explore the importance of this step, along with other crucial sub-sections that contribute to a well-executed basement finishing endeavor.
Assessing the Condition of Your Basement
Before starting your basement renovation, it's important to assess its condition. This will help you decide what needs to be done.
Check the foundation walls for cracks or water penetration. Unfixed issues can cause major damage.
Look at the floors for any unevenness or moisture issues. Uneven floors might mean structural problems and moisture can lead to mold and mildew.
Check the ceiling for water damage or leaks. This could be caused by plumbing or insulation issues.
Analyze the ventilation. Good airflow helps prevent moisture buildup and improves air quality.
Investigate the electrical system. Make sure it meets safety standards and can accommodate your needs. A professional electrician might be necessary.
Finally, evaluate the layout and functionality of the basement. Think about how you plan to use the space and if any modifications are needed.
When assessing your basement, consider these tips:
Address any structural issues first.
Get professionals for inspections or repairs that require expertise.
Take preventative measures like installing drainage systems or waterproofing materials.
Create a detailed plan before beginning the project.
Examining your basement and following these tips can help you minimize risks, maximize functionality and create a beautiful finished space that increases your home's value. Let's get started on the step-by-step guide to transforming your basement from dungeons to dreamy dens!
Step-by-Step Guide to Successfully Finish Your Basement
To successfully finish your basement with planning and designing your basement space, choosing the right flooring and wall materials as the solution.
Planning and Designing Your Basement Space
Planning and designing your basement requires careful thought for a successful outcome. Here are some key points to keep in mind:
Evaluate the uses: Figure out what you want the space for – entertainment, home office, or living area – and make sure it fits your needs.
Think about the layout: Take the existing structure into account when planning walls, windows, and doors. Place them strategically to use the space and natural light best.
Lighting is critical: Basements usually don't have much natural light, so get good artificial lighting. Such as recessed lighting, sconces, and floor lamps.
Choose materials wisely: Pick durable materials that can handle moisture. Water-resistant flooring materials like vinyl, laminate, or tiles are good options.
Personalize it with décor: Choose furniture, artwork, and accessories that match the design scheme to inject your personal style.
For a unique touch, include hidden storage solutions or built-in shelving. Maximize functionality without compromising on aesthetics.
My friend wanted a cozy entertainment area in his basement. He carefully planned and paid attention to detail to transform the dark and cluttered space. The result was amazing – comfortable seating, state-of-the-art audiovisual equipment, and envied by friends and family.
Planning and designing a basement can be daunting. But with thoughtful considerations and creativity, remarkable results can be achieved. Consider these tips and start creating a functional and inviting space in your home. Who needs hardwood floors when you can have wall-to-wall carpet?
Choosing the Right Flooring and Wall Materials
Choosing the right flooring and wall materials can make a big difference to the look of your basement. Making the right decisions will help you make a great looking and practical space. In this section, let's look at different options and factors to consider for flooring and wall materials.
Flooring Options:
Ceramic tile: Moisture-resistant, durable and attractive.
Vinyl flooring: Affordable, easy to clean and comes in many styles.
Laminate flooring: Budget-friendly, moisture-resistant and looks like wood or stone.
Wall Material Options:
Drywall: Smooth finish that can be painted or wallpapered.
Paneling: A quick way to change the look of your walls.
Wainscoting: Adds character and provides protection.
When choosing flooring and wall materials for your basement, here are some tips:
Consider moisture levels: Basements are more prone to moisture, so pick materials that won't get damaged.
Opt for durability: Basements usually have more foot traffic, so choose materials that can handle it.
Take into account insulation needs: Basements are usually colder, so pick materials that can help keep it warm.
By taking these tips into account and making the right choices, you can make a beautiful and functional basement. Don't make the mistake of turning it into a creepy dungeon!
Common Mistakes to Avoid during the Basement Finishing Process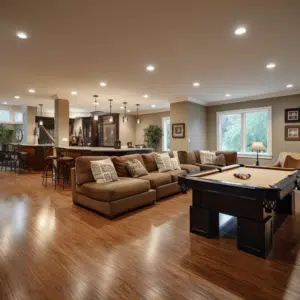 Basement finishing can be complex. However, with careful planning and attention to detail, common mistakes can be avoided! Here's how:
Get permits! This is key, so that your renovation meets all building codes and regulations.
Moisture issues? Address before starting the finishing process.
Proper insulation? Make sure to insulate walls, floors, and ceilings for comfort.
Lighting plan? Take into account artificial lighting options like recessed lights, track lights, or wall sconces.
Ventilation needs? Install exhaust fans or consider other methods.
Utilities planning? Plan ahead for electrical outlets and plumbing connections.
Don't forget the minor details, either! Inspect your foundation for cracks or water seepage regularly. Plus, install a basement waterproofing system for extra protection.
Also, HomeAdvisor states that homeowners who finish their basement can recoup up to 70% of the project cost when selling their home!