Metal clad (Type MC) and Armored cable (Type AC) are a great way of wiring new construction and remodeling projects. Although they're among the most confusing cables on the market, these two options provide mechanical protection for the electrical conductors while allowing them to be flexible around corners.
This makes installation quick and easy and reduces the possibility of conductor damage. The National Electrical Code has accepted MC and AC cables for decades, with statistics indicating that they boast an excellent fire safety record.
Mc Cable Vs Ac Cable: The Difference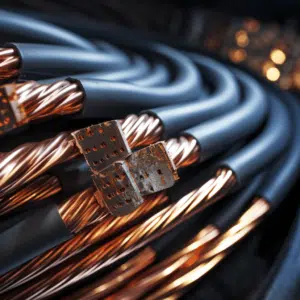 Type AC and Type MC armored cables may look similar at a glance, but there are actually several aspects that set them apart in terms of construction and intended area of application.
The main difference, though, has to do with the grounding rather than the armor. For instance, the MC comes with a standard ground wire whereas the AC cable depends on a jacket and a thin wire strip to secure the grounding. The AC can also serve as a part of the earth grounding alongside the bonding wire, as opposed to the MC cables where the armor is not part of the grounding.
AC cables are mostly used to transmit weight across partitions and can run without hitting pipes or other barriers. In contrast, MC cables need wire pullers, fish ropes or tapes, dispensers, and lubricants. AC & MC cable is ideal for many projects because it is smaller and bendable than most wiring items. AC wires cannot withstand moist and wet conditions, hence they are not used indoors. So are MC cables. Lack of PVC jackets on AC cables is the main cause.
Metal Clad's PVC jacket makes it outdoor-friendly. AC cables cannot be directly buried like metal coated. They dominated armored cables before MC. MC cables are versatile and modern.
Metal Clad Type MC Construction
Type MC cable, as described in NEC® Article 330, is a factory-assembled cable that consists of one or more insulated circuit conductors (with or without optical fiber members) enclosed in an armor of interlocking metal tape or a smooth or corrugated metallic sheath. Traditional Type metal clad cable is produced to UL Standard 1569. MC cables come with two or more solid or stranded conductors in sizes 18 AWG and larger. The number of conductors allowed in an MC cable is not restricted by UL. The conductors may be copper, aluminum, or copper-clad aluminum.
Kaf-Tech's 600-volt interlocked armor conventional MC cable has copper circuit and grounding conductors and thermoplastic insulation. The cable has polypropylene cable assembly tape and galvanized steel or aluminum interlocking armor.
Unlike Type AC cable, the armor of interlocked Type MC cable is not an equipment grounding means. Therefore, traditional Type MC cable requires a bare or green ground wire for grounding purposes.
Armored Cable (Type AC) Construction
Armored (Type AC) cables are a great choice for electrical wiring in your home. According to the National Electrical Code, Article 320, armored cable Type AC is a "fabricated assembly of insulated conductors in a flexible metallic enclosure." This type of cable is manufactured to UL Standard 4, meaning it meets strict quality and safety standards.
AC cables have interlocking metal armor and 2-4 14-1 AWG copper conductors. The armor is steel or aluminum. UL 4 limits type AC cable to five conductors: four insulated and one grounded. It cannot be larger than 1 AWG.
The metal armor is physically connected to a 16 AWG aluminum bonding wire. This provides a low-impedance fault return path for over-current protection devices.
In addition to making the AC cable unique, the bonding wire allows the outside metal armor to ground devices. The bare bond wire is not an equipment grounding conductor. The bond wire and interlocking metal armor provide low-impedance equipment grounding.
Each copper conductor is individually wrapped in moisture-resistant, fire-retardant paper and has thermoplastic insulation (THHN with a 90°C rating).
NEC Article 320.40 requires an insulated (anti-short) bushing for Type AC cable installation. This protects wires and is fitted at termination.
Installing MC and AC Cable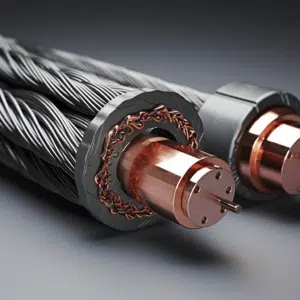 After installing boxes and enclosures, rough-in type MC and AC cables. After framing the interior and exterior walls, rough-in begins before sheetrock. Rough-in begins with deciding where to start wiring and how many home run circuits are needed.
After planning, evaluate each cable run's best and fastest routes. Long spider web routing runs increase cable and voltage drop. Consider this when arranging light, switch, and receptacle boxes. Long runs require larger circuit conductors to reduce voltage drop.
MC and AC are available on reels and in coils. If opt for a reel, simply draw the cable from the end of the reel. If using a coil, you will need to draw the cable from the center to avoid kinking.