Customers shopping for Miele products frequently purchase vacuum bags. Miele vacuum bags are popular and have a reputation for being long-lasting and are designed with lightweight components to increase their usage.
Customers, however, find it challenging to choose the best models for usage at home. This article will contrast Miele Hyclean versus Airclean to give customers the information they need to make knowledgeable purchases of Miele vacuum bags.
In reality, Miele Hyclean, particularly the versions equipped with FJM and GN and those built with U size, demonstrate a similar capacity to Airclean. The two types are made using the same machinery, but their primary distinction is their branding. While Hyclean is marketed for the EU market, Airclean is for the US market.
Miele Hyclean vs Airclean: Quick Comparison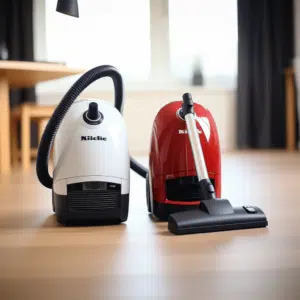 What You Get
Vacuum bags typically come in sets. Depending on the brand, you can also obtain some more filters.
If you purchase the Miele HyClean, you will get four vacuum bags, one super air clean filter, and one motor filter. You can also buy a set of 8 with eight vacuum bags, two super clean air filters, and two motor filters.  
When you purchase the 16-pack that includes four motor filters and four ultra-clean air filters, you will experience significant savings.
The Miele AirClean, on the other hand, comes as a set of four vacuum bags with one super air clean filter and one motor filter. A value pack of eight vacuum bags and two of each filter can be purchased. There isn't a 16-bag pack available.
Size and Appearance
Vacuum bags have a very basic appearance. Most are white with a hole and an attachment on the front to align it correctly with the hose. The brand will frequently affect the size.
The size and the design of the Miele HyClean and the Miele AirClean are similar. Both bags have side folds that expand to 20% creating more room.
The difference between the two bags is in their weight. The Miele Hyclean tends to weigh less than the Miele AirClean. Another difference is that the AirClean bags are color coded to help you quickly identify and replace the filter bags.
Filtration
 The filter systems in both vacuum bags will capture 99.9% of the dust particles. There is only one distinction.
Miele HyClean has nine layers of filtration, while the Airclean, on the other hand, has 12 layers of filtration.
Bag Capacity
The time you can operate the vacuum before replacing the bag depends on how much the vacuum bag can carry. Since you don't want to keep purchasing bags every two months, it also boils down to value for money.
Miele HyClean has a 4.6-quarts volume made possible by its 3D technology. On the other hand, Miele AirClean bags may hold 3.-quarts, which is a little less.
Miele Hyclean vs Airclean: Pros and Cons
Miele HyClean
Pros
The fact that they feel so secure once they are attached to the vacuum gives you peace of mind that the dust is being collected in the bag.

Purchasing the multipacks offers the best value, and although they cost more than generic vacuum bags, they perform far better.

They're simple to utilize.

They appear to be nicely built, and the material feels sturdy.
Cons
Some people have complained that they have received vacuum bags that are not in their original package.
Miele AirClean 
Pros
The bags have been tried and tested on the sand and are incredibly sturdy; they don't shred or break.

The additional filter layers have an impact on the air's general quality.

They fit tightly so that nothing can escape and are pretty simple to install.

People with allergies will appreciate the effectiveness of these vacuum bags.
Cons
They need to be a little bit bigger
Miele HyClean vs AirClean: Which One Better?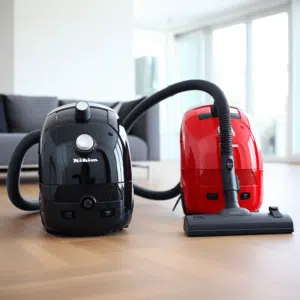 Knowing the better option only really matters if you own a vacuum model that will accommodate one of the bags. Having said that, the HyClean and the AirClean are fantastic choices to use in a vacuum of this caliber.
Both have auto-seal technology that locks in dirt and can capture up to 99.9% of the dirt. If you own a Miele vacuum, it is worthwhile to purchase either choice.
However, the Miele HyClean is the ultimate winner. Its large capacity due to the 3D technology sets it apart.  The bag will, therefore, not need to be changed as frequently. Even if there are fewer layers of filtration, nine layers are still a significant number. The fleece material works fantastically, and the bag is still sturdy.
You wil also enjoy the fact that there are additional pack purchasing options and that the HyClean bags work with more Miele vacuum models. It is recommended to purchase the multipack of 16 vacuum bags since you will have high-quality bags for a very long time and also save some extra cash.
Frequently Asked Questions
Are Miele Bags Worth It?
The Miele bags are pricey (about $17 for four), but they are worthwhile if you require the full benefits of effective filtration.
How Frequently Should Miele Vacuum Bags be Changed?
A Miele vacuum cleaner bag ought to last roughly three months with typical use. This, however, may change based on your house and how frequently you vacuum. Plan to replace your bag monthly if your home is large or has wall-to-wall carpeting.
What Distinguishes GN Bags from FJM Bags?
The only factor differentiating FJM and GN bags is their dust capacity, not their fitting. Although the front tab fitting is identical, GN bags have a bag volume that is 1 liter bigger than FJM bags. Therefore, even if you made the wrong bag choice, it still works well with your Miele canister vacuum.
Can Miele Bags be Reused?
The bag can be used again. However, it requires some instructions. For instance, even though it may be washed, putting it in the washing machine will damage it because the plastic portion is delicate.
Conclusion
We hope this article helps you understand the similarities and differences between Miele Hyclean and Miele AirClean. If you own a Miele vacuum, it is worthwhile to purchase either choice.