American Standard is one of the top three manufacturers of toilets in the United States. The American Standard Champion 4 toilet is one of their best-flushing and most well-liked models.
But just like anything else, the American Standard Champion 4 also has problems. This article will walk you through some of those problems. It will also cover some advantages of owning an American Standard Champion 4 in your home so that you can decide whether this toilet is good or not for you.
American Standard Champion 4 Toilet Problems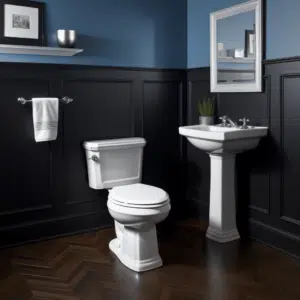 It is Expensive
The first problem you will encounter with the American Standard Champion 4 is its high price. The toilet is not inexpensive. It leans more toward the upscale end. Therefore, even those who would have wished desperately to possess one will be turned off by this toilet's high price.
High Flush Rate
Each flush on the American Standard Champion 4 requires 1.6 gallons of water. While still a significant improvement over the previous 3-gallon-per-flush toilets, most modern toilets now use 1.28 gallons of water or even less.
The high water consumption per flush will cause your water bill to rise, and this can be viewed as a challenge to owning this toilet
Phantom Flushing
Phantom flushing is another problem you will likely encounter with the American Standard Champion 4. This occurs when water leaks around the flush seal. It, however, happens after some years of the seal absorbing water.
Ineffective Flushing
Having to flush the toilet twice is the most annoying thing. However, you will sometimes have to do it if you buy the American Standard Champion 4. This is despite the toilet utilizing 1.6 gallons of water per flush.
It is Noisy
Many customers have complained that this toilet produces a strange sound when flushing. This is a big issue, especially if you plan to install the toilet in your bedroom. It may cause problems in the middle of the night, waking up nearby sleepers or family members.
Leaves Residues and Skid Marks Behind After a Flush
After flushing your American Standard Champion 4 toilet, you will likely notice some residues and skid marks necessitating the use of a clean brush.
Why Should You Buy an American Standard Champion 4?
Despite the issues listed above, there are still some benefits to owning the American Standard Champion 4. The benefits are listed below:
A Powerful Flush System
One of the best flushing toilets is the American Standard Champion 4. This toilet uses the Champion 4 flushing system. The system uses an extra-large 2-3/8 inch fully glazed trapway and a 4-inch wide flush valve.
Thanks to the 4-inch valve, the American Standard Champion 4 ensures that water from the tank is delivered to the bowl quickly and powerfully, leading to a powerful flush.
The extra-large trapway helps the toilet remove an enormous bulk of the waste. According to American Standard, the flush valve and trapway combination allows the Champion 4 to carry a 70% larger mass than a regular toilet.
Comfort Height Toilet
The Champion 4 Toilet complies with ADA standards which is why they are known as comfort height toilets. Among other things, the Americans with Disabilities Act (ADA) stipulates that toilet seats must be between 17 and 19 inches high.
The bowl rim height on the Champion 4 is 16.5 inches. You will have a total seat height of 17.5 inches if you add the additional height from the seat.
Comfort height toilets are convenient to use and easy to sit on, especially for the elderly and tall individuals. ADA requirements are often implemented in public restrooms. They are known as chair height toilets since you don't have to stoop too low to use them because their height is similar to that of a regular chair.
Although most people find comfort height toilets to be an excellent option, some people still like regular height toilets. The American Standard Champion 4 in a standard or normal height is the ideal option for these persons. The bowl rim height for this toilet is 15-inches which is ideal for young children and short people.
One Piece Toilet
The American Standard 2034.314.020 Champion 4 is a one-piece toilet, unlike other Champion 4 models from the past. A one-piece toilet is a toilet with a bowl and toilet created as a single piece.
In contrast to the two-piece toilets, the Champion 4 appears sleek and contemporary. Because there are no lumps and crannies like there are with a two-piece toilet, this design makes the toilet look incredibly smooth.
Because there are no crevices for filth to hide in, cleaning the Champion 4 one-piece toilet is also quick and simple.
Elongated Toilet Bowl
A toilet can either have an elongated or round bowl. Each has benefits and drawbacks.
While the round front bowl is circular, an elongated toilet bowl is oval in shape. The elongated toilet bowl is consequently larger than a round one. Elongated toilet bowls are 18.5 inches long, whereas round toilet bowls are 16.5 inches long.
Because they provide a larger surface area to sit on than round toilet bowls, elongated toilet bowls are consequently more comfortable to use. You will enjoy how the American Standard Champion 4 mixes an elongated bowl with a comfortable height.
The only drawback of elongated toilets is that they require more bathroom space due to their greater depth. The American Standard Champion 4-round front toilet is the best option for anyone with a tiny bathroom.
Everclean Surface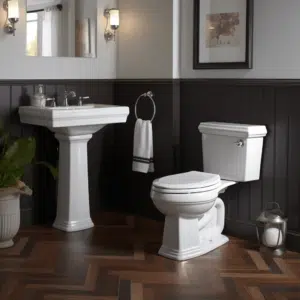 The Champion 4 features the same patented EverClean additive on its surface as other contemporary American Standard toilets.
The antibacterial EverClean component prevents the development of germs that cause odors and mold, mildew, and other microorganisms to grow. As a result, your toilet will continue to look clean and newer for a long time.
Slow Close Toilet Seat
Today, the majority of brand-new toilets are offered without a toilet seat. On the other hand, the American Standard Champion 4 includes a soft/slow closing seat.
If you get highly agitated when a toilet seat smashes against the bowl each time one is used, a soft shut toilet seat is a blessing.
Conclusion
We hope this article helped you understand some of the problems you will likely encounter with the American Standard Champion 4 toilet. However, these problems should not scare you from purchasing the toilet since there are also many more benefits to owning it.