The garage door, though disregarded, plays a crucial role in your home's general appeal. It is paramount to select a garage door and the front door together. Choose a pairing that showcases a cohesive design and binds together the newly upgraded elements of your home, more so those fronting the streets.
The correct color advances the look of your home. Aside from color palettes affect the general value of a house or a home either negatively or negatively. There is a range of garage door color choices that you can explore to modify your home.
Some garage doors correspond to some architectural styles, while others are contrary, adding an incredible visual feature. We explore various garage door color ideas together with how you can blend them with other exteriors, such as front doors. Stay with us to the end as we assist in deciding on the best garage door color.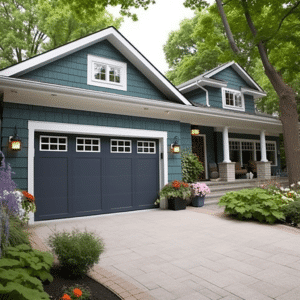 Garage Door and Front Door Color Combination: What Color Should You Go For Your Garage Door
Choosing a color for your garage doesn't need some rocket science or some deep architectural design. A garage door being an essential part of your home, picking the right color for it requires a lot of consideration. It seems easy but tricky as garage doors do a vital feature that comprises a third of your home's façade.
How do you select the right color for the garage door? Here are the guidelines for a perfectly fitting garage door color:
Your home's architectural style and the color are a perfect lead to check what works and what doesn't when it comes to determining the garage door's color. Each design corresponds to a particular color palette.
Whether brick, wood, vinyl, or stucco- the same way materials match a particular color, it may not be the same as other garage door colors. Ensure your garage door complements well with trims, shutters, window sills, and the front doors.
Other exterior architectural elements
Although the front door and garage shouldn't have similar colors, it doesn't mean they should not complement each other with the exemption of traditional applications painting the doors, shutters, and garage doors in the same color.
A garage door color offers endless design possibilities; thus, your preferences are what matters. From sophisticated statements to warmth and richness, the options are endless.
Color schemes depend on the color wheel.
It is highly significant to know how the color wheel works. A color wheel is a simple decorating tool used by designers to formulate a harmonious color palette that involves your garage door, among other visual architectural elements in your home.

Explore various color combinations like the complementary color schemes, analogous color schemes, neutral color schemes, and monochromatic color schemes
Dove gray color suits perfectly due to its functions – where cars are parked, while in some homes, it serves as storage for unused items/things for repair.
Dove gray is excellent if the house's exterior is painted with light colors like white, taupe, cream, tan, etc., which is the case for covers. The fringes of the garage door can be a darker shade of gray, offering it an imaginary look, especially when the garage door is in front of the house.
Never paint your garage door the same color as your house because it is a super dull look, and it confuses you.
However, if the house's exterior is painted dark, go for a white garage color to make it look big, which should be the case.
What Color Is For Your Front Door?
The house exterior should be boldly electrifying and receive the owner's personality. Do pitch black as it is bold and provides the confidence you deserve. 
Pitch black illuminates other colors in exceptionally light colors.
Color Combination For Garage and Front Door
White and Gray- It is a perfect garage door and front door color combination you should think about. Use a gray color for the garage door if the front door is painted white for easy differentiation.
Red and Brown- are bold colors that also blend perfectly
Black and Light Wood Color- is one of the best garage doors and front door combinations that anticipate making your garage door distinct from the front door and the house.
A lightwood garage door will make the black door exceptional and different from each other but still complements each other. So it is easy to differentiate.
White and White- is a great combination but will confuse people not knowing which door is the garage and which door is the front door.
Navy Blue and Yellow- you can paint your front door navy blue. Your garage door can be yellow, bold, and colorful and attract people's attention to your home.
Dove gray and shades- Gray being a neutral color, it works perfectly to keep your house's exteriors reserved and balanced. It is absolute gravitation towards sophistication and a fine choice for your doors. It makes your exterior doors cool and calm.
Walnut Brown and Cream- you can use brown on the door surface and cream on the edges and knobs, explaining a personality of a unique kind.
Walnut brown depicts stability and growth, making the house's entrance exudes vigor by maintaining the combos on your garage and front door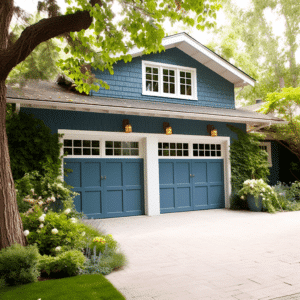 3 Considerations On The Color Combination For Your Garage And Front Door
Everyone has what they perceive the exterior look of their house should prove, and others don't. Look at these three factors:
The door texture
Doors can be made from fibers, including glass, wood, steel, etc. The thread that the door was made from should be the first thing to consider.
Exterior walls and Windows Color
Before you decide on the color combo of your garage and front door, you should look at the paint on the walls of your house's surface and windows.
It is advisable not to use multiple colors, thinking it is creative. No, it is devastating. Choose the appropriate paint to use for your garage doors.
The outward look
Get a professional on the ground to interpret your home outlook because your color choice may mean something else to a professional for a clear perspective that lasts.
The house's veneers should create a match-up theme that explains its vast and delicate features. Though it is not a must, it is vital, and it should mean a lot. Regardless of the texture of the doors, there is always a way to form a color combination of the exterior.
The idea of color combination on a garage and front door is unique in making a house maintain an identity that portrays a decorated and stunning edifice. Continuously match the colors up as they should for the house exterior to demonstrate something epic.