You are starting your next renovation or are building a new house. Maybe you have never had an issue with shiplap and trim being different colors, while others may have always struggled with the difficulty of matching these two elements. With the right colors, the elements can be a perfect match.
Shiplap is becoming a popular style in new construction, but some people are unsure what color shiplap should be. To better match the trim on the house's interior, it is recommended to paint the shiplap the same color as the trim.
What is trim?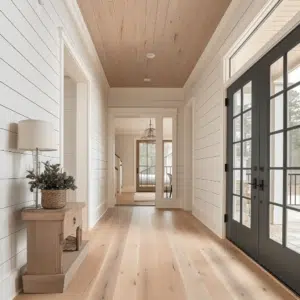 Trims are used both for practical and decorative purposes on a wall. As well as serving the valuable purpose of bridging holes in walls, ceilings, floors, and openings, interior trim serves as an essential element of your home's decorating style.
Paints such as acrylic latex are an excellent option for the trim on interior walls. Trim and molding look best with semi-gloss or high-gloss finishes. Satin and semi-gloss have a higher gloss level but are not as shining as high-gloss. It is possible to apply latex-based paint over a primer that is acrylic or oil-based.
What are the Most Popular Colors for a Trim?
White trim is the most popular trim color that you'll see on homes. This is because it looks great in any style of home. It gives your home a classic look. Another reason people love white trim is that it's easy to match with almost any color scheme in your home. So, if you're looking for something to make your home stand out, adding white trim to your home will do just that.
What is a shiplap?
Shiplap brings a natural and rustic vibe to your room. It brings brightness and informality to your space. Adding texture and depth to your walls makes your space feel more exciting.
Type of Paint and Finish to use on Shiplap
A combined primer and paint saves time since it eliminates the need to use two separate products. The best part about an all-in-one paint and primer is that it will save you money. All you need to do is apply the paint, let it dry, and then seal it. It also has excellent coverage, which means you'll need fewer coats of paint.
Many homeowners prefer a flat finish for shiplap walls as it provides a retro and vintage aesthetic. The only downside to a flat finish is that it's difficult to clean as dirt and grime can quickly accumulate on the surface. Cleaning will be an easy task with a semi-gloss, though it will have a sheen. An eggshell or satin finish is a perfect in-between sheen. Both are easy to clean and remain matte.
What are the Most Popular Shiplap Colors?
Shiplap is such a modern home feature right now. The rustic look of the wood panels adds character to the wall without being overwhelming. The wood panels are easy to install and come in a wide range of sizes so that you can create the look of shiplap walls in any room.
White

: White shiplap walls are a popular choice. White shiplap walls are crisp and clean and will brighten up any room. White shiplap will be a nice complement to any furniture or flooring.

Gray

: Gray shiplap walls are a stylish choice. The grey color works with any style, whether your home is modern and sleek or traditional and cozy. Adding a gray shiplap wall to your home instantly adds style and sophistication.

Blue

: Blue shiplap walls are also a popular choice. The blue color adds a pop of color to your home without being overwhelming. With a neutral color scheme, this would be a beautiful addition to any home. It's a good way to add some spice without being too bold.

Brown:

Brown shiplap walls instantly add warmth and charm to your home. The light brown color works in almost any home style. It can add character to your home, and you can use it in almost any room in your house. Brown shiplap walls bring a rustic look that is warm and inviting.
Pros of Painting the Shiplap and Trim the Same Color
Create an elegant, minimalist color pallet
Painting your shiplap and trim the same color — white or another neutral color — creates an elegant, minimalist color pallet. It also brings these two elements together, making them look seamless. White shiplap and white trim are classic, while gray shiplap and gray trim work with various color palettes. And, of course, you can use dark paint with shiplap and trim to create some dramatic contrast.
It gives the room a larger appearance.
If you are looking for ideas on making a room appear larger, consider painting the walls the same color as the shiplap and trim. Painting the shiplap and trim the same color creates contrast and makes the room appear larger.
Hide trim styles that don't match your aesthetic.
One reason shiplap has been so popular is that it hides a multitude of sins. Shiplap walls look seamless until you notice all the trim details, moldings, and cabinet hardware–all of which may vary in finish, shape, size, and style. Painting shiplap the same color as the walls or trim helps hide these details, which vary from room to room. It will help to camouflage the trim style if you paint your shiplap walls, trim, and door the same color.
What is the Best Way to Paint Shiplap?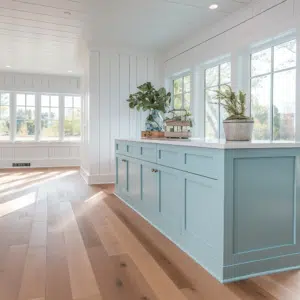 First, the prep work is the most essential part. Shiplap usually has tongue and groove joints, and if you paint over them, you'll end up with a stained tongue and groove joint.
It's a good idea to sand the wood with 100 grit sandpaper before installing shiplap. Then, you want to make sure the nails are flush with the wood. If they are sticking out, paint won't stick to them.
The next step is to prime the wood. You can use a primer made for shiplap, or you can use a regular latex primer. Finally, paint your shiplap. This is a two-step paint. The first coat is the color. Then, you apply a second coat, and that seals in color.
So, "Should Shiplap and Trim be the Same Color? " When painting spaces with shiplap, it's a nice idea to make the shiplap and trim the same color. This nice visual touch allows the eye to flow from one room element to the next. It ensures a finished room that is neat and professional-looking.