Based on appearance, it is easy to assume that all toilets are pretty much the same. But a peek under the lids reveals crucial details, differences, and modern innovations that make shopping for these fixtures a little bit more daunting.
On the bright side, though, there are several brands that are doing really well, Project Source being one of them. In fact, Project Source toilets are some of the best models that are becoming increasingly popular.
They are designed to use less water per flush and have a smaller footprint than traditional toilets. They also come in a variety of colors, styles, and materials to suit any bathroom décor.
Project Source toilets are also offered in both single and double pieces, featuring a sleek and attractive design to resonate well with different types of bathroom interiors.  They are meant to be used by anyone and they are not only comfortable but also environmentally friendly.
Project Source Toilet Reviews: Everything You Need to Know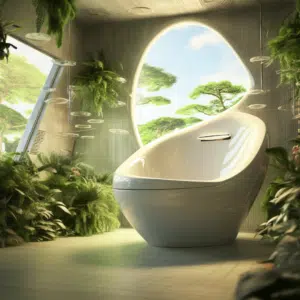 There are plenty of reasons to love Project Source toilets. Aside from being on-trend, these items are also environmentally friendly and easy to clean. Let's find out more about these toilets!
Design
When it comes to design, this toilet stands out from many substandard quality options, as the majority of the users praise its thickness and base. They also come in a variety of colors, styles, and materials, making them an excellent addition to any bathroom décor. Plus, they are also very easy to install and use.
The base is pretty smooth and flat and doesn't have any artistic design. Some people may prefer a little design on the front, though, but that doesn't mean the simple appearance isn't great.
The cleaning process is easy and effortless, probably because of the smooth base. The texture is resistant to dust and dirt, so you can simply wipe it clean with a damp cloth.
The elongated toilet bowl and decent flushing capability will make you comfortable while using the toilet. It is a sophisticated choice, augmented with 1.6 gallons per flush, which can flush better and more efficiently.
Dual Flush System
Due to the presence of a dual flushing system, this toilet will consume less amount of water to flush efficiently, which will, in turn, lower your monthly bill. Experts have it that you can save up to 4,000 gallons of water per year, thanks to the said flushing system.
There's also the fully-glazed Trapway, which turns out to be an excellent feature for many users. This feature alone makes waste and water go through the existing path more smoothly, meaning you will hardly face dreaded clogging issues while using this model.
Easy Installation
The best part in regard to installation is that this toilet is available in both double and single pieces, all of which are easy to install. Generally, you might want to choose one-piece toilets, probably to save space in your bathroom- but keep in mind they are slightly heavier.
However, on the good side, you can easily clean this one-piece without any problem. Plus, there'll be zero-minimal bacteria growth.
Meanwhile, if you are looking for a more customized option, the two-piece unit can be an excellent pick. You can have it installed in your preferred style and height. Otherwise, the best design and style will always come down to your preferences.
Comfortable Height
Although it's often overlooked, height is one of the most important features to pay attention to when choosing a toilet. Not all toilets will provide the same comfort, given that they come in different styles, designs, and heights.
The fact that Project Source toilets have a standard height bowl means that you will achieve a decent comfort level sitting down and standing up. Both men and women and elderly people can safely use it, even the disabled won't face difficulties while using this toilet.
Budget Price
Price is a predominant factor when it comes to household items. And toilets aren't an exception. You want to get something you will use for several years to come.
In comparison to other similar brands out there, Project Source toilets come at an affordable price, making them ideal for most people. When you factor in both price and great performance, not many brands can contend with Project Source.
Speaking of functionality, these toilets are designed to be used in any environment. They are made from plastic and stainless steel. There are no moving parts inside, making them easy to clean and maintain. They are also low-maintenance and durable.
And as mentioned before, Project Source toilets are also designed to use less water per flush and have a smaller footprint than traditional toilets. This makes them an excellent choice for those who are looking to save water and reduce their impact on the environment.
Warranty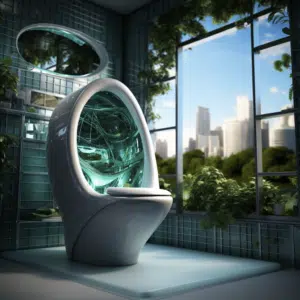 A 5-year warranty is what you get with a Project Source, which is pretty much agreeable, given that this is only a budget-friendly toilet. As a result, you don't have to fret about cracking or damage issues for the new item. In case the bowl or tank is broken or damaged before installing, rest easy knowing you're covered by the warranty.
Another major highlight of Project Source toilets is that they incorporate the important items you need to complete the installation. You won't have to buy anything else separately. In addition to minimizing the hassle, this is a great value pack since you receive everything in a package.
Not forgetting that you won't have to run around stores and shops long for the correct size and model for the unit. This makes the overall installation process easier and more manageable. 
Here's is a quick rundown of the pros and cons of Project Source toilets:
Project Source Toilet Pros
       

Smooth base for fast and efficient cleaning

       

Dual flushing system that saves up to 4,000 gallons of water

       

A practical elongated bowl to save space

       

Great for saving monthly water bills

       

1.6 gallons per flush functionality

       

Fully-glazed Trapway to prevent dreaded clogging issues

       

Easy to install as the installation parts are included in the package
Project Source Toilet Cons
       

The seat height level could be a little higher

       

Somewhat heavier compared to other brands