Built-in Shower Benches, When designing a bathroom or remodeling an existing one, it is essential to think about the safety of anyone who might need to use it. A great way to make the bathroom more accessible is with the addition of a shower bench.
A built-in shower bench can be one of the most underrated parts of the bathroom. They come in several shapes and styles and are extremely useful. Today we will discuss the pros and cons of a built-in shower bench and help you decide whether it is right for you.
Why a Built-in Shower Bench?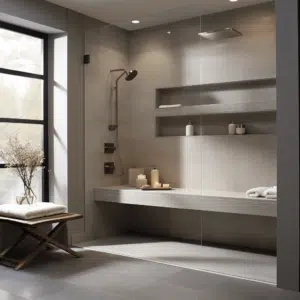 Shower Bench
A shower bench is a seat that is built into the wall of a shower. It comes in handy for individuals with mobility or other physical impairments and can make showering more accessible and safer. This includes individuals with mobility issues, people recovering from surgery, and the elderly. You can install it at different heights to allow for custom comfort. It is usually made from waterproof material such as tile or marble to ensure longevity and make it easy to clean.
Where to Place Your Built-in Shower Bench
One of the most critical considerations in bathroom renovation is where to place your built-in shower bench. Placement will affect comfortability, efficiency, and safety.
The best way to find the perfect place for a shower bench is to test where the water sprays and see if it is a comfortable place to take a shower. You can also adjust the showerhead, if it is adjustable, to know where the best place for the bench would be.
What are the Dimensions of a Built-in Shower Bench?
A shower bench solves the problem of getting in and out of the shower while standing up. According to the Americans with Disability Act (ADA), a typical bench ranges in depth from 15 to 16 inches, while the seat should be at least 14 inches wide. The height should be variable, with a range of about 10 to 19 inches.
What is the Best Material for a Built-in Shower Bench
The material for a built-in shower bench is versatile, easy to clean, mold and mildew resistant, and waterproof. Here are the types of materials you can use for a built-in shower bench:
Wood, marble, granite, and quartz

: Wooden shower benches are attractive, durable, and easy to clean. However, they aren't waterproof and are susceptible to scratches. If you're looking for a stylish bathroom upgrade, go with a marble finish. It handles humidity very well. You can also choose quartz or granite if you're after something more low-maintenance.

Tile: You can also choose tiles instead of stones in your shower to create a more pleasant environment. This material is much cheaper and easily blends with your shower's walls and floor.
Pros of a Built-in Shower Bench
The built-in shower bench is a great space saver. For those with limited bathroom space, Built-in Shower Benches provides room for storage. Since the bench is almost always mounted on a wall close to the shower area, this means that you can conveniently store your shampoo, conditioner, body wash, and soap bars mounted on the bench. This also means that there is less clutter as well as it will be all in one place. 
You can also use this area to store towels and washcloths since almost everyone uses these items every day. A built-in bench for your shower is an excellent idea if you have limited space but still want everything within easy reach and close to the shower.
Many people have a fear of falling while showering. A shower bench can help solve this problem by providing a safe and supportive surface for the person to sit on. They also provide safety to children during baths since they can sit while their parents bathe them. This reduces the risk of a child slipping and falling, preventing potential injuries.
Shower benches, also known as bath seats, make bathing a much more comfortable experience for those with limited mobility. The elevated surface makes it much easier to stand up or sit down without help.
Built-in shower benches are studier than the regular shower bench, making it a lot more comfortable. They offer more support than a standard shower bench because they are built into the bathroom wall itself. 
Custom Shower Benches Custom shower benches are just what they sound like. You can have them made to match the other fixtures in your bathroom. This allows you to match both the color and the design to make the room look more cohesive. You can choose different styles for your custom shower bench. You can choose either a contemporary or traditional style.
Built-in bathroom benches are suitable for the home, and they add a touch of luxury. These benches are available in various shapes and sizes. You can choose your desired size according to the space of your bathroom. You can find the perfect combination of design and style for your bathroom with these built-in bathroom benches.
Cons of a built-in shower bench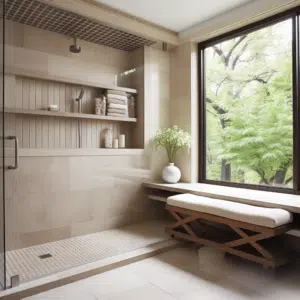 The built-in shower bench has a lot of benefits. It provides a place to put your stuff, sit, and a place to soap up. But what many people don't realize is that it can take up a lot of space. If you have a small bathroom, this may not be the best solution for you. Many of the models today are incredibly stylish, making them an attractive place to sit. However, it can make your bathroom look smaller.
Built-in shower benches are only practical when they are designed and installed simultaneously as the shower itself. A shower bench can be awkward and won't look spotless if it is merely an add-on and never considered in the design stage.
A built-in shower bench is a fun way to customize your shower without sacrificing space. It is built on the side of your shower, so it will only take up the area that the seat itself takes up. You'll want to pay attention to how high or low you install your bench because you'll want to make sure it is at a comfortable height for you to sit on.