You've probably heard a lot about what a storm door can bring to your home – security, protection from the elements, curb appeal- but what most people don't know is that storm doors also have their downsides.
Before you install one, it's important to learn the basics before concluding whether a storm door is the right option for your home- you don't want an unnecessary expense that merely makes a little difference to the home.
In this post, we'll discuss what storm doors are and get closer to their pros and cons to help determine whether you need one or not.
Storm Doors Explained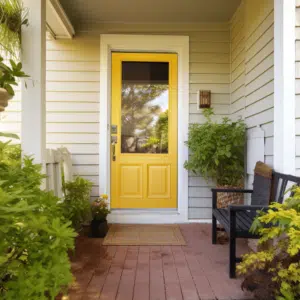 A storm door refers to a second outer door, usually installed for protection against bad weather and allows for ventilation in fair weather. It adds value to your home and as the name implies, it lends insulation, security and versatility to your home.
Storm doors aren't just for storms. They may have started that way, but a storm door is now a solid exterior door that protects your front or back entrance from rain, ice, wind, cold, or heat. Some storm doors have removable or retractable glass and screen panels for full or partial illumination. These doors are combination doors.
They offer cross ventilation in summer and cold protection in winter. Retractable screens can be slid up/down, however removable screens must be removed to replace the glass panels with fly screens.
Storm doors, like front doors, come in different sizes, colors, and materials. They have three layers: a back and front external skin layer and an inside insulation layer. Reinforced or low-E glass panels are shatter-proof and insulate your home. Personalize storm doors with handles, locks, closers, and pet doors.
Storm Door Disadvantages
Do you need a storm door? There's no doubt that storm doors are important. A majority of homeowners swear by their sturdy construction and weather reliance on their personalized screens and handy pet flaps.
But first, let's have a look at the various reasons why they might not ideal for your home.
High Maintenance
Storm doors typically have multiple window panels that are vulnerable to elements and attract dust, dirt, and grime. That means they will need to be cleaned regularly.
This is especially true for doors with retractable or removable screens. You will need to wash this separately to remove dust and allergens that could enter your home and affect your family's comfort.
The next maintenance issue is wear and tear- obviously. While steel, PVC, and aluminum doors are corrosion-resistant and acceptable for external conditions, a wooden storm door isn't.
A wooden model may be great for its timeless appeal, but keep in mind that it'll need frequent painting/coating and repairs if it's damaged.
Also, it may swell or warp after exposure to rain or snow. That means you'll have to sand down the sides to keep it fit, and possibly create gaps when the door shrinks. Or just replace it with a new one.
Cost
Subject to size and material, a storm door can cost you between $150 and $450. In addition to that, you have delivery and installation costs, which can range anywhere from $800 or maybe more if you're purchasing a double door.
Simply put, a storm door could set you back $500-$100.
Of course, you could save a lot of bucks if you did the installation yourself but would call for some DIY skills.
Note that storm doors don't come in standard sizes, making the installation a bit tricky. Make one mistake and you'll be left with no space to attach an additional door.
You could even damage the frame and incur repair costs, pushing your budget even further.
Inconvenience
With a storm, expect to be slowed down while you're just trying to get into your home. Moreover, traditional storm doors won't give you cross-ventilation or a breeze. To make up for this, you will need to open the door completely, which could let in flies, leaves, dust, and elements.
If ventilation is the main concern, you'd be better of with a combination door where you remove the glass and replace them with a screen and vice versa.
It's however important to leave a safe place to store the panels when they're not in use. As you know, glass panels can pose hazards, especially if you've got kids in the home.
Storm Doors Trap Heat
While high-quality storm doors feature double-glazed or low e-glass, which keeps the heat or cold at bay, with cheaper models, the glass may not be reinforced or treated adequately.
That means the heat trapped by the external glass may bow or warp your internal door.
When Do You Need a Storm Door?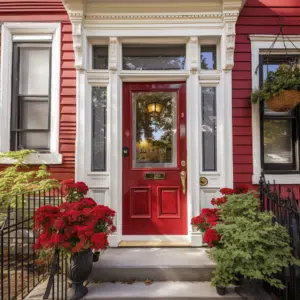 Although most homes are perfectly fine and safe without a storm door, there are cases where storm doors have clear benefits.
The Front Door isn't Weather-proof
If the front door is exposed to rain and snow, and you'd like to minimize seepage into your home, a storm door can help create a protective barrier.
Steel, or aluminum storm doors will insulate you against tougher elements, and further protect the front door against damage.
Increase The Value of Your Home
Storm doors can be a nice move if you're planning to sell your home. It can help improve your home's curb appeal and value.
The glass panels and other character features not only enhance security but also add to the period charm of your home, making it even more attractive.
Need for More Security
You can have more chains and locks on your door, but if you want a sure-fire way to protect your possession and family, storm doors can go a long way.
They are stronger than front doors or screen doors, making it difficult to break into. Additionally, the glass panels promote visibility while still ensuring safety.
The Bottom Line
Given all the storm door disadvantages, we would suggest that you make your final decision based on your situation.
If your current situation necessitates a storm door, then go for it. You may want to talk to a professional to get more details on which storm door would work best for you.