Any room in your house can benefit from the addition of a rug. Many individuals, however, worry if they should place a rug on their floor, particularly in the living room, as more homes opt for tiles or hardwood floors over carpet. We've done extensive research to provide you with the solution you're looking for.
There are numerous benefits to having a rug in the living room. However, there are certain drawbacks to it.
In this post, we'll go through the benefits and drawbacks of placing a rug in your living room and some styling advice to guide you pick the perfect rug for your space.
Do I Need a Rug in My Living Room? Benefits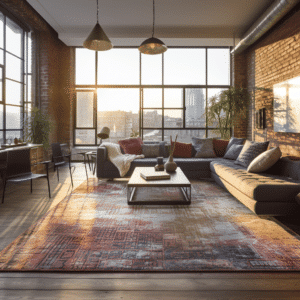 The majority of people place rugs in their rooms for purely aesthetic reasons. On the other hand, Rugs serve a variety of functions in a room that are often overlooked. Some of the advantages of having a rug in your living room are listed below.
Rugs Make the Living Room Feel Comfortable
Hard floors are unpleasant to sit on, stand on, or walk on. Rugs provide a soft surface on which to sit or walk, making the area more comfortable. Their softness also helps in minimizing the pressure on the feet when people walk across them.
Rugs Can Pull Your Living Room Togethe
r
Rugs are available in a variety of designs, styles, and textures. If you have a living room with various accent colors, you can use rugs to bring all of them together by selecting a design that incorporates all of them.
Texture can also be added to a room with the usage of rugs. If you desire a rug but are concerned that it may detract from the appearance of your floors, many rugs look lovely with various flooring types.
Rugs Can Ground Your Living Room
Rugs help to ground the living room, but what precisely does that imply? The energy and area of a space feel balanced when it is grounded. Rugs can make you feel more comfortable by reducing the energy in your room. After a stressful day, that's what you want in the living room.
Rugs can also make a space feel more intimate by gathering all furniture into one central place. In bigger living rooms, arranging the furniture around the rug helps break up the area into tiny "spaces" that feel comfortable. Without a rug to balance them out, more oversized furniture can feel out of place.
Rugs Are Source of Warmth
One disadvantage of having tiles or hardwood flooring is that they might become cold, particularly in winter. Walking over or resting your feet on cold flooring isn't ideal, especially in high-traffic areas like living rooms. Rugs insulate the floor while also providing warmth beneath your feet.

Rugs Help Lower the Noise Level in a Living Room
It can help to calm and quiet your living room, especially if your little kids' or pets are always rushing over the floor. The softness of the rug absorbs noise rather than echo it as hardwood floors do. A living room rug can also keep the room underneath it quieter if you've got a basement beneath your living room.
Drawbacks Of Having A Rug In Your Living Room's
There are some disadvantages of having a rug in your living room, as with anything else. It is critical to be aware of the benefits and drawbacks of any design decision you make for your home. Some of the disadvantages of having a rug in your living room are listed below.
Rugs Are Costly
Rugs can be costly depending on the quality, size, and material used to make them. A vast living room rug is required to fill the space properly. A vast area rug can cost anywhere from four hundred dollars to more than ten thousand dollars, depending on where it's bought and whether it's a designer rug.
Rugs Easily Collect Dust and Dirt
Due to the high volume of foot traffic in your living room's, a rug will soon acquire dust and grime and start to show stains. Dirt can be swept and mopped up on tiles or hardwood floors.
When you have a rug, however, cleaning becomes a little more complicated.  You'll need to vacuum it at least once every week and thoroughly clean it by shampooing or steaming it once it starts to show dirt.
Rugs Can Have Unattractive Odors
Rugs will begin to accumulate odors from spilled food and drink, as well as odors from your dogs and other pets, in the same way that they collect dust and grime.
Some odors can be eradicated with regular cleaning, while others are more difficult to remove, and you'd be forced to replace the entire carpeting. Rugs are costly, and you don't want to change them frequently, so extra steps to minimize spills may be necessary.
How to Pick a Rug for Your Living Room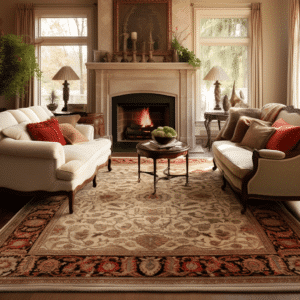 If you've determined that a rug for your living room is right for you but aren't sure where to start, here are some factors to think about.
Material
You should pick a rug made from durable material for your living room. It should be able to handle a lot of foot traffic. Jute and wool rugs are more durable than shag rugs and are also easier to clean.
Color scheme
Rugs are available in a variety of patterns and colors. Choose a solid, neutral hue like grey, brown, or beige for a rug that will fit any color scheme. For a cohesive effect, look for patterned rugs that match the colors used in other areas of the room.
The Shape of Your Room
You should also evaluate the shape of the room to ensure that the rug will fit. It should be large enough to occupy the room without taking up much space.
Your rug should be rectangular if your space is rectangular. A square rug could be a suitable choice if your room is larger yet your furniture is organized in a square shape.