As a traveler, you typically need something to help you carry liquids and essential toiletries conveniently. There are many bag options to consider. For example, you can either use the Sandwich bag or the Quart bag. Which one works better for you?
Generally, when distinguishing between Sandwich and Quart bags size, durability, uses, and their key features should be highlighted.
The quart bag is bigger, more durable and more sustainable than the Sandwich bag. In addition, the Quart bag has more sophisticated and handy features than the Sandwich bag.
If you've mixed feelings choosing between Sandwich bag and a Quart bag, keep reading to know the suitable option for going through TSA.
Sandwich Bag Vs Quart Bag: Quick Facts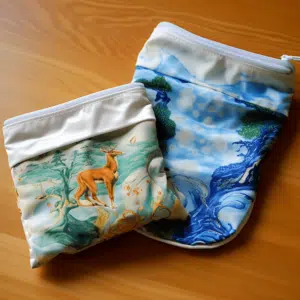 | | | | |
| --- | --- | --- | --- |
| Category | Quart Bag | Sandwich Bag | Winner |
| Capacity | Pack more than 10 Travel-Sized Bottles | At Most 5 Travel-Sized Bottles | Quart Bag |
| Durability | Reinforced Stitching and Handle | Doesn't Hold Up to Wear and Tear | Quart Bag |
| Features | Clamshell Opening | Grip and Seal Technology | Quart Bag |
| Leak & Spills Prevention | Splash-Proof; less susceptible to wear and tear | Leak-resistant body but seal closure isn't | Quart Bag |
| Main Purpose | Organize Liquids Containers | Compress Liquids Bottles | Quart Bag |
| Materials Used | Cordura and Vinyl Plastic | Polyethylene Plastic | Quart Bag |
| Sustainability | Long-term Use | Withstand up to 7 Uses | Quart Bag |
| Versatility | Non-Liquid Valuables | Smaller Containers of Cosmetics | Quart Bag |
Sandwich Bag Vs Quart Bag: Differences
TSA requires that every flying passenger pack liquids for carry-on toiletries inside the quart bag. The quart bag is bigger than the Sandwich bag, measuring 7″ x 8″. The TSA rules majorly prefer clear and transparent bags because they can be easily inspected without asking the owner to open the pouch.
On the other hand, the sandwich bag is a smaller version of a Quart with 6.5″ x 5.5″ dimensions. The most popular Sandwich bag brand is Ziploc. It was initially used to keep sandwiches or any other small snack for the school-going children. Currently, the Sandwich bag can also store travel liquids and carry-on toiletries.
The clamshell opening of the Quart bag is easy to open and closes tightly like a clamp. Therefore you will find it more convenient to own a Quart bag because the process of opening and closing is reliable to ensure you can access only one item while keeping the rest intact and well-organized.
The TSA- approved Toiletry bag won't make things hard if the security team ask you to remove a single item from your bag.
The sandwich bag has the grip and seals technology. The grip and seal feature is not recommended for the storage of liquids and hard items since the lock can easily break away.
Quart bags are usually manufactured from PVC or plastics. However, the Quart size bags like the Extra Small cubes are made from vinyl plastic and durable Cardura. The combination makes Extra Small Cubes more resistant to wear and tear unlike the other inferior options.
Most Sandwich bags are made from polyethylene and plastic. The materials are thin and flimsy, making the Sandwich bags only suitable for storing snacks and light items. If you use it to keep heavier items repeatedly, the plastic bag and the seal will not last.
Quart bag can accommodate up to 10 or more 3.4 ooze travel-sizes bottles. It's spacious enough to allow you to organize your liquids well. In addition, even if the Quart bag is packed to the brim, its shape won't be lost.
On the other hand, Sandwich bags can't accommodate 10 of the TSA-approved travel size bootless. Furthermore, unlike the quart bag, it loses its shape when packed to the brim and doesn't allow the owner to organize their items properly.
The quart bag is made from durable and thick materials; therefore, it can withstand rough handling and serve its main purpose for a longer time.
Ziplocs are flimsy and don't last for long with harsh uses. Quart bags have reinforcing stitching around the zipper, handles, and seams to offer additional protection with continuous and repeated use.
On average, Sandwich bags have a thickness of approximately 1.5 millimeters. You will only use it up seven times, and then it starts tearing out.
Quart is a TSA-approved travel bag that perfectly organizes 3.4 ooze liquids. It's compact, transparent, and easy to open or close, making it compliant with the TSA regulations. It also packs a lot of items to make your travel complete.
Originally Sandwich bags were used to pack sandwiches and grab-and-go snacks. However, they can also work as a TSA toiletry bag since they have a quart-size bag appearance with clear sides.
A quart bag is a one-time investment that you will use for a long time. If you're not into aesthetic toiletry bags, then go for a Quart size bag because it retains shape even with heavy packaging, and it will serve its main purpose for many years to come.
Cleaning a Quart size bag is easy. You can wipe it with a piece of cloth and allow it to air-dry, after which it's ready for the next trip.
Sandwich bags only last for a few days to months, especially after subjecting them for a thorough cleaning, drying and reuse. You also need to know that, after some time, the plastic material used to make Sandwich bags gets worn out and doesn't look good.
Sandwich Bag Vs Quart Bag: Which Is Better?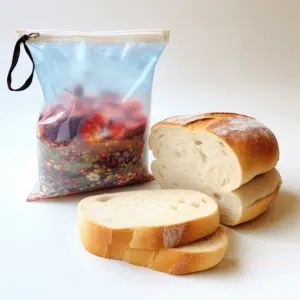 It's important that you properly store your valuables when flying. Therefore, it is recommended that you invest in a TSA-approved bag, and it will allow you to go through the inspection processes smoothly.
Quart back is the greatest investment for every flyer. If you're flying for the first time or doing it more often, the Quart bag will meet your requirements effectively. If you rarely travel, you can go for a Sandwich bag.
Please invest in a durable Quart bag like the EzPacking's Extra Small Cub if you're a frequent flyer. If you've unused sandwich bags and you don't know what to do about them, you can use them for traveling but on rare occasions. Only use a Sandwich bag when you've lighter and flexible items to carry.