Preventing Falls and Slips, A shower caddy is one of the most helpful bathroom accessories you can acquire to keep all your bathing necessities close at hand while you take a shower. However, they have a problem. Shower caddies frequently topple over when they are loaded with excess weight. They may even drop while you are taking a shower at times.
Making a friction spot between the shower pipe and the caddy itself is the best approach to stop a falling caddy. Simple household items like a zip tie, a hose clamp, or a rubber band can be used to accomplish the solution.
How to Keep Shower Caddy from Falling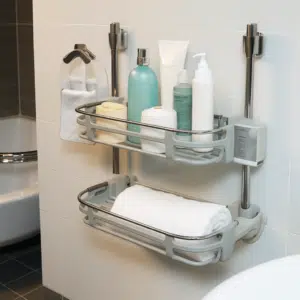 Preventing Falls and Slips challenging to prevent the shower caddy from falling, especially if it doesn't fit precisely. The good news is that you still have time to get a new caddy. You can firmly secure your shower caddy using dependable methods.
Your caddy can be kept from dropping with the help of the shower caddy clamps. These clamps are undoubtedly already used on hoses and pipes in your home, such as the one that connects to your air conditioner. Hose clamps are inexpensive and easily found in hardware stores if you don't already have any extras lying around the house.
Hose clamps are of various sizes; therefore, before purchasing the correct sized hose clamp, don't forget to measure the showerhead neck.
The only drawback is that hose clamps are primarily constructed of steel. As a result, the clamp will eventually rust, especially if it is exposed to much humidity in the shower. Fortunately, rust-free hose clamps are readily available; choose them wherever you can. They also have a highly technological appearance.
How To Use It: Use a hose clamp to secure the shower caddy by clamping it to the bottom of your showerhead. To prevent the caddy from falling, tighten the clamp with a screwdriver.
Rubber bands usually sit around your house if you don't feel like traveling to the shop or spending extra money on hose clamps or ties. To prevent your shower caddy from falling into the water, a few rubber bands will work wonders in holding it in place.
How To Use It: Wrap three to four elastic bands around the showerhead at the front of the caddy. The shower caddy cannot fall even when it becomes slick and wet if the rubber bands are wrapped twice or until they have a secure grip.
The rubber band should be secure, which is the only difficulty with this approach. You must first remove the showerhead to fold the rubber bands twice, thrice, or as often as required.
A zip tie is an inexpensive item you can find at home or any hardware store to prevent the shower caddy from falling. Although they are inexpensive, use a solid and long enough zip tie to secure your caddy in position.
How To Use It: These are your two choices: The first is to use a zip tie to secure the shower caddy to the neck of your showerhead. The second technique involves pushing the shower caddy back until it touches the wall. Then, to keep the caddy steady and from drifting forward, wrap the zip tie in front of it.
With this fix, you can prevent the shower caddy from sliding or falling down the shower. Unfortunately, preventing the caddy from veering to the side is insufficient.
You can also use tape to secure the caddy by wrapping it around the shower pipe. But remember that tapes lose their grip under slippery and wet circumstances. As they're more evident than the methods discussed above and frequently have an unattractive appearance, tapes aren't the ideal option either.
Why Do Shower Caddy Slip and Fall?
The leading cause of your shower caddy frequently slipping or falling is because you purchased one that doesn't suit your shower correctly. It's simple to purchase an extremely loose caddy attached to the showerhead pipes because shower caddies and showers are available in various forms and sorts. Your shower caddy may continually fall if it is not the appropriate fit.
Some shower caddies contain suction grips and plastic covers so they may hold firmly to the showerhead pipe. Unfortunately, some caddies lack grips and guards, making them more prone to slipping and falling.
The increased dampness in the shower contributes to caddies slipping and falling as you shower. The caddy and shower are made slick by the dampness. Therefore, the caddy is much more likely to fall while you're taking a shower.
But fear not, there are many ways to stop the shower caddy from sliding off from the showerhead or falling.
How Can Tension Shower Caddy Be Prevented From Tipping?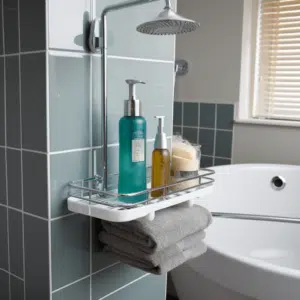 Preventing Falls and Slips, The tension pole in shower caddies eventually collapses. This article has some suggestions for prevention if you're wondering how to stop a tension shower caddy from dropping.
The moisture, humidity, and rust the tension poles endure over time causes them to become weaker.
The best option occasionally seems to be to get a new one. Your caddy is likely too small to fit securely in your shower if you're on a tight budget or it's brand new and keeps tipping over.
Additionally, you may be just using more bath products on them. After all, there is a weight restriction on shower caddies that you must follow.
Frequently Asked Questions
How Much Weight Can a Shower Caddy Hold?
Shower caddies can hold anywhere from 3 pounds to as much as 15 pounds, depending on the brand.
Is Hanging Your Shower Caddy From the Head of Your Shower Head Bad?
Shower caddies are beneficial, but hanging shower caddies directly from the shower head is a bad idea. Your shower fixture will sag under the weight of the caddy, body wash bottles, shaving cream, shampoo, and conditioner, as well as your soap, washcloth, and loofa.
Are Adhesive Shower Caddies Good?
Adhesive shower caddies are incredibly stable because of how strongly their adhesive pads stick to tile and stone surfaces. They can also be installed anywhere along the wall at any height because they are not restricted to any specific location in a shower (such as in a corner).
Final Take
Preventing Falls and Slips, As you can see, this is an easy fix that takes less than 5 minutes to complete.
To keep your shower caddy in place, keep in mind that you must apply friction to the shower pipes or tension pole. You can finish this in a matter of minutes.