Slide-In and Freestanding Kitchen Ranges, Maybe you are in the process of getting to your new house and looking forward to upgrading your kitchen. Do you have any ideas? Install a new range in your kitchen.
A kitchen range is one versatile appliance at the center of your culinary explorations. But what kitchen range would be the best for your kitchen set-up?
This piece will highlight the differences between slide-in and freestanding ranges to help you decide.
Range Slide-In Vs Freestanding: Differences
Here are some definitive differences to help you select a perfect range from your appliance store.
Form factor
Freestanding ranges feature a rear backsplash that houses the oven and burner controls. At the same time, slide-in ranges forgo the backsplash in support of front-mounted powers with slightly wider lips on top.
The lips overlap the countertop to form an aesthetic effect that resembles a built–in cooktop. Therefore, slide-in model forms are sleeker compared to their freestanding counterparts.
Cost Matter
Whether you buy gas, dual-fuel model, or electronic-all, which are widely found in the market in slide-in and freestanding models, freestanding ranges come at a relatively lower cost than their counterparts- slide-in models.
Installation Issues
The primary difference between sliding-in ranges and freestanding is the installation process. Even though both models can be installed in between cabinets, the freestanding range can act as a stand–alone appliance, and its installation is simple.
The freestanding range allows you to choose whether it should be open on one side or exposed on both sides.
On the other hand, flush-fitting slide-in models are structured to fit within your kitchen cabinets. However, they do serve better island peninsulas than the freestanding ranges. They are easier to clean once installed.
Freestanding ranges leave a 1-2 inch between the appliance and the cabinets or walls, allowing food and crumbs to fall or drip into the gaps. Although, you can solve this issue by filling the cracks with countertop materials, which are an additional cost and need extra work.
Location of the controls
Freestanding ranges include a backyard that doubles as a control panel with the gas burner control on the front, whereas slide-in ranges lack the features of a backyard, and all controls are on the show.
Slide-In vs Freestanding, Which Range is Proper for You?
The response to this question isn't straightforward as it depends on several factors. Here is a summary
With a pre-existing kitchen layout, the countertop and cabinet location will determine the decision as your space is fixed.
In a kitchen remodel, you can choose the range's position and size early. Give the contractor the right dimensions for cutting the countertop.
With all options available, like with the kitchen redesign, a slide-in range is best since it has a modern, built-in look and is easier to clean.
A slide-in range can be the center island or display a unique backsplash. The most flexible and cheap solution, freestanding ranges have different styles and upgraded functionality at the top. Cost, functionality, and brand are your only options when replacing a freestanding stove without a significant kitchen remodel.
Make sure your freestanding range has a tile backsplash to the countertop if you wish to switch to a sliding-in range. A slide-in range to a freestanding range requires removing the countertop length behind the slide-in range.
What is a Slide-in range?
Slide-in marriages are structured to fit between cabinets or other appliances for seamless integration with custom cabinetry. They don't have backsplash panels; thus perfect to install in the kitchen islands or where there is a wall with a continuous backsplash.
However, factor finished sides for the modern slide-in ranges; you can install it in any part of your kitchen.
Pros of Slide-in ranges
Integral installation: Slide-in ranges don't have a backguard to achieve a built-in look once installed between appliances or cabinets. This design won't impair the feature if you have a decorative backsplash on the wall behind your installation spot.
Please keep an open layout: They are perfect for island kitchens because they don't have a backguard to protrude above your countertop surface with all controls at the front to keep settings easily accessible, creating a seamless flow on the countertop and the cooking.
Downdraft ventilation: a slide-in range consists of a downdraft ventilation system built into the cooktop eliminating the need for additional appliances.
FIT System Limited Guarantee: slide-in ranges are in one of the fit systems to ensure it fits truly well; hence your money is safe just in case it does not fit, and you're covered.
What is a Freestanding Range?
They come in gas and electric options featuring a built–in backsplash, making these ranges versatile and easy to blend into any kitchen layout, whether new or pre-existing.
They can be installed between cabinets, on their own or on the counter's edge with one side.
Why choose the freestanding range?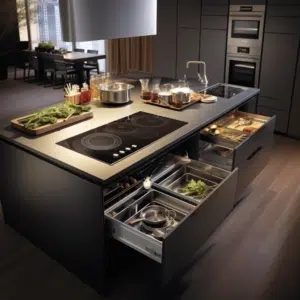 Integral background: to protect the walls behind the range from smoke, grease, and splatters, the freestanding range has an in-built backguard that also houses the controls.
Flexible installation: Your freestanding range can stand alone or provide extra flexibility whenever you want to upgrade to a more cohesive kitchen style.
Freestand range does away with the need for a separate backsplash, and they have finished sides whose color may vary from the rest of the appliance, like some stainless steel freestanding ranges featuring a black finish.
Affordability: The prices of stoves differ widely based on features, materials, size, and other factors. Freestanding ranges provide a lower entry point for those on a tight budget.
From the above comprehensive piece, I am sure you will be able to make the right decision regarding the type of range you will select. However, make decisions about durability, size, and extra features if you're remodeling.
Just ensure your new range is the right one before making any purchase. Conclusively, it is best to err on more features and a higher style profile since a good range acts as your kitchen's centerpiece. Keep in mind your kitchen layout, aesthetics, fuel source and your family's needs.