If you've ever done paint shopping, you're aware that several brands are available in the market. Each manufacturer offers a wide range of paint finishes at different pricing ranges.
You can only get the best outcome if you use Sherwin-Williams paint. Various reasons support the use of Sherwin-Williams paints for your upcoming project.
Sherwin-Williams Paints Company got you covered if you're looking for exterior or interior paint. Sherwin-Williams paints come in a large selection of finishes and colors. Importantly, the company has the ability to create bespoke colors, making it simple to pick the right paint for any project.
There is always a Sherwin-Williams outlet near you, no matter where you live. The proximity allows you to quickly obtain the paint and the supplies you need for the project without having to waste time looking at confusing color possibilities.
When it comes to painting materials, Sherwin-Williams has it all. Sherwin-Williams has everything you need for any project, including brushes, rollers, tape, specialized goods, and more. They are essentially a one-stop-shop for finishing a painting project from beginning to end.
When hiring a professional to help you undertake a painting project, expect it to be done nicely with Sherwin-Williams paint. The entire collection of Sherwin-Williams paints is of the finest quality.
Are you debating whether to go for the Sherwin-Williams Cashmere or Duration lines for your next project?
Let's explore the differences and similarities in this in-depth comparison of Sherwin-Williams Cashmere vs. Duration to help you determine the best option for your project.
Sherwin Williams Cashmere vs. Duration: Similarities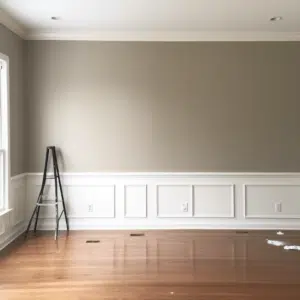 Both Cashmere and Duration benefit from being paint-and-primer combinations that save on time and money.
However, painting experts recommend that you use at least one layer of priming before applying paint if you're painting unfinished drywall.
They Have Low Volatile Organic Compounds Level
Volatile Organic Compounds (VOCs) are solvents found in paints, adhesives, and cleaning products. When the paint dries, volatile organic compounds are released into the atmosphere. Inhaling VOCs might induce headaches and dizziness, among other things.
The federal government and Ozone Transport Commission have set a limit on the quantity of VOCs found in paint products, and businesses must adhere to it.
Paints with less than 250 grams of VOC per liter are termed low VOC paints. Low-VOC paints, such as Sherwin-Williams Cashmere and Duration, have less than 50 grams per liter of VCOs.
Regardless of the VOC level of a paint, ensure your painting space is sufficiently ventilated. Also, use nose masks and eyeglasses for protection.
Both are Acrylic Latex Paints
Sherwin-Williams Cashmere and Sherwin-Williams Duration are both acrylic latex paints. Acrylic latex paint is water-based paint that uses synthetic latex.
It is well-known for its excellence in color retention, coverage, and washability. Acrylic latex makes Sherwin-Williams Cashmere and Duration the ideal paint choices for surfaces such as walls, doors, and furniture, among others.
Acrylic latex is also resistant to adverse weather, making the two paint options from Sherwin-Williams budget-friendly.
Sherwin-Williams have more than 1,700 color choices for Cashmere and Duration paints. Since there are many color options, the Sherwin-Williams site has sophisticated techniques to help customers pick the right color choice.
For example, you can sort your preferred color from the various Sherwin-Williams collections, order paint chips, do a color quiz, or peel-and-stick a sample.
Another unique option is the use of the Sherwin-Williams ColorSnap Visualizer. It's an interactive tool that helps you pick the right choice with a default photo or the one you've uploaded.
A gallon of Sherwin-Williams Cashmere and Duration covers between 350 and 450 square feet for the interior painting jobs. Remember that at least two coats are recommended for interior projects.
Cashmere and Duration take almost the same time to dry up. Sherwin-Williams offers a one-hour waiting time before the two paints are dry to touch and four hours before it's ready for an additional coat.
Sherwin Williams Cashmere vs. Duration: Differences
The Exterior Paint Option
The acrylic latex extension of Sherwin-Williams Duration is more suitable for exterior painting. The Duration exterior paint is a paint and primers. It's resistant to rust and mildew and available in 1000 different colors.
Sherwin-Cashmere is only used for interior painting. Therefore, if you need paint exclusively for the exterior surface, you need to choose from the line of Sherwin-Williams Duration.
When buying any paint type, you need to pay attention to volume solids. Volume solids are the binders and pigments left after the paint's solvent evaporates. Paint with a higher percentage of volume solids is durable and thick to deliver the best coverage.
The volume solids percentage of Cashmere and Duration vary depending on the type and finish. However, both lines have higher volume solids. The cheapest paint from Sherwin-William has volume solids at 34%.
Finishes affect how the paint will look after getting dry. The finishes of the Duration interior include semi-gloss, satin, matte, and flat; the Duration exterior comes with gloss, satin, low luster, and flat finishes. On the other hand, Cashmere has pearl, medium luster, low luster, eggshell, and flat finishes.
The satin finish is recommended for the high traffic rooms, gloss to trim doors and windows, and semi-gloss for the rooms that need frequent cleaning.
Flat and matte finishes are ideal for hiding damaged surfaces and imperfections since they reflect little light. Sherwin-Williams has a helpful guide to help you select the right finish for your project.
Sherwin-Williams Cashmere is easier to apply because it's thinner. It gives an excellent finish to leave no brush strokes or streaks. Sherwin-Williams Cashmere has self-leveling properties to guarantee uniform distribution of the paint layers.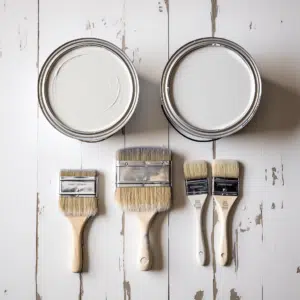 Sherwin-Williams Durations is the paint of choice to stop the mildew and mold from growing over the painted surfaces.
The antimicrobial properties of Sherwin-Williams Durations are complemented by a moisture resistance feature that prolongs the life and durability of the paint. Generally, Sherwin-Williams Duration is suitable for kitchens and bathrooms.
When it comes to cost, Sherwin-Williams Duration is more expensive than the Sherwin-Williams Cashmere. The difference is an average of $10 per gallon.
Sherwin-Williams Cashmere costs between $53 and $58 per gallon, while Sherwin-Williams Duration interior price varies between $62 and $68 per gallon.
The Sherwin-Williams Duration exterior is the most expensive option costing around $74 to $81 per gallon.
Notably, prices are prone to change, but the Sherwin-Williams Duration will always be more expensive than Sherwin-Williams Cashmere.