Who are the top manufacturers of kitchen appliances worldwide? Which brand should you purchase from? These are the common questions. The dependability of the kitchen appliance company and its product is one of the most crucial factors in choosing a consumer product, whether it is for your home kitchen or a kitchen elsewhere, like your business.
Smeg and Breville are two trusted companies that can provide quality kitchen appliances. This article will compare the two brands to help you decide which is ideal for you.
Smeg vs Breville: Overview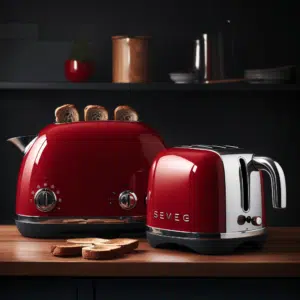 Overview of Smeg
Smeg is a Worldwide known producer of home appliances. The company's home is in the Northern Italian city of Guastalla, close to Reggio Emilia.
Smeg has 16 subsidiaries throughout the globe (in France, Sweden, Germany, Spain, UK, Belgium, the Netherlands, Denmark, and Portugal), as well as offices abroad in Hong Kong and Saudi Arabia and a sizable sales network.
Due to the company's collaborations with well-known architects, Smeg appliances have become recognized as stylish and beautiful responses to the demands of modern life for more than 60 years.
In addition to having a distinctive profile in terms of home appliances, Smeg is well-known in the professional business sectors. Large-scale restaurant/catering equipment and electro-medical instruments are the areas of expertise for the Foodservice and Instruments divisions.
The Smeg Group is recognized as one of the leading ambassadors of "Made in Italy" standards because its corporate culture demands that the highest priority be given to product quality, technology, and design.
Popular Appliances Produced by Smeg
The popular products sold by smeg include refrigerators, dishwashers, built-in coffee machines, wine coolers, cooker hoods, ovens, hobs, microwaves, and washer driers.
Advantages of Smeg
The company offers high-quality products
Their products come with powerful designs
Smeg accepts gift card support
Disadvantages of Smeg
Smeg does not accept PayPal support
Smeg does not provide free shipping policies
The company does not accept prepaid and debit card support
Overview of Breville
Breville is a kitchen appliance company renowned for its premium, cutting-edge products. Since its founding in 1932, the company has been selling a variety of appliances, such as coffee makers, food processors, toasters, kettles, and more.
Breville has offices in the US, Canada, and the UK, in addition to its Australian headquarters. More than 50 nations around the world sell the company's goods.
Breville aims to produce small kitchen appliances that improve the quality of life and make living simpler. The business takes great satisfaction in its ability to innovate and develop new goods that enhance existing designs.
Breville's products have received various honors, including the renowned Red Dot Design Award.
Popular Appliances Produced by Breville
The popular products produced by Breville include Expresso machines, juicers, ovens, multicookers, microwaves, blenders, toasters, multicookers, and more.
Advantages of Breville
Breville has a greater brand recognition compared to Smeg. The company offers more frequent discounts than Smeg. They provide free shipping policies. They accept PayPal transactions. It provide prepaid and debit card support
Disadvantages of Breville
Breville does not offer gift card support
Smeg vs Breville: Which Brand Should You Go For?
Smeg and Breville are trustworthy companies that will provide high-quality kitchen appliances. However, in terms of design, Smeg takes the lead. The company also offers gift card support.
On the other hand, if you are looking for a brand that offers more frequent discounts, has free shipping policies, accepts PayPal, and offers prepaid and debit card support, it is advisable that you try Breville.
What to Consider Before Shopping for Kitchen Appliances Online?
Consider the Quality of the Appliance
The quality of the product is one of the most crucial aspects to consider when investing in kitchen appliances. Because an image might be misleading, make sure to read all of the product information in its entirety. A quick Google search will yield a wealth of important data if you are unfamiliar with the product materials.
If you purchase a good-quality appliance, it will last for decades. On the other hand, if you buy a low-quality product, it will last less hence you will be required to buy it again over the years.
Seek a Reasonable Product Warranty
The majority of us regularly utilize our kitchen equipment. The appliances in your home will deteriorate over time due to this typical wear and excessive use.
It's critical to ascertain whether your kitchen appliances are protected by a warranty in case anything goes wrong, whether that means a small technical issue or the replacement of parts.
Consider the Most Current Customer Reviews
A genuine user review can reveal much more about an item despite the value of product descriptions.
Look up reviews online if you have any questions. Just type "(online appliance company name) _ reviews" on Google. Browse the web for a variety of genuine consumer reviews from various sources. You may use these reviews to determine which kitchen equipment is ideal.
Keep an Eye Out for Additional Shipping, Handling, and Tax Expenses (if any)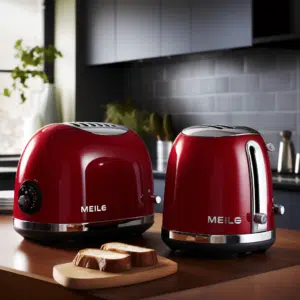 Online shopping for kitchen appliances can be a quick and effective way to find the highest-quality item. However, additional shipping, handling, and tax fees aren't as pleasant. It's crucial to consider how the extra expenses of various companies differ.
Check the Available Appliance Sizes
You might have found the kitchen appliance of your dreams, but is it available in the size that would fit your kitchen? If not, it is advisable that you call customer service and request an expected wait time.
The good news is that you probably won't have to wait long because if a product is frequently out of stock, it signifies that demand is high.
Consider the Style
Since the kitchen is the heart of the house, it makes sense for it to exude elegance and flair. A simple kitchen makeover is installing appliances that go with the style and theme of this space.
Final Take
We hope this article has offered you all the information you need regarding Smeg vs Breville. However, selecting which brand to buy from depends on your preferences and taste.