Are you ready to transform your home into a spine-chilling haven this Halloween? Home improvement projects during this spooky season can be a thrilling way to showcase your creativity and give your dwelling a hauntingly beautiful makeover. In this article, we will explore some bone-chilling home improvement Halloween episodes that will leave your guests in awe. So grab your toolbox and get ready for a wickedly delightful adventure!
1. Eerie Entryways: Creating a Haunted Welcome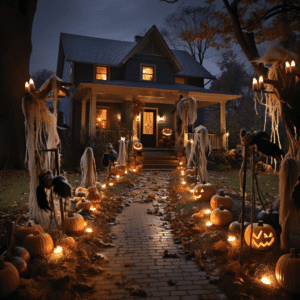 Give your guests a taste of the supernatural right from the moment they step foot into your home. Transform your entryway into a haunted portal by using eerie lighting effects, cobwebs, and creepy soundtracks. Add a touch of darkness with a coat of black paint on the front door, complemented by blood-red accents. Enhance the spooky ambiance with flickering candles and jack-o'-lanterns.
Terrifying Tablescapes: Macabre Dining Delights
Set the stage for a spooktacular dining experience with a Halloween-inspired tablescape. Dress your table in a dark, gothic tablecloth and arrange black candlesticks adorned with spider webs and ravens. Display creatively carved pumpkins and scatter artificial spiders and rats for an extra touch of creepiness. Don't forget to serve your guests with ghoulish-themed treats and drinks!
Wicked Walls: Bewitching Wallpaper and Murals
Unleash your inner artist and bring your walls to life with enchanting Halloween-inspired wallpaper and murals. Choose designs featuring haunted houses, eerie forests, or mystical creatures. For a more interactive experience, consider using peel-and-stick wall decals that glow in the dark. These ghostly decorations will surely add a spooky atmosphere to any room.
 Creepy Cauldrons: Mesmerizing Fire Features
Create a captivating focal point by incorporating a spooky fire feature into your home improvement Halloween episode. A cauldron-inspired fire pit or fireplace will add an enchanting touch to your living space. Use colored flames or smoke pellets to create a mesmerizing visual effect. Gather around the bewitching flames with your loved ones and share ghost stories on chilly autumn nights.
Petrifying Porches: Outdoor Halloween Decor
Make your porch the talk of the town with terrifying outdoor Halloween decor. Hang ghostly lanterns, decorate your bushes with glowing eyes, and place life-sized skeletons on rocking chairs for a chilling effect. Carve pumpkins with sinister faces and arrange them on the steps. Don't forget to create a haunted pathway leading up to your front door using tombstones and flickering lanterns.
 Haunted Home Theaters: Spine-Tingling Movie Nights
Transform your home theater into a haunted cinema for an unforgettable movie night. Set up a projector and screen your favorite horror movies on a large wall. Enhance the experience with comfortable seating, cozy blankets, and dimmed lighting. Consider adding spooky-themed throw pillows and haunted house props to create an immersive and spine-tingling atmosphere.
 Macabre Mantelpieces: Sinister Fireplace Displays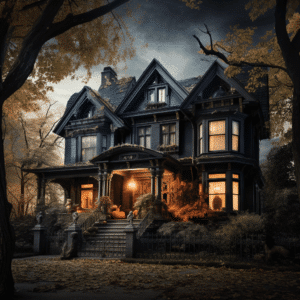 Give your fireplace a touch of darkness by creating a macabre mantelpiece display. Arrange an assortment of black candles, dried flowers, and antique mirrors. Add eerie props like skulls, witch hats, or black cats for an extra dose of spookiness. The flickering flames and haunting decor will set the stage for a bewitching ambiance during Halloween gatherings.
Recommended Products on Sale
To help you bring these spooky home improvement ideas to life, we've curated a list of recommended products that are currently on sale. Check them out and turn your Halloween dreams into a reality:
/Imagine Prompt for Midjurny: Imagine capturing the essence of your haunted home improvement projects through captivating photographs. Take your creativity to the next level and share the best pictures of your transformed space with the world. Unleash your inner photographer and let Midjurny bring your Halloween-inspired home makeover to life!