It's simple to assume that all pressure washers are pricey and difficult to use. But that is not true. There are cheap pressure washers that can help you get the job done.
Some of the best inexpensive pressure washers under $200 even perform nearly identically to more expensive models. With these pressure washers, you can thoroughly clean your patio, car, walls, walkways, or anything else without putting in the time-consuming effort that traditional cleaning entails.
Plus, they can do it all without you having to spend too much. 
This article will walk you through a list of the best pressure washers under $200, so you can start washing your car or home with a budget-friendly machine.
Best Pressure Washer Under $200: The Following 7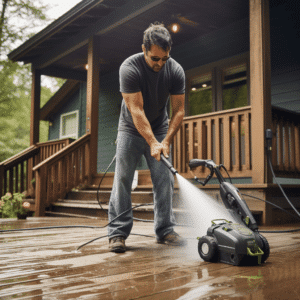 Sun Joe SPX3000 2030 Electric High-Pressure Washer
Best Overall
There are several positive aspects of this pressure washer you will like, starting with its overall adaptability. 
The washer is powered by a 1,800W motor that enables it to achieve a pressure of up to 2000psi. A pressure closer to 1,450 psi is adequate for most home cleaning activities.
The fact that this pressure washer has two 0.9 L detergent tanks is something you will truly appreciate. Adding high-quality detergent to these tanks allows you to clean even the toughest grease and filth easily.
Pressure washer's value
The pressure washer's value is rounded out by additional great features, such as the "total stop system," or TSS, which turns the pump off automatically when you release the trigger. This might prevent you from having an unexpected accident where the hose spins out of control after you drop it.
Then, you should also consider all the extras that come with the purchase, such as the 34 inches extension wand and the 35-foot power cord that is water resistant. Five "quick connect" spray tips and an additional cleaning tool in the form of a needle are also included. Ultimately, the Sun Joe SPX3000 2030 electric high-pressure washer has all the features you could possibly want in a pressure washer for ordinary use.
The plastic screw that attaches to the water hose or outlet is the only item you need to pay attention to. This is far more delicate than those you will find in other pressure washers. So check to be sure you didn't receive a faulty item before using your new high-pressure hose to its full potential. 

Pros 
Includes two detergent tanks

Possesses useful attachments for a variety of cleaning jobs

Features an automatic stop function

Decent hose length

Large wheels to make it simple to move around
Cons 
The connector piece may occasionally be flimsy
Stanley SHP2150 Electric Pressure Washer
Best Value
The Stanley SHP2150 Electric Pressure Washer is another pressure washer that is cheap and quite useful. 
In addition to its regular cleaning capabilities, this washer works with an attached detergent bottle to produce a foam spray ideal for removing embedded grit and debris from even the most difficult surfaces. It is the ideal pressure washer for cars, appliances, and outdoor surfaces and offers strong cleaning.
The pressure washer has four quick attach nozzles, a 2-year guaranteed warranty that protects you against manufacturing faults, and a 25-foot pressure hose. 
You will particularly appreciate that this pressure washer is made for leakproof connections and can handle 2,150 psi on average.
Although the wheels on this washer can be moved around reasonably well, the main directing wand is too short. Due to this and the slightly reduced pressure hose length, you might need to think outside the box to reach far-off targets.
Even so, most people will find this pressure washer quite appealing, and the hose/wand length is a minor complaint with an otherwise wonderful piece of equipment.
Pros
Excellent pressure

Can create a soapy foam spray

No water leaks

Has several extra nozzles
Cons
Compared to other pressure washers, the hose and wand are a little shorter.
WestForce Electric Pressure Washer
With a maximum pressure of 2,800 psi and a maximum flow rate of 1.76 gallons per minute, the WestForce Electric Pressure Washer has the most power on our list. This means that the pressure washer can handle even the strongest debris or dirt on any surface, including fences, bricks, vehicles, and more, when operating at maximum power.
It also has a total stop system, which turns off the pump whenever the trigger is released. Better yet, it has overheating and overcurrent safeguards, making it one of the safest pressure washers available. 
When you buy this pressure washer, you will get a two-year warranty, a 45-day money-back return policy, and a UL-listed GFCI plug that prevents any electrical leaks.
Instead of one, adjustable nozzle, it does make use of interchangeable nozzles. 
The drawback is that a dedicated generator must be plugged into the pressure washer in order to attain the maximum pressure. In the end, it's preferable to consider the maximum pressure as a possibility rather than a given.
Pros 
Theoretically, it has an excellent maximum psi

Includes some safety features

Excellent hose length

Pumps are automatically turned off when the trigger is released.
Cons
Switchable nozzle replacement is cumbersome
Sun Joe SPX1000 1450 Electric Pressure Washer
The Sun Joe SPX1000 1450 Electric Pressure Washer utilizes electricity to operate and has a water pressure capacity of about 1,450 psi. The pressure makes it appropriate for removing dirt and grime from hard surfaces, and it may even be used on wooden surfaces without risking material damage.
Additionally, the total stop feature, so when the trigger isn't pulled, it will turn off by itself. The spray wand's twist nozzle allows for quick control of water pressure, and it is simple to modify the spray's direction.
Overall, it's similar to the previous Sun Joe electric pressure washer discussed in this article and is best utilized as a cheaper alternative. Consider getting one if you're on a tight budget but still want something that will offer you good service for a few years.
Pros 
Reasonably priced

Has the automatic shut-off feature

Includes pressure wand twist control

Highly flexible due to its compact size
Pros 
There are no detergent tanks

A little more pressure would be helpful
GreenWorks GPW1602 Pressure Washer
The GreenWorks GPW1602 Pressure Washer is a remarkably lightweight and portable device with a motor that can create a maximum pressure of 1,600 psi. 
However, the most significant thing to note is the flexibility of this washer. Thanks to its compact size and construction, you can utilize this washer vertically or horizontally. 
A 20-foot pressure hose is included, which is shorter than usual but appropriate given the washer's miniature form.
It also comes with a soap applicator to combine soap and pressurized water. This makes it easy for you to clean any unclean surfaces quickly. 
Additionally, the purchase comes with two extra nozzle tips, a detergent container, and a 35 ft power cord with water resistance for use with outside outlets.
The negative thing about this washer is that its engine is undoubtedly on the weaker side, and if you use it for an extended period of time, it won't be unusual for it to sputter and start. Also, depending on your power source, the psi values may occasionally go below 1,100.
However, this is a good option if you plan to use your pressure washer primarily for household purposes and don't care about having the most powerful machine in the neighborhood.
Pros
Reasonably priced

Has a soap dispenser for thorough cleaning

Includes a bottle of removable detergent.

Extremely portable and lightweight
Cons
The psi occasionally drops too low

Compared to most others, the hose is too short
AR ANNOVA REVERBERI AR390SS Electric Pressure Washer
With a maximum pressure of 2,000 psi and an average pressure of roughly 1,600, the AR ANNOVA REVERBERI AR390SS Electric Pressure Washer has more power than the previous models. 
Additionally, the pressure washer has an environmentally friendly design and is quite efficient even though it utilizes less than 40% power compared to the regular garden hose. Treaded tires on either side make it simple to move this washer about.
If you wish to mix pressurized water with your preferred soap, the pressure washer has a 48-ounce detergent tank and a 30-foot pressure hose. Four pressure washer nozzles for various pressure levels are also included.
The drawbacks include its 40-pound weight and slightly higher price than most other washers on this list. 
If you want a pressure washer that will last a long time and operates effectively and you don't mind spending a little additional money to get it, the AR ANNOVA REVERBERI AR390SS Electric Pressure Washer.
Pros
Easy to assemble

A highly efficient motor

Includes a detergent tank

Decent psi

Good range of nozzles
Cons 
Above-average cost

Relatively heavy
 Karcher K1700 Electric Power Pressure Washer
The maximum pressure of the Karcher K1700 Electric Power Pressure Washer is 1,700 psi, with average performance being a little lower. 
But perhaps most significantly, it does not rely on a nozzle or button near the machine's center, but rather has an on/off switch down by the foot. If you frequently get interrupted, like you would if you did most of your pressure washing at home, this makes it simple to pause and restart your machine.
It has three nozzles: an all-purpose nozzle, one for maximum cleaning strength, and one for combining with detergent. For this purpose, it has a detergent tank that can be taken out and filled or cleaned. Surprisingly, it also includes a removable bin that you may use to store any extra nozzles or accessories.
However, the high-pressure line is only 20 feet long. 
Overall,  the Karcher K1700 Electric Power Pressure Washer is respectable, but the features that set it apart from the competition don't compensate for that drawback. However, this pressure washer can be perfect for you if you don't require a hose with a particularly long reach.
Pros
Convenient on/off switch

Removable storage bin

Includes a detachable detergent tank
Cons 
The hose pipe is too short
Factors To Consider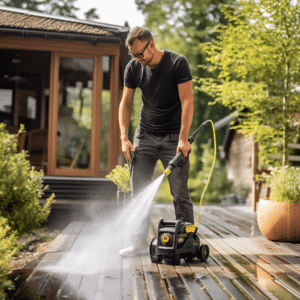 When Selecting the Best Pressure Washer Under $200
It takes more than just paying the lowest price to get the greatest cheap pressure washer. To ensure that you get the pressure washer that best suits your needs, keep the following factors in mind:
Overall Power
Look at the pressure washer's overall and typical power. The average psi is more indicative of the type of pressure you'll experience when using the machine in question than the maximum psi or watts, which is what you should pay attention to.
Higher psi is generally better for removing tougher dirt and debris, but it might not be entirely required based on what you want to clean with the pressure washer. 
For light household cleaning, psi values of over 1,200 are usually sufficient, but psi rates of over 1,500–1,800 are preferable for more intensive cleaning.
Hose/Cord Length
How far you can spray down difficult-to-see areas like your car's or house's roof will depend on how long the pressure washer's hose and cord are. 
Though longer hoses are generally preferable, remember that pressure washers with long hoses can be more challenging to maneuver. The majority of cables are about 35 feet long.
Detergent Integration
Detergent containers are a feature of several of the best inexpensive pressure washers. These let you add detergent right into the appliance, where it will combine with the water for effective cleaning. 
Others, however, can come with a separate detergent container, forcing you first to spray detergent or soap on the surface to be cleaned before spraying it down.
Both methods are effective, but the machines with detergent buckets are a little more convenient and user-friendly.
Nozzles/Adjustment
With some affordable pressure washers, you can change the nozzles to get varied spray patterns or pressure levels. Others will employ a single nozzle with a twistable nozzle tip to adjust the pressure. 
Although swappable nozzles can also be used and are frequently included with less expensive pressure washers, twist nozzles are slightly more user-friendly. They enable you to change the pressure more rapidly.
This factor essentially comes down to how convenient you want your washing to be.
Other Qualities
Check again to determine whether a pressure washer has any extra features or attachments. 
To save water and energy, some of the greatest pressure washers, for instance, have pumps that automatically shut down once the trigger is released. Others might incorporate needle cleaners or extra pressure nozzles.
Although none of these characteristics alone may make or break a pressure washer, they are nevertheless important to take into account and can aid in your decision between two pressure washers that are otherwise relatively comparable.