Shiplap can be described as a modern style of wood paneling, which has gained popularity in recent times.
Shiplap wall, meanwhile, is a type of cladding method that involves a progression of horizontal boards connected to either side of the wall's surface with narrow wooden strips between them.
Wallpaper generally imitates this style and is a trendy custom wallpaper pattern that brings a unique touch to your home.
It is a decorative design for vertical walls or surfaces that is made up of short vertical lines known as shiplap and medium-sized spaces between the lines.
As a result, it appears to be made up of a pattern of boards that are put together with nail or screw heads.
Perhaps the best thing about shiplap wallpaper is that it allows you to replicate the look of a Shiplap without the expense while bringing renewal to items that would otherwise be thrown away.
Most of the options available are peel and stick, making it easy to install this wallpaper and even more importantly easy to remove whenever you need to.
Best Shiplap Wallpaper: Various Options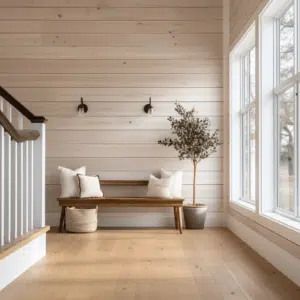 Shiplap wallpaper can be used in a variety of interesting ways including ceilings, feature walls, shelves, kitchen backsplashes, background for TVs, and for photography work, tables, desks, end tables, etc.
So let's discuss some of the best shiplap wallpaper styles you can buy online from Amazon.
Blooming Wall Barnwood Panel Wood Removable Wallpaper
When the surface gets out of style, it's easier to remove wallpaper than to fix the wall. And the Blooming Wall Barnwood Panel Removable wallpaper is an easy way to have that brand look.
This paper is very thick, sturdy, and is slightly textured, almost velvety to the touch. And it looks so real. You can use it for an accent wall in your bathroom makeover as it is very easy to clean. Not too shiny but very realistic. We love how it comes out, making it easy to put it under the counter's bar area.
The paper goes on easy and lines up well. You just need to pay attention to how you're matching up your pieces and that you don't place your pieces upside-down. It's important to note that this brand offers double rolls so one roll covers 57 sq ft, instead of the typical 25 to 30.
Overall, there's nothing bad to say at all. The paper is meant to go up smoothly with seams completely flat. It's a nice thick paper with a texture. It is not so shiny and brings the appearance of wood. The paper is also very easy to work with even if you're not the best at DIYs.
Wood Peel and Stick Wallpaper Shiplap
Does your bedroom need help? The Wood Peel and Stick Wallpaper Shiplap can be staggered just like real shiplap so you don't have to worry about it lining up. It is easy to operate and is very reasonably priced.
Quality-wise, this Gray/White wood-grain contact paper is waterproof, easy to clean, and has a strong adhesion that makes it easy to operate. This best shiplap paper allows you to turn your old TVs into a kitty litter box and you can count on it to give your wall a rustic feel as well.
We love that this wallpaper can be installed almost anywhere such as the bedroom, office, kitchen café, etc. It is more of a matte finish which makes it looks more like real wood. Plus it boasts a medieval retro style with strong historical and artistic flavor.
Dimoon Thicken Black Wood Peel and Stick Wallpaper Waterproof Black Contact Paper
Great product and great color selection: You might be skeptical about this paper lasting more than a few weeks, but based on reviews, this product comfortably exceeds expectations. The finish is almost wood-like and the adhesive is great so it won't come off in just a few months. It is waterproof, meaning you can literally shower on it, and water would just bead off the surface.
When applying, take your time and do not rush. You'd probably have an easier time doing it on yourself than having someone help. Even when you have a few spots where you couldn't get it close enough, you can use thin-cut pieces of electrical tape, for instance, and the paper will blend in so well that you can't see the line.
Quality is okay, and it does a great job even on a desk. It looks amazing as the embossed texture really gives it a realistic appearance. What's better, the paper is thick and super sticky, yet so easy to work with. Highly recommended.
NuWallpaper NU2494 Reclaimed Shiplap Peel & Stick Wallpaper White and Off-White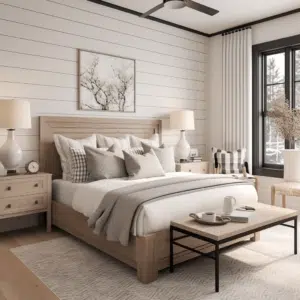 You can use this under your kitchen bar to prevent scuffs and provide interest. It isn't difficult to apply even though it takes patience. We love the texture and color as it's meant to brighten your room. It does seem durable and it will wipe well, too.
Coming down to quality, we love this wallpaper, and we can't say anything bad about the adhesion. In addition to it looking so real, the paper is slightly textured so it's really forgiving if you make a mistake.
Overall, this product is great and requires low commitment. It is easy to apply, holds up great and it is easy to adjust during installation. In a job like this, we strongly recommend measuring and cutting all the pieces you'll need before you start placement. The more accurate you are before you complete the pull, of the backing the happier you'll be.
HaokHome 92048-2 Peel and Stick Wood Plank Wallpaper Shiplap
The HaokHome 92048-2 Peel and Stick is yet another excellent product that you should check out. It is easy to apply and forgiving too. Put this peel and stick wallpaper on your dining table and you'll be amazed by how great it looks.
If you're looking for something to cover a wall in your kitchen, this wallpaper is designed to match perfectly with the countertop and kitchen cabinets. Quality is amazing and valued better than you'd expect. In fact, you can get the entire wall for $80.
Overall, you're bound to be impressed by this product. It is more durable than other wallpapers and can handle light use and cleaning. We love the wood pattern and the easy and clean installation. No messy glue; just peel and stick. Plus, it is mold-proof and moisture-proof.