Undermount sinks for quartz countertops, An undermount kitchen sink is positioned beneath the counter. Since no sink rim rests on the countertop, this sink gives an area a seamless appearance. And if you enjoy a spotless counter, this sink offers the easiest way to brush crumbs down the drain without them getting caught in a crevice. The sink's modern appearance and the cleaning's simplicity are some reasons you might want to purchase it.
This article will walk you through a list of the best undermount sinks for quartz countertops.
3 Best Undermount Kitchen Sinks for Quartz Countertops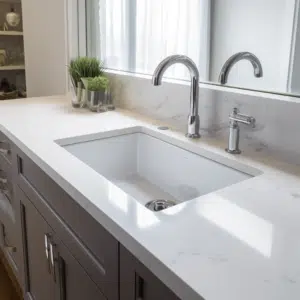 Elkay Quartz Classic ELGRU13322
This Elkay Quartz Classic sink is ideal for your kitchen if you're searching for a sink that will blend in with your overall design. With its single bowl design, there is greater room for dishwashing and stacking.
The seamless appearance that is contemporary and trendy will make a statement element in your kitchen's design. The quartz material not only exudes a sense of elegance and luxury but is also naturally sound deafening. There is no loud banging of large pots and pans. Since the sink is heat-safe and the natural quartz is scratch- and chip-resistant, there are no concerns about warping.
Additionally, this sink is available in various hues so that it may match any color scheme. The Elkay Quartz Classic ELGRU13322 white sink has a traditional style and a timeless look. It would be a lovely finishing touch for your kitchen layout. This type of sink is also available in black, bisque, dusk gray, and many other colors if white isn't your thing.
Pros of Buying this Sink
It is available in multiple colors

It is naturally sound deafening

It is stain resistant
Con of Buying this Sink
Kraus Standart PRO KHU100-32
The Kraus Standart PRO is an option to consider if you have a large family and do many dishes, and you detest the notion of a dirty sink filled with food leftovers and standing water. This sink is the greatest undermount single-bowl stainless steel kitchen sink suitable for quartz countertops since it has many advantageous qualities.
The strength and longevity of this sink, which is made of 1.5 mm thick dent-resistant stainless steel, are unparalleled. Additionally, the commercial-grade satin finish is rust- and corrosion-resistant and simple to clean.
This sink is built to withstand a beating and incorporates NoiseDefend soundproofing and extra-thick cushions, so the bang of a cast iron pan has no impact. Its big basin is ideal for washing huge stacks of plates and pans without the risk of water splashes. The bottom has a sloped gradient to guarantee that all water drains and does not remain in the sink.
This sink is ideal for busy families with many dishes to do. This sink includes a stainless steel dish grid to protect the bottom, making dishwashing even simpler. It is also excellent for stacking pans and pots and can even be used as a drying rack. A premium branded Kraus kitchen towel and three-piece trainer set for the drain are also included in this sink.
Pros of Investing in this Sink
It has noise-dampening features

It has a durable stainless steel

It has a deep basin

It has a sloped bottom
Cons of Investing in this Sink
It is not an ideal choice for low cabinets
Kraus KHU101-17
If you're planning a kitchen remodel and want to replace your sink, think about this stunning, contemporary Kraus single basin sink. The sink features 16-gauge stainless steel, which provides exceptional strength and durability.
Additionally, the sink is deep enough to clean large pots and long cutting boards while limiting water splashing. Its commercial-grade satin finish results in robust material and a sink that is simple to clean.
This sink prevents rust and corrosion, so you can do numerous dishes without damaging it. Most kitchen appliances match stainless steel.
NoiseDefend's soundproofing, substantial padding, and non-toxic undercoating suppress sound. Overflowing pots and dishes won't make the house sing. The sink bottom is sloped and grated to drain water quickly and fully.
A stainless steel dish grid comes with this Kraus sink. The grid prevents sink bottom scrapes and scratches. As a drying or washing rack, the dish grid helps with dishwashing.
Pros of Investing in this Sink
It is highly durable

It is available in various sizes

It has a deep basin
Cons of Investing in this Sink
It is hard to clean this sink with the grid installed
Why Pick an Undermount Sink for Your Kitchen Quartz Countertops?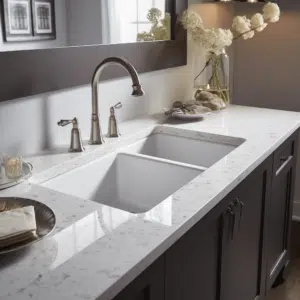 Undermounts sinks have several advantages. An undermount sink might be suitable if you like clean lines and contemporary designs.
Another benefit of an undermount kitchen sink is its ease of cleaning. Crumbs and filth can get stuck in sinks on countertops, requiring more careful cleaning. A countertop is cleaner with an undermount sink because crumbs and filth go straight in. These are the top two arguments in favor of an undermount sink.
FAQs
Can You Undermount a Drop-In Sink?
Mounting drop-in sinks undermount is not recommended. Drop-in sinks are not supposed to be fitted this way, and a poor seal may cause water to spill over the side and other concerns.
Which Type of Countertop does an Undermount Sink Work Best With?
A sturdy countertop that can support much weight and is water-resistant would be ideal for an undermount sink. Marble, granite, quartz, and concrete countertops would all be suitable for undermount sinks. The worst would be counters made of laminate and tile.
How Can You Prevent Your Sink From Being Scratched?
A dish grid at the bottom of the basin will help you avoid scratches on your sink from dishes, pots, and pans. While cleaning, stay away from using harsh scrubbing or hard items.
Final Take
You can choose from several undermount sinks available on the market that are appropriate for quartz countertops depending on your lifestyle and style preferences. However, it would be best if you select either of the three undermount sinks listed above since they are the best.