Research shows that foods can lose nutrients when they are stored in the fridge and retain them if they're dried properly. Dehydrated foods are a healthy alternative to fresh produce, providing vitamins and nutrients without the risk of spoiling.
If you want to dehydrate food, you're going to need a dehydrator. There are many different kinds of dehydrators, but the best food dehydrator should be easy to use and have: 
an adjustable thermostat and timer so that you can set it to their desired level of dehydration

trays made of a material that is easy to clean (dishwasher safe) and not absorbent

enough space for all of your food 
Dehydrators come in many shapes and sizes, but most have the same basic components: a fan to circulate air, a temperature control knob, a timer, and dishwasher-safe trays.
The best dehydrator for you will depend on your needs. If you're new to drying food, it's best to start small with a basic food dehydrator that doesn't cost an arm and a leg. If you're already an avid food dryer, then look for something bigger and better.
There are so many different types of dehydrators that it's hard to know what to choose. How do you know which one is best for your needs? That's where this guide comes in! We've compiled all the information you need about the best food dehydrators available today into one article so that you can easily find what works for you without having to sort through all the reviews on the internet.
Best Food Dehydrator: Consumer Reports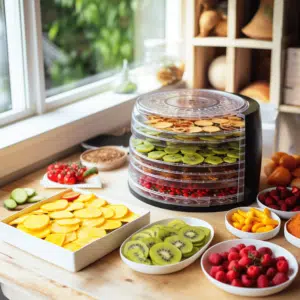 Electric Dehydrators: Electric dehydrators are the most popular and most used type of food dehydrator. These dehydrators combine heat and fan technology to dry foods quickly. They're easy to operate, with adjustable temperature settings that make them ideal for preserving delicate ingredients.
While electric dehydrators are more expensive than the traditional versions and might not be right for everyone (especially those on a budget), they do simplify the drying process.
Solar Dehydrators: Solar dehydrating involves exposing food items to sunlight so that they may be dried without using electricity or other forms of power. This is the cheapest option.
These kinds of dehydrators work best in warm, dry climates—but in cooler or more humid areas, they may not be very effective.
Convection Dehydrators: A convection dehydrator uses an internal fan to circulate hot air around the food items being dried. While electric dehydrators are more efficient, convection dehydrators tend to cost less, but they can be a bit noisy.
Now, let's take a look at the best food dehydrators for you. Here are some of our top picks:
Hamilton Beach 32100
Hamilton Beach 32100 is a budget-friendly food dehydrator that offers a large capacity (5 trays) for drying fruits, vegetables, and herbs.
It has a hot air flow that dries things out evenly. It can be set to dehydrate food accurately with its adjustable thermometer and digital timer—and will shut off automatically when the process is complete.
This model has a timer range of up to 48 hours, and you can see the food's condition through its transparent lid. You will be able to dry fruit or vegetables at temperatures ranging from 100° F–160° F in this machine.
This dehydrator costs less than many other dehydrators
Cosori CP267-FD Premium
This is one of the most popular food dehydrators in the market. CP267-FD is a stainless steel machine that is light and durable. This efficient dehydrator is great for making fruit leathers, beef jerky, and other tasty snacks. It comes with extra racks that allow you to dry a variety of things at once.
The dehydrator makes very little noise, generates minimal heat, and has an overheating protection feature. Its fan circulates hot air around the food, so you don't have to rotate it while drying.
Also, this dehydrator model is easy to maintain, clean, and use. It's dishwasher safe. However, it's pricier than other available models.
Nesco Gardenmaster Pro
If you're searching for a dehydrator that can dehydrate more food at once, consider the Nesco Gardenmaster Pro.
It can hold up to 30 trays at once, with 9 top rack trays that are dishwasher-safe.
Its temperature control dial goes from 95° to 165°F, and the timer can be set for 2 to 26 hours.
Although the door doesn't seal completely and makes a bit of noise when it slides, we didn't find this to be problematic. These dehydrators come with detailed instruction booklets—which include recipes and charts—that are very helpful.
Presto 06301
This model uses 120 volts of power, and its cover and tray are dishwasher-safe (and thus easier to clean). It is also one of the most cost-effective dehydrators on the market.
With this model's expandable six-tray design, you can dry a variety of fruits and vegetables or herbs. Six trays provide ample space for dehydrating food items—plus, it has the best consumer features!
This dehydrator has a sleek white exterior and plastic exteriors.
A unique drying system, which uses a built-in fan to circulate air, is one of this model's most outstanding features. It also includes an adjustable thermostat that allows you to set the temperature accurately when drying food.
Excalibur 3926TB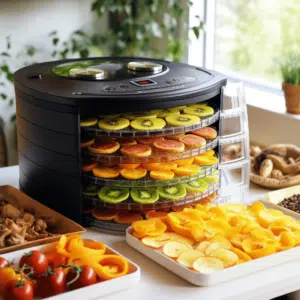 Excalibur 3926TB boasts nine dehydrating trays, giving you 15 square feet of space to dry a variety of foods. This dehydrator is designed to remove moisture quickly. Its right airflow helps retain beneficial nutrients and infuse your food with delicious tastes.
The temperature range of this machine is between 105 and 165 degrees Fahrenheit—perfect for drying a wide variety of fruits, vegetables, and jerky. This dehydrator can be placed under kitchen cabinets on a countertop.
This dehydrator features a BPA-free tray and plastic parts made from other materials that do contain BPA. It produces less noise than other such appliances, and its airflow is better, as well.
Conclusion
We hope that these best food dehydrator consumer reports have been helpful to you. Making the right choice will ensure that your own food preservation experiments are a success.
In the end, the food dehydrator you choose will ultimately depend on your own needs and preferences.