Yellow tiled bathroom updates, Updating old bathrooms is an enjoyable activity. There are two ways to change the color of your yellow tiled bathroom: replace everything or paint everything.
However, if you plan to upgrade your yellow tiled bathroom to look more modern, you don't have to invest thousands of dollars in the job. There are simple ways to give your bathroom a new twist without having to spend on expensive upgrades.
How to Update a Yellow Tile Bathroom: Important Tips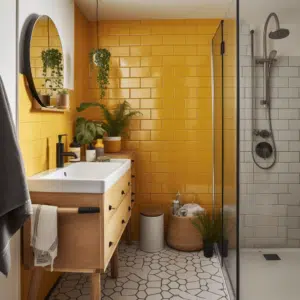 Artwork
Artwork is a superb way to add color, texture, and interest to your bathroom. You don't need to change out your entire shower surround or bathtub. You can hang a few pieces for an instant facelift.
Add a shower curtain with a print that complements the décor
With the help of a fun shower curtain, you can refresh your bathroom without spending a fortune. Because shower curtains are typically inexpensive, you can update your bathroom with several of them, changing them out seasonally.
When picking a shower curtain to go with a tile pattern, it's best to pick something that complements it. Choose a shower curtain with a bold print for a completely refreshing look, such as polka dots, stripes, or zigzags. Small, subtle patterns, such as flowers or leaves, can also update your bathroom.
If you want to go a step further, consider replacing your towels and washcloths. Of course, you can update other bathroom items, including shower curtain rings, soap dispensers, and wall hooks. And if you get tired of the shower curtain you chose, you can switch it out for a new one.
 Upgrade your Hardware
The bathroom is one room in the house that sees the most traffic, which means it's the room that requires the most upkeep. If you're looking to upgrade your yellow tiled bathroom hardware, check out the fixtures below. Each one will make a world of difference in your bathroom.
Shower

. If your shower is outdated, replacing it is a good idea. Pick a style that is both appealing and functional. If you are remodeling the bathroom, try to envision how you will use it.

Vanity.

The vanity is the heart of the bathroom, and it's where you get ready every morning. If your vanity is outdated, cracked, or chipped, replace it with a new one. If you are looking for a modern design, look for a simple vanity with cabinets. You can find them online or at home improvement stores. If you want something traditional, look for a vanity with drawers and lots of counter space.

Faucet

. The faucet is the bathroom's workhorse — it's there every day, and it needs to be durable, stylish, and functional. If your faucet is outdated, cracked, or leaking, replace it with a new one. If you are struggling with a tight budget, it may be possible to salvage your existing faucet by installing new handles and aerators. Or, if the budget allows, go for a complete upgrade — consider buying a modern single-handle faucet with a pull-down spout.

Mirror.

A mirror is the cornerstone of any bathroom, and it's used every day. If your mirror is outdated, cracked, or chipped, replace it with a new one. Bathrooms with lots of windows or glass doors can be dazzling, especially in the mornings.
Adding mirrors can help bounce light around the room. This also makes the room look bigger. You can use mirrors to add interest to the space, too. For example, you could add a decorative mirror over the sink or one above the bathtub.
Toilets

. A toilet is a necessary evil — nobody wants to spend time in it, but we all need one! If your old toilet is loose, leaking, or making strange noises, upgrade to a new unit. Use plumber-recommended water-saving models and purchase a high-quality flapper for best results.

Sinks. If you want your bathroom to have a fresh new look, an important thing to do is replace the old sink with a new one. It is important to pick a sink that is right for the space. You should replace the sink with a modern updated model to create a fresh, updated look for the bathroom.
Paint the Tiles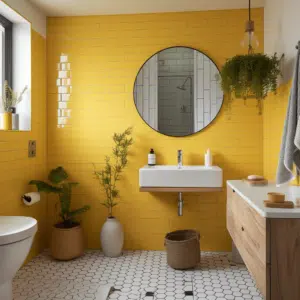 Painting a room can make a tremendous difference in its appearance. Painting your shower tiles (and walls) is an easy way to give your bathroom a facelift. It transforms the drab, dirty look of yellow tile to a bright, clean look. It also saves time and money because you won't have to remove and reinstall the tiles. Painting the tiles is an easy, inexpensive way to freshen a tired bathroom. And if you're handy, you can do it yourself.
Here's how to paint tiles
:
Prep the tiles. First, remove all the fixtures and any caulk around the shower or tub. Then, sand the tiles to remove dirt and scuff marks. You can rent a power sander for this or invest in a small handheld sander. Work your way toward the shower or tub in sections starting from the outside.
Mask. Once the tiles are sanded, wipe them down with a wet cloth to remove any dust. Then, tape around them with painter's tape. Suppose your tiles are textured; use painter's paper or fiberglass mesh behind the tape.
Apply primer

. Apply the primer with a roller. Apply it in even strokes, working from the center outward and overlapping the first coat slightly. Make sure no primer gets on the joints between tiles.

Apply paint

. Once the primer is dry, roll or brush on two coats of paint. The first coat should be a light color. Light colors absorb more light, so they make the tiles look brighter. Make sure the paint goes on smoothly, so there are no brush marks.
Bathrooms are arguably the most important part of a house. Yellow tiled bathroom updates can leave you staring at a dilapidated space filled with mildew, or it can make you fall in love with your home all over again. Yellow tiled bathroom updates have a yellow-tiled bathroom that needs a serious facelift, you can transform it into a space you will never want to leave using the above suggestions.