Orange Wood Floors, When you install new floors, you probably hope that you will not have to think of them further and simply enjoy indefinitely, the beauty and allure of your wood floors.
As fate would have it, that is not the case. As the years go by, your floors will change color and at times this change is unwelcome. Wood is a natural organic material which means it is not only impacted by the external world but also intrinsically by its own biology.
Wooden items, depending on both the kind of wood and the conditions around them, deteriorate with time and although this deterioration takes a very long time, eventually it does happen. 
Some species such as walnut become lighter over time while some others such as cherry will acquire a darker hue. Depending on your preferences, some of these changes could actually become preferable to the original. In most instances, however, the opposite is true. Oak wood floors are most likely to turn an orange hue which can be too flashy particularly because oak is largely purchased for its light to reddish-brown color. Orange just won't do. 
Why do wood floors turn orange?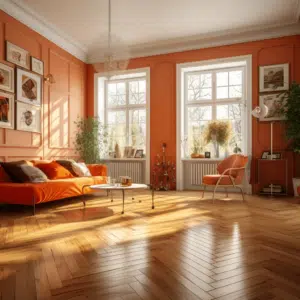 Wood is highly photosensitive and as long as there is light falling on it, it will react with light rays and change color either becoming lighter or darker depending on the species.
UV light does the most damage, although visible light and infrared light also make an impact on the color of the wood.
How to tone down orange wood floors
If you cannot stand the orange color, sanding down the floors to eliminate the top-colored layer, and refinishing it with a UV-resistant finish is an option.
If you would like to restore the original color then you may finish with a neutral coat but you now have the option to go with a different color altogether. 
This is, however, not easy to do and it will take the help of a professional craftsman to get it done well.
It is also going to cost you quite the sum to execute. Sanding and refinishing afresh will give you a longer-lasting solution because it will take years before your floors change color enough to necessitate this kind of intervention again.
Orange wood is a particularly strong color and easily overwhelms the room. Luckily, wood takes quite well to paints and stains. The real puzzle here is picking a stain or wood paint that can completely alter the look of your floors without clashing with the rest of the decor in the room. 
The intention is to tone down the orange and steer the color back to its previous lighter appearance, neutral colors such as beige and very light yellows do an amazing job at neutralizing the sharp orange.
If you are looking for a complete overhaul, a darker shade could be an option such as charcoal grey which has undertones of blue that will make remarkably dark floors.
If you choose to stain, reach out to a professional since different colors may need different strategies to apply correctly.
Then try sampling different colors on smaller patches of the floor and observe how the patches behave in subsequent days before committing to any color.
Lighting significantly affects how things appear and wood floors are no exception. The kind of lighting you choose significantly affects how you perceive everything in the house. A simple change can greatly improve the sharp flashy appearance of orange wood floors toning them down. 
It is often the practice to tone down orange with red or yellow. Sometimes this may work but sometimes it may end up making a room too warm and busy since both yellow and red are bright and warm colors. You could try changing your lighting to duller colors such as blue or gray. 
Some bulbs come with such an array of colors, some numbering up to a million different shades. Without question, such bulbs could be an inexpensive but very effective way to tone down the harsh orange wood floors below.
With such a range of color options, you could even find you have completely new decor ideas that your wood floors supplement.
The entire floor appearing orange can be unsettling and distracting. It may not be that much of a problem anymore if only portions of the floor were immediately visible.
Everyone can appreciate the luxury of a good carpet and in this case, it can provide utility. 
Place carpeting on your floor to cover certain portions or all of your floor to tone down the brightness of the orange.
With carpeting, you also have the chance to give your home a new aesthetic without interfering with the flooring itself. 
Strong blue shades could bring a cooling aspect to the appeal of your room and create a lovely contrast against the orange floors.
Experiment with different colors and even textures that could even out the feel of the room.
Your furniture is a crucial aspect of what your house looks like. You likely installed the wood floors to collate with your furniture and with the floors turning orange, your furniture may look out of place and poorly coordinated. 
Change out your furniture or incorporate some new pieces that compliment your floors. A change of drapes, paintings, or a couch could dramatically alter the overall look of your house.
Unlike traditionally when color and design were fairly rigid, today color blocking is a stylish concept.
Incorporate a dull orange change of cushions and vases or a very light beige dining area. A change of furniture should help tone down your orange floors.
Paint walls to create a neutral backdrop
Repainting the walls is quite possibly the most effective way to deal with orange wood floors without actually interfering with the floors themselves.
A neutral repose grey on the walls or a soft navy blue with white beige edges would make an excellent backdrop for the orange below. 
Work with a color card to pick a color that pleases you. A change of wall color is an effective way to tone down orange floors.
How to Decorate With Orange Wood Floors
To get started on your orange wood flooring project, here are some tips for decorating with this color:
Match wall color to the flooring. If your orange wood floors are a light shade, you can use a lighter color like cream or beige for the walls. A darker shade of orange will go well with dark brown or gray walls.

Tone down the wood

Don't be afraid of patterns and textures! You can spice up an orange floor with a fun rug or add some visual interest by layering different types of tiles together in one area.

Use light-colored furniture. When decorating with an orange floor, use light-colored furniture and accessories to create balance in the space.
Paint Color to Tone Down Orange Floors
If the orange floor is too dominant, try painting the walls using adjacent colors on the color wheel. This will help pull focus away from the floors and create a more balanced look.
Try blue or green for a cool effect or warm colors like yellow and red for a more dramatic look. Or maybe white to play down the orange tone.
Another option is to paint the walls a neutral color and add a bit of pattern to create visual interest. You can also consider jewel tones for a more rich and luxurious look.
Also, you can try muted colors like sage, khaki, and beige. If you have a large space with lots of natural light, these neutral tones will help balance the orange flooring while still making it stand out.
Living Room With Orange Floors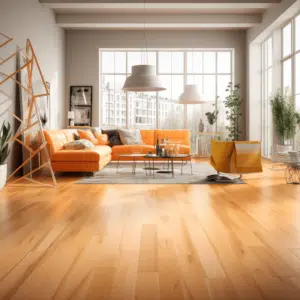 If you have an open space with large windows, you can use bright colors to balance out the orange floors. Try using light blue, green, or yellow on the walls and furniture. 
Try to coordinate with other colors in the room. Complementary colors such as green or blue will help your orange wood floors stand out less.
If you have a small living room that doesn't get much natural light, consider dark colors like black or red for contrast.
How to Neutralize Orange Wood
You can apply gel stain over the top of the oak to even out the color, or you can use paint that's been tinted with blue-based colors to mask it.
The color blue is known to counter the intensity of orange. So, if you want to tone down the intensity of an orange or red, blue is a good choice. 
Wood bleach can also be used to neutralize the orange or red tones of your wood, but it's best to use this product with care.
Also, you can apply wood conditioner to the wood to reduce blotching. Pre-stains are available in an array of colors, including whites, blues, and grays, so you can select one that's slightly lighter than your desired final color. This will help ensure that you don't end up with wood that's too dark or too orange.
Try to use neutral tones like white or grey on the furniture. If you're going for a more modern look, try pairing orange with bright colors like yellow and blue. 
Make sure there isn't too much contrast between the flooring and furniture; if there is, it will be hard to balance out these two elements in your home.