Tile Redi Shower Pan can be very quick to install because they are made as one fully integrated piece. Besides, it has thresholds and drains that are built-in, which makes it easy to install.
However, there are problems that are associated with the Tile Redi shower pan, such as water not draining out properly. Besides, there are more issues that we will discuss shortly.
Common Tile Redi Shower Pan Problems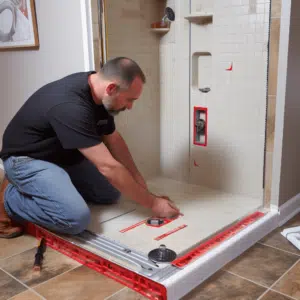 These are the common issues associated with Tile Redi shower pan;
Pan not sticking to the Base

Many people find it difficult to install

The water may not always drain out properly
Tile Redi is common in most modern homes. It offers a flexible installation process with the promise of maintaining leakproof service for the owner. Many people are indeed attracted to it for many reasons.
Many people assume that Tile Redi is quite time-saving when compared to the old process of setting up a shower pan by plumbers. However, there are problems that can occur in the process that might bring you back to zero. The process of installing a new shower pan is not always cost-effective.
Thus, it would help if you were keen while installing it to avoid mishaps requiring a new unit's re-installation.
Shower Pan Not Installing
Tile Redi comes with a useful, easy-to-follow instruction or manual book that describes the installation process. But often, it is seen that the shower pan does not sit well on its base during the installation process. This scenario can have many possible explanations.
The most anticipated reason would be taking incorrect measurements of the pan area. Again, if you are revamping your shower area, you may not have properly furnished the base right before installing the shower pan.
Shower Pan Not Sticking properly to the Base
Another common issue with this type of shower pan is that the adhesive used may not always stick properly to the base. The shower pans come with an adhesive to help you stick them to the base properly. But sometimes, it fails to stick to the base.
Water Not Draining out of the shower pan Properly
Sometimes, the shower pan does not properly pitch on all sides of the drainage area. This creates some unusual angles on the floor. Thus, water will always accumulate at the shower base edge, creating a pool of water.
These problems are widely reported by customers who have already installed and used the Tile Redi shower pans.
How to Avoid These Problems
Whenever purchasing shower pans, you should perform your research beforehand. This might be the most used part of the shower, but it is true that a lot of people never give it the attention it deserves. In most cases, if the shower pan base is not settled well, you will face hurdles while using it.
These shower pans are very attractive. They come with a clear and useful installation process and many choices that include customization according to your preferences and conveniences.
However, some problems are quite inevitable, but they have been addressed before. Here are the possible remedies for the problems shared earlier;
Use the Correct Mortar during Installation
The easy-to-follow instructions contained in the manual book cover every specification regarding the mortar or concrete for installing it. You should always make sure the mortar and the estimated amount are enough and good for the shower pan base in which you will install it.
In most cases, porcelain mortar is preferred for installation. However, we cannot choose it. You should recheck and make sure it is the best for installing your Tile Redi shower pan.
Consulting a local plumber would be a wise idea. You can also check out the Redi Base mortar that you buy with the kit. Besides, you can buy your own.
Tile Redi Shower Pan is because you cannot always be sure if the mortar in the kit will work well in the area it will be applied. Epoxy mortar is the best material for use when tiling the shower pan.
It would be best if you pitched the Pan to the Drain Correctly
You have already learned that the installation process might cause unusual angles, especially when you fail to pitch the pan properly. This leads to water clogging inside the area.
Make sure you cut the tiles evenly on all sides to make it to fix it in the area. This will prevent clogging. You can involve a local plumber to help you with the installation.
You do not have to do it yourself, bearing in mind that you are not skilled at it, and there are mishaps that can ruin the entire project. It makes sense to hire some to help with the installation.
Use the Right Adhesive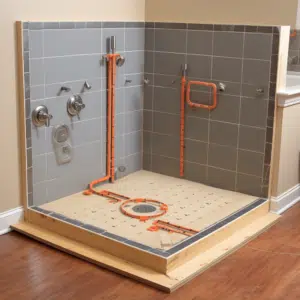 Using the right adhesive to stick the pan is a must. It is not wise to utilize the provided thin-set for the tiling process in most cases. This is because they are easy to leak outside the pan area. Note that it is not always easy to clean them.
In most cases, the pan will come with enough epoxy to stick the Base. However, you can still order for more if the need arises.
You can always seek guidance from the Tile Redi shower pan manufacturer when you come across installation problems. Besides, you can still use the content on various platforms such as YouTube.
There is a lot of information that can help you install and avoid the problems associated with it.
Conclusion
There are many problems linked with the use, installation, and maintenance of Tile Redi shower pans. However, these problems can be rectified. Tile Redi Shower Pan would be best if you did research before you buy the shower pans.
This is to make sure that you know how to install it, its benefits, possible challenges, and how to rectify it. Besides, working with a local plumber comes in handy. Note that the problems can be rectified, but Tile Redi Shower Pan is better when done right than making changes after installation.