Vizio Smart TVs are made with excellent craftsmanship and an eye for detail when it comes to design. However, even the best TVs can start to have issues like bugs or heavier glitches, or even stop working entirely.
Picture this: you're trying to watch a favorite show, but suddenly, the screen goes black. You test out the power button but nothing seems to change. You even press the remote again but, still, you're unable to get back to your program- it's a problem that leaves most users frustrated and even gives up on trying to fix it all together.
Why Is My Vizio SmartCast Not Working? Some Common Problems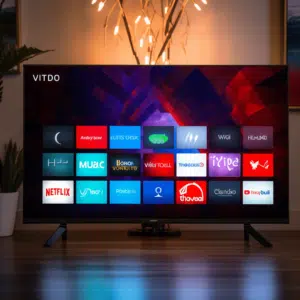 The good news is that we have a fix. Vizio Smartcast not working is a common problem and it occurs for a number of reasons. For instance, it could be that the firmware on the core operating system is freezing up, the Wi-Fi connection isn't as fast as expected or your network settings aren't optimal. In other cases, some Vizio SmartCast models can also suffer from an actual hardware issue.
Vizio Smartcast generally works fine, but sometimes it might show an error with wards such as Smartcast TV Not Available", "Smartcast Starting Up Please Wait" or even Smartcast TV Not Available". A simple click on update "Update Now" can solve the problem for most people, but here are more tips for Vizio Smartcast troubleshooting and diagnosis:
Tips for Troubleshooting and Diagnosis of Vizio Smartcast
Reboot the Vizio TV
If your Vizio SmartCast device isn't working, you could try restarting the TV to see if that resolves the problem. Note that using the power button on the remote won't turn the TV off entirely and would just set it to standby mode. You will need to restart the TV completely, so check out the following steps on how to do this:
       

Shut off the TV using the remote

       

Unplug the TV from the wall socket

       

Wait for at least 30 seconds before powering the TV back on again

       

Then turn the TV back on
Once you've turned on the TV, check to see if the Smartcast issue has been resolved. If it hasn't, consider restarting a few more times, following the same instructions.
Then reboot all of the devices including the SmartCast, tablet, or smartphone you use to operate the TV. You might want to do the same for other gadgets connected to your home WiFi network. Then launch SmartCast again.
Check the TV Internet Connection
Note that if the network connection over WiFi is not working as expected, or there's no connection to your ISP, the SmartCast won't be able to work correctly and might crash out of nowhere. Other casting features won't work either if there's no internet connection.
To fix this, check your router to see if the internet is working as intended. The key things to look for are the lights. Ensure that all lights are turned on (blinking) and they are not in any warning color like amber, orange, or red. You may also check with your other devices to see of you can access the internet on them.
It's important to make sure that both your internet connection and TV can support the app or media you are trying to stream, especially if you're looking for a smooth Chromecast streaming experience.
Power Cycle The SmartCast TV
If you have a problem where Vizio Smartcast App isn't working, it could be due to a simple software glitch. In most cases, this issue can be resolved by simply powering off and turning on the TV- a process known as a power cycle.
When you power cycles your device, all the TV settings get erased, which, in turn, will initialize every temporary setting when you turn it back on. Your SmartCast App should resume back online in just a few minutes.
In case your router is sluggish, consider power cycling it as well. Simply press and hold down the power button on the device until it blinks, then power it off. Wait for one minute and then press the same button to power it on. Alternatively, you can unplug and plug the router back in.
Note that Smartcast will need to re-establish a connection to the WiFi network, which may take a couple of minutes or so. Once the lights on the router are back on (turn green) proceed and try the connection.
The power cycle is one of the easiest ways to rule out certain TV issues. Most models are designed with a power button on the back, which you can press and hold for several seconds to reset the TV.
Factory Reset the TV
If your Smartcast TV stopped working, you may want to factory reset the device to its original settings. Luckily, Vizio Smart TV owners can factory reset using built-in settings, so you can start resetting your device and get it back in working order as soon as possible.
Note that all settings, including any calibration that has been done with the display and any apps installed will be removed. You will also be logged out of all your accounts, so remember to log back in and install the necessary apps you may need after resetting your TV.
To set your Vizio TV to its original settings, press the menu button on the TV remote and select Reset & Admin. Proceed to Factory Setting and click Reset. Wait for the device to restart and go through the initial set-up process. Once you're done with the setup, check to see if the issue has been resolved.
Try to connect your Vizio TV to another Wi-Fi network such as your phone's hotspot to make sure the problem is not with your Wi-Fi settings. Locate the Setting app on your TV and use the Wi-Fi setting to connect to another Wi-Fi network.
Reach Out to Vizio
If none of the solutions shared above have worked to fix the issue with your SmartCast, then you may want to contact Vizio customer support. They will be able to guide you to a better working solution.