A two-tier kitchen island can be an excellent addition to busy households to offer extra sitting for eat-in dining and entertainment.
However, has this phenomenon started losing its appeal among new households?
In this article, we will answer that question and look at different two-tier kitchen island designs, among other things. But before we get into that, let's first define what a two-tier kitchen island is.
What is a Two-Tier Kitchen Island?
A two-tier kitchen island consists of a standard kitchen island with a bar-height counter attached to the island's outer edge. In some circumstances, a lower, regular table height surface can be attached instead of a bar height top.
This Kitchen Island is commonly utilized in open-plan settings to separate the kitchen from other house areas while optimizing floor space.
Are Two-Tier Kitchen Islands Out of Style?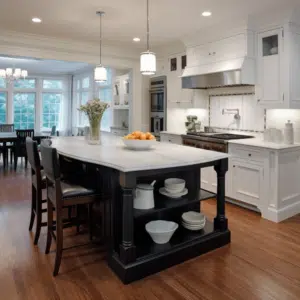 Two-tier kitchen islands, particularly ones with a bar counter, are no longer as famous as they once were.
As with any home improvement, it's important to consider the user's needs, functions, and lifestyle rather than the latest trends. Recent design trends embrace "open" and "light" spaces with fewer walls, which is why a two-tier kitchen island with a bar counter on one side is out of style.
Because the bar counter is higher, it can appear bulky and divide spaces. Functionally, it may be ideal for you. If you don't want guests to view the mess behind your working counter or if your family members are tall and uncomfortable on a counter stool, a counter-bar height kitchen island duo may be for you.
Instead than following trends, build your kitchen around your preferences. If you use your kitchen often, a well-designed kitchen meets your needs. Consider how a two-tier kitchen island will improve your work process or kitchen function before installing it.
Two-Tier Kitchen Island Designs
Two-Tier Kitchen Island with Seating
The Two-tier kitchens usually have seating. A bar-height countertop is more prevalent than a dining-height one. To maximize space, the second level is used for dining and seating.Though some two-tier kitchen islands don't have seating, most do.
Modern Two-Tier Kitchen Islands
Although two-tier kitchen islands are more typical in older kitchen designs, you can have one in your modern space by simply employing modern materials and silhouettes.
Modern two-tier kitchen islands, unlike classic versions, have lesser curves and decorative moldings.
Utilizing a solid wood waterfall countertop for the bar-level counter has become increasingly fashionable in recent years, particularly in industrial and rustic kitchen designs.
Raised Island with Built-in Table
Because modern homes typically have less floor space, kitchen islands with built-in tables have become increasingly popular. You can optimize your floor space by connecting the dining table to a kitchen island counter.
A dining-height add-on to the island counter, on the other hand, frequently functions as a casual eating area in more extensive settings.
It's a good breakfast table if you don't like sitting on bar stools for breakfast or if you have small children at home.
Kitchen Island with Raised Bar
The most typical type of kitchen island is a two-tiered island with a raised bar counter, which is usually designed with entertaining in mind.
This allows you to complete your work in the kitchen while socializing with friends and family at the bar.
The higher counter level also means that any mess on the main island counter won't make it to the higher countertop surface.
Is It Possible To Convert Two-Tier Kitchen Island to Single Level
If your present two-tier kitchen island counter is no longer functional, you might want to consider having it removed and replacing it with a single-level kitchen island.
This may or may not be a simple fix, depending on the style of your kitchen island.
It will be easy to remove the bar or eating surface if it is an add-on module; however, other designs have it made in one piece, making fixes more difficult but not impossible.
How to Make Your Kitchen Island Standout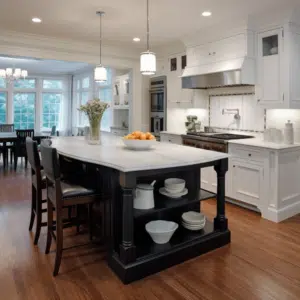 Go Bold With Color
Perhaps you want light gray cabinets, antique white cabinets, or oak cabinets with a delicate wood stain.
Your kitchen island does not have to be so understated! You can go all out and paint your cabinets a bright color, or simply choose a stain or color that contrasts with your cabinets and makes your island stand out.
Choose a Distressed Finish
One technique to obtain a furniture style is to use a distressed finish. You can make a kitchen island that looks like an antique by using heirloom stains or paints.
This can be a lovely contrast to a brand-new kitchen, giving the space a warm, lived-in feel.
Make It a Central Work Area
On the surface of your kitchen island, you can include a range or a sink. Also, you can add a small under-the-counter refrigerator or a dishwasher to your island.
It can be as practical as you want while still adding aesthetic value to your new kitchen.
What is the visual impact of this? Because your guests will enjoy watching you prepare and cook, and you won't have your back to them if you do it on the island!
Focus on Storage
If your kitchen island will be used as a work area, storage might be one thing you might want to include in it.
The amount of storage you can provide for yourself is determined by the size of your kitchen island. However, think about how much storage you'll have versus how much you'll need when planning your new kitchen and whether or not your new kitchen island should be part of your storage solution.
No, this is unlikely to help you construct a visually pleasing kitchen island, but it will undoubtedly improve your kitchen's efficiency!