Cordless Tool System have grown in popularity in the last 5 years. You can utilize a cordless tool almost anywhere without being constrained by the power cable. 
Due to the increased maneuverability, you may access ladders and cubby holes without running wires throughout the space. This, additionally, makes them safer as there are no potential electrical shocks or tripping hazards. 
However, selecting the best cordless tool system can be a challenging task. This is because the cordless tool systems available in the market vary greatly. 
This article will walk you through some of the things you should consider when selecting the best cordless tool systems.
Best cordless tool system: Important Factors to Consider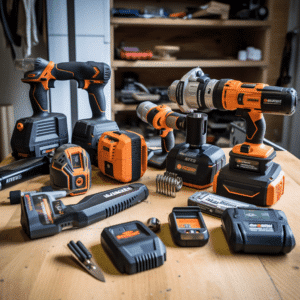 Below are some factors you should consider if you want to purchase the best cordless tool system:
Quality
Some businesses include relatively inexpensive tools in their kits. They can reduce costs as a result. Additionally, users tend to skip researching each tool in the system, which enables businesses to get away with offering subpar tools. 
They might also offer one excellent tool and a few subpar ones. Because of the fantastic tool in the kit, many people will buy it and put up with the others. 
But there is no need for this. There are kits available that contain excellent tools. Don't give in.
Batteries

All cordless tools utilize batteries. This makes battery quality important. 
When connected to a saw, some batteries can only operate for a little period of time. Some can go on for a long time. 
The highest possible battery quality and quantity are what you want. They should ideally charge quickly as well. If not, you might have to wait a long for your job to be finished.
Most cordless tool systems include a carry case or storage bag. 
Having a place just for holding your tools is helpful when you acquire a lot of them. It helps to keep them safe from harm while you're traveling and makes sure you always know where they're all at. 
You'll probably need to buy a storage bag if a cordless tool system doesn't include one. Make sure to budget for this additional expense.
Cost per Tool
Most toolkits come with an integrated discount. They are frequently less expensive than buying each tool separately. 
However, you should pay attention to how much less expensive they actually are. A kit can cost more overall but have tools of greater quality. Nevertheless, buying the package could result in hundreds in savings. Even while one is less expensive, it might just come with mediocre tools and give little in the way of savings.
Best Cordless Tool Systems
Below are some of the best cordless tool systems available in the market:
Ryobi P883 One+ Cordless Tool Set
The Ryobi Cordless Tool Set is among the most inexpensive cordless tool systems available in the market. However, despite being inexpensive, the instruments are of good quality and appropriate for most homeowners and handymen. 
A battery charger and two separate batteries are included in this set. You don't have to worry about fumbling with various batteries because all the tools in the system are compatible with the batteries. Additionally, these batteries are likely compatible with any additional instruments you buy from this manufacturer.
The storage bag works well. All tools fit snugly inside, protecting your equipment while you travel or store them in between projects. This elevates it to the top tier of cordless tool sets. 
Pros
It includes 8 high-quality tools

It includes a battery charger and 2 batteries

Excellent storage

Its batteries can be used with any of the tools included
Cons
For the warranty to remain valid, you must purchase the system from a qualified seller
DEWALT Max Cordless Drill Combo Kit 
This set has nine different tools, including a reciprocating saw and impact driver making it one of the best cordless tool systems in the market. These are the tools you must have if you plan to conduct any DIY work. 
All of them should be accessible to any homeowner that enjoys performing their own maintenance, making this an excellent set to start with. Even a branded Bluetooth speaker designed for the construction site is included with this system. In fact, it offers everything you require for even the most elementary projects.
You don't need to be concerned about these set being of low quality either because it is made by a reputable firm that produces high-grade tools. Most DeWalt tools, including those in this package, are high quality. For the typical handyman and do-it-yourselfer, they are all viable options. 
Pros
Include nine different tools

High-quality tools

Its tools utilize lithium-ion batteries 

Various battery styles to select from
Cons
Porter-Cable Cordless Drill Combo Kit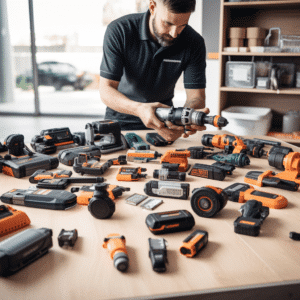 Porter-Cable Cordless Drill Combo Kit is an eight-tool set. It has the typical equipment seen in a set like this, such as a circular saw and drill driver. It is created to provide performance while maintaining the portability frequently required at a job site. 
These cordless tools are a good option if you don't want to stress about extension cables or locating an outlet.
Each tool is ergonomically designed and lightweight. This package is a great choice for someone who puts in a lot of overtime and hardwork. In these circumstances, having a comfortable set helps reduce tiredness and speed up project completion. 
Additionally, all of the tools are covered by a 3-year warranty, so you won't have to be concerned about them malfunctioning after only a few uses. This power tool set is the best available in terms of quality.
This toolkit is expensive, though. So, keep that in mind if you're on a tight budget.
Pros
It includes 8 tools that are of high quality

Lightweight and ergonomic

Portable

Reliable 3-year warranty
Cons
Final Take
We hope this article helped you figure out the best cordless tool system for your needs. Before purchasing a cordless tool system, the factors discussed in this article should be considered.