Introduction to Kitchen Countertop Materials
Kitchen Countertop Materials, When it comes to kitchen countertop materials, homeowners have a vast selection. From classic granite and marble, to modern quartz and concrete. Each material has its own perks and needs to be considered when renovating or designing a kitchen.
Here's a guide to popular materials and their features:
Granite: Durable and beautiful, granite brings timeless elegance.
Marble: Luxurious and heat resistant, marble adds sophistication.
Quartzite: Strong and stain resistant, quartzite is long lasting.
Quartz: Natural stone looks with added durability and low maintenance.
Concrete: Heat resistant and customizable, concrete is versatile.
Other materials worth exploring include Corian, for seamless designs and easy upkeep. As well as, butcher block countertops for warmth and character – needing occasional oiling.
Pro Tip: When selecting a material, consider budget, maintenance, and overall design. Talking to a professional can help make sure your choice fits your needs and desires. Natural stone adds a high-end touch that never goes out of fashion.
Natural Stone Countertops
A luxurious and timeless choice for any kitchen. They add elegance and sophistication, making it truly stand out. They have natural beauty and durability, making them an excellent investment for homeowners looking to enhance their kitchen's aesthetic appeal.
Granite is highly durable and has an elegant and classy look. Marble is moderately durable and offers a luxurious and refined look. Quartzite is highly durable and has a unique and eye-catching appearance with a wide range of colors.
Natural stone countertops have a unique appeal. Their intricate patterns and varied colors create a sense of depth and character, adding visual interest to the kitchen. Each slab is one-of-a-kind, ensuring a truly unique countertop.
They are incredibly durable. Heat, scratches, and stains don't faze them. Enjoy your beautiful countertop for years to come without worrying about damage or wear.
Invest in natural stone countertops to transform your kitchen into a masterpiece. Their timeless beauty, durability, and versatility make them a perfect choice for any style of kitchen. Upgrade your space today!
Solid Surface Countertops
Engineered stone countertops are great for those who want their kitchen to look special. With numerous colors, designs, and textures, you can find the perfect one for your space. Plus, they have low-maintenance needs. They're non-porous so cleaning up spills is a breeze. They also resist heat and impacts, meaning hot pots and pans won't cause damage.
To keep them looking great, use mild soap and water when cleaning. Avoid harsh chemicals and abrasives that could scratch the surface. Use cutting boards and trivets when working with sharp objects or hot cookware. This will help prevent scratches and stains.
Engineered Stone Countertops
Engineered stone countertops, also known as quartz countertops, are a trendy pick for modern kitchens. Composed of finely ground quartz and resin binders, they provide a strong and low-maintenance choice for homeowners. Features include:
High durability
Low upkeep
Excellent heat resistance
Superb stain and scratch resistance
Wide range of design options
Plus, their non-porous surface prevents stains and bacteria growth.
To ensure your countertop lasts, follow these tips:
Use cutting boards or trivets for hot items.
Clean spills straight away.
Stay away from harsh chemicals.
Apply a sealer regularly.
With these tips, your engineered stone countertops will remain beautiful and functional for many years. Looking for something more affordable? Laminate countertops are like 'fast fashion' – affordable, fashionable, and a bit disposable.
Laminate Countertops
Text:
Laminate countertops? Yes, please!
They possess durability, easy maintenance and are budget-friendly.
Plus, there are countless design options to choose from, allowing you to create a look that suits your style.
Transform your kitchen today, without breaking the bank.
Don't forget – laminate countertops are the way to go!
So, forget about wood countertops, and the termites that come with them.
Wood Countertops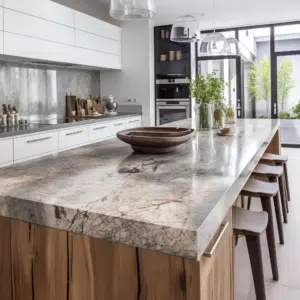 Unlock the timeless elegance of wood countertops! There are four popular types to choose from:
Butcher Block offers a durable surface for cutting and slicing.
Reclaimed Wood has been given a second life, providing unique imperfections and character marks.
Solid Wood is a single piece and can be sanded down or refinished.
Bamboo is a strong, eco-friendly option.
With proper maintenance and occasional oiling or sealing, these surfaces will last. Experience the natural charm of wood countertops and transform your kitchen into an inviting space for both cooking and gathering. Upgrade your kitchen today!
Stainless Steel Countertops
Pros:
Durable, resists scratches & dents.
Hygienic & easy to clean.
Heat-resistant.
Contemporary look.
Cons:
Prone to fingerprints & smudges.
Can be noisy when objects are dropped.
More expensive than other materials.
Pro Tip: Use a microfiber cloth or fingerprint-resistant coating to reduce fingerprints on stainless steel countertops.