Crate and Barrel Shopping Tips is a renowned home furnishings and accessories specialty retailer established in the United States. It's noted for its high-quality design, great value, and straightforward functionality. Stores, catalogs, and a growing web division are all used to offer the retailer's products.
Crate and Barrel was one of the first companies to introduce affordable domestic items and contemporary home decor to American consumers, working directly with European ateliers and factories. The brand's core has translated wonderfully to the omnichannel era more than 50 years later, having been launched in Chicago in 1962.
The Land of Nod, a children's home furnishings and accessories business, and CB2, a trendy and affordable home furnishings and accessories destination, are two brands within Crate and Barrel.
In this article, we'll look at the most frequently asked questions concerning Crate and Barrel?
When Does Crate And Barrel Have Furniture Sales?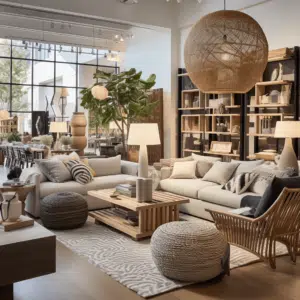 Crate and Barrel holds regular sales including the Biannual Wine & Dine Sale and Annual Outdoor Sale. Sign up for Crate & Barrel emails or follow the brand on social media to learn about sales and events. The Crates and Barrel sales breakdown:

The Annual Outdoor Sale
This sale starts at the end of February, and you can save up to 20% on outdoor cushions, umbrella stands, pillows, and other items. Clearance items are usually excluded from this deal, and there may be other exclusions as well.
Annual Upholstery Sale
The sale starts in early August and runs until the middle of September. It entitles you to a 20% discount on ottomans, chairs, sofas, and other items. This deal excludes outdoor furniture, office chairs, benches, beds, dining seating, and clearance items.
Biannual Wine & Dine Sale
This sale occurs twice a year, once before Christmas and once before the spring. Dinnerware, wine and champagne glasses, flatware, napkin rings, table linens, and more are discounted up to 20%. This offer excludes entryway and storage benches, bedroom and living room benches, office chairs, outdoor furniture, and clearance items.
Miscellaneous Sales and Promotions
Throughout the year, Crate and Barrel conduct a variety of exciting sales. Some of these special offers are tied to a single season, while others aren't. Crate & Barrel, for example, has previously offered 20% off storage and cleaning supplies in the spring. Following sporting events such as the Super Bowl and the NBA Finals, entertainment centers, TV stands, and media consoles have been selling for up to 25% off. Throughout the year, you can find bargains on certain items like instant pots or kitchen knives.
Clearance items are often excluded from these sales.
What Are the Best Ways to Save At Crate and Barrel?
Many Crate & Barrel shoppers want to know how they may save money while shopping there. Below are eight ways on how to save at Crate & Barrel.
Sign Up For Crate and Barrel Emails
Crate & Barrel will automatically apply a 10% discount on your next order by simply providing your personal email address. Is there a more straightforward way to save money?
Get a Crate and Barrel Credit Card
Crate and Barrel is one of several stores that give discounts to customers who use the store's credit card. Signing up for a Crate and Barrel MasterCard or Crate and Barrel card will ensure that you receive 10% back in rewards money or six months of special financing for every purchase that you make worth $749 or more.
If you use their MasterCard, you'll also get 2% back on groceries and 1% back on other purchases.
Create a Crate and Barrel Gift Registry
If you're planning a wedding, make sure to set up a gift registry at Crate & Barrel. Free shipping is available on orders of $99 or more. Even better, the happy couple will receive a 15% discount on any purchases made during their first three months together.
Search for Crate and Barrel Coupons, Discounts, and Promo Codes
If you're shopping at Crate and Barrel, check out the coupons, discounts, and promo codes page to see if the business has any special offers. It only takes a minute, and you may save a lot of money.
Check Crate and Barrel Free Shipping Section
Crate & Barrel offers free shipping on certain goods. Visit the retailer's All Free Shipping page and browse to your heart's pleasure to find these items.
Get a Discounted Crate and Barrel Gift Card
Before shopping at Crate & Barrel, go to a discount gift card website and get a discount gift card for the store. This might earn you up to 5% cashback if you shop at a Crate and Barrel store.
Shop by Using a Cash Back Website or Credit Card
When you shop online at specified stores, cashback websites allow you to get cashback. Simply register for these services at the cashback website, log in, and search for the store you want to shop at. Then, by clicking on the retailer, you will be taken to that store's website, where you may begin purchasing. You will receive a predetermined amount of cashback when you make a transaction.
You can also get cashback on your purchase by using a cashback credit card.
What are the Sister Brands to Crate and Barrel?
There are two sister brands to Crate and Barrel. CB2 is a home goods segment aimed towards young adults and was founded in the year 2000. The brand now has 15 locations across the United States and Canada. In 2018, a second store was set to open in Denver.
The Land of Nod, a children's brand acquired by Crate and Barrel in 2001, had closed all of its stores by the end of spring 2018. Crate and Barrel renamed the brand Crate and Kids on March 7, 2018. It is a brand of children's furniture, home items, and presents available online and in 40 shops.