Change the shower head in apartment, Moving into a new apartment is great and fun as you own your new space. However, it may come with minor challenges, like the shower being blocked with lime or lacking sufficient water pressure.
Can I Replace The Shower Head In My Apartment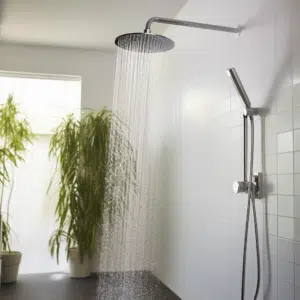 Such an issue will concern you, but "are you allowed to change the showerhead in your apartment?" Yes, you can swap the shower head in your rented apartment but keep the original shower head to reinstall it before moving out.
Join us as we take you through the answers and other hints about the topic.
Is It Okay to Change Your Apartment's Shower Head?
Changing a shower head has a significant impact on water efficiency and pressure. And you're permitted to change it in your apartment, but ensure you retain the original shower head to reinstall it before moving out.
However, this procedure requires that you read and understand the lease agreement to rule if there is any clause that deters you from making such a change before taking action to change the shower head.
What Are The Lease Shower Head Rules?
Many landlords, including management companies, now send their lease agreements online. They contain a clause that covers alterations to the unit, which entails any changes to the apartment's appliances, structure, and fixtures. The guidelines to follow are below:
Open the Lease
A lease can be in both hard and soft copy. For the hard copy, open and locate the rules and regulations section.
For the soft copy, begin by searching for the relevant section of the lease.
Secondly, use the CTRL + F keyboard shortcut to open the search bar in the doc.
Thirdly, search the keyword or the rules of your agreement, "shower," "alterations," or "plumbing," and see whether any information will be displayed. If nothing displays, try keying in other related keywords such as "appliances" or "fixtures."
Lastly, review the lease agreement's fine print to evaluate its meaning. To get a better understanding, read it thoroughly or consult an expert. And if you get stuck, go ahead and ask your landlord or agency for more clarification.
If any clause in the lease agreement forbids you from changing your shower head, the best you can do is to honor it. You instead quit the apartment if the clause is too harsh.
If there isn't any restricting clause from making your changes, go ahead and change your shower head. However, keep the old shower head where you can easily access it whenever you need to reinstall it.
How Do You Change The Shower Head In Your Apartment?
Acquire the New Share Head
You can get the new shower head to replace the old one from the hardware store near you. You don't need to worry about the size or type of shower because all showered moderators are universal in scope.
Supplies
2small rags or cloths

Old toothbrush

Teflon tape/plumber's tape

A pair of pliers/wrench

Channel-lock pliers

New shower head
Remove the Old Shower Head
Cover the shower arm (pipe extending out from the wall) with a wet rag to prevent the wrench from slipping and scratching the surface.
Before unscrewing the old shower head, ensure the shower arm is firmly held in place to prevent leakages. Use an adjustable pair of pliers, loosen the old shower head and remove it using the channel-rock pliers.
After successfully removing the old shower head, examine the hose or arm for leaks or damages. If any, replace it before proceeding to the next step
Clean the shower arm
Clean the shower arm pipe's threads using the brush to remove the old threats and any debris that may cause leakage or lower water pressure after installation
Install the New Shower Head
Use the plumber's tape to wrap the shower arm threads clockwise, thus creating a water-tight seal that prevents leaks.
Align your shower head's base with your shower arm's end
By hand, screw the new shower head and tighten it with the wrench, but be careful not to over-tighten it to prevent thread stripping.
Make sure you place a rag on the new shower head before using pliers to avoid scratches.
Test the New Shower Head
Turn on the water supply and examine if there are any leaks. If you find none, you've successfully replaced the shower head in your apartment.
The final step is to make the area tidy and enjoy your new shower head
How Often Should You Change Your Shower Head?
An old shower head can get moldy, leakages, or lower water pressure. Therefore, having been the main accessory in the bathroom, you need to change it after 6 or 8 months.
But if you use hard water, consider doing it often because of the minerals that build up over time and cause a clog after some time.
What Other Shower Upgrades Can Renters Make?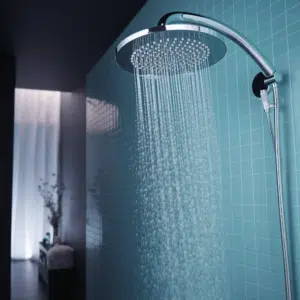 Apart from replacing the shower head, here is a glance at shower upgrades you can make as a tenant.
DIY Shower Curtains
You needn't break an arm to get a cute shower curtain. A basic white shower curtain with a stencil pattern will make a massive difference in your birth room style.
Beautify the Tiles
Use tile decals to make the shower wall a bit more decorative. Ensure you peel them off the time you're moving out.
Light
A bathroom with one overhead light may make the shower a bit darker. Therefore, replacing the light fixture with another allows more light into the room, making it stand out.
Windowsill
Does your shower have a window? Instead of lining your window sill with a lineup of shower products, it is an ideal spot for the shower décor.
Hygiene
Keeping high standards of cleanliness in your shower brings some luxury
Rethink Your Storage
You may need a storage solution for a clutter-free shower if you use many products like body washes, shaving creams, shampoo bottles, etc.
What Other Legal Changes Can You Make In An Apartment?
Installing a new security system

Kitchen cabinet paint

Change the door locks

Floor replacement

Paint the walls of any wall

Change the carpets

Replacing the floor
Changing the shower head in your apartment is possible. However, it is wise to confirm that your lease agreement has rules to prevent you from taking action. Shower head replacement can be done by yourself because it is straightforward, as shown above. All the best, and I hope this article is helpful.