Corian Shower Walls, When you intend to renovate your shower or install a new one, you will think of panels or tiles for the walls.
Ceramic tiles are undeniably attractive but hard to install and preserve.
Plastic shower panels offer easy installation, easy maintenance but a cheap look. When you choose Corian shower walls, you get both-easy installation and impressive design.
Overview: Corian Shower Walls
DuPont first made Corian shower walls in 1964. The inventor of Corian shower walls had found out that it was possible to bind particles from natural materials with the help of acrylic resin.
The end product was a solid surface resistant to damage and stains, non-porous, and easy to renovate.
The initial applications of Corian shower walls were kitchen sinks, counters, etc.
However, its use fast moved into bathrooms as flooring, shower enclosures, sinks, and countertop surfaces.
Currently, some Corian products resemble natural materials like granite or marble showers. However, there are others that maintain a contemporary look.
Just like any other wall panel product, this shower wall product has its pros and cons.
This section delves deep into the various advantages and disadvantages of using it. Here you go.
Corian Shower Walls Pros
Every building material comes with its advantages.
The Corian shower walls have pros that make them a unique selection for your bathroom walls.
This section reveals the various perks linked to the use of Corian walls as bathroom panels.
To begin with, Corian shower walls are waterproof. This is one of its key benefits over ceramic tiles.
The fact that it is non-porous makes it an ideal choice for bathroom walls. It is undeniably waterproof when properly installed.
The water from the shower splash does not seep into the grout lines. Instead, it rolls off the wall surface down to the drainage system.
This pro brings you to the second undeniable benefit of using Corian shower walls. They have no grout lines.
Grout happens to be the nuisance of every house owner's existence. The grout lines often look great when installed, but mold and mildew can develop in them since they may be porous.
This grout issue becomes a nuisance since you have to spend so much time trying to give the surface a "like new" look. In addition, it is difficult to remove it.
Thus, you may even have to seek professional cleaners to get rid of it. This is an extra expense that you should not want to have.
It is, therefore, best to invest in Corian shower walls since they do not have grout lines in which mold and mildew can develop.
It Doesn't Require Resealing
Corian shower panels do not use grout. They have joints that should be accurately aligned and sealed.
If properly aligned and sealed, water will not easily penetrate to the drywall underneath.
Thus, it would be a great idea to choose Corian shower walls over grouted ceramic tiles because they don't need resealing.
Unlike ceramic tiles, Corian shower walls are easy to install. Remember, you need to cut tiles to fit a certain pattern. On the other hand, Corian comes home pre-cut.
The supplier cuts it perfectly as per your specifications and delivers it ready for installation. In addition, if you want to adjust the pre-cut measurements, you can easily do it using a circular saw or a jigsaw.
Corian shower panels offer a 10-year guarantee. However, it is worth noting that this guarantee excludes any errors that occur during its installation.
Though most other panels try to offer the same guarantee, you should always refer to the manufacturer's specification to be certain.
It Comes in an Assortment of Colors
Corian comes in various colors. It is also available in different patterns that suit your preferences.
Thus, you can select any of your preferred patterns and colors to install in your newly constructed or renovated shower walls.
They will offer stunning designs and last long. Besides, you will still enjoy the above-mentioned 10-year guarantee. The cost of installation will also be below.
When Corian surfaces sustain damage, they do not need to be replaced or removed. You can just refinish it to restore its usual appearance.
This is advantageous over ceramic tiles, which you have to remove and buy new ones to give the surface the usual stunning appearance.
Corian Shower Walls Cons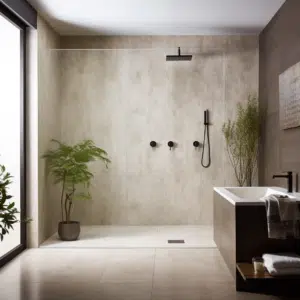 These are the disadvantages of Corian shower wall surfaces over other options.
You will learn why they may not be ideal. They are compared with other wall panel options like plastic surfaces and ceramic tiles.
More Expensive than Plastic
Most solid walls used in bathrooms have their drawbacks. They might be way less expensive compared to their engineered counterparts, such as quartz. However, they are more expensive than plastic walls.
They are not as Customizable as Tiles
The first Corian panel was offered in just one color, white. However, they are sold in various designs and an assortment of colors.
But the fact remains that they are not customizable as tiles. Usually, you can easily customize tiles by incorporating borders and even inlays. Besides, you can select the exact design and color that suit your desires.
Bottom line
Notably, the Corian shower walls have more pros than cons. They are the best when it comes to installing shower all panels.
This is because they are waterproof and have no grout lines. In addition, they do not need resealing.
You will just fix the joints as instructed, and that's it. They offer easy fitting since they are delivered ready for installation.
They are not like tiles that will need cutting to fit certain patterns and much more.
With their 10-year guarantee, you can rest assured that you will not need to make any replacements or re-installations soon.
Lastly, you can choose your preferred design and color. These colors can retain the same stunning appearance because you can always restore their initial shine.
This advantage beats ceramic tiles since they have to be replaced to retain the initial look.