The aluminum lawn chair is a staple in the backyards of America. It's no secret that aluminum lawn chairs can be quite pricey, with furniture stores and manufacturers charging top dollar for the privilege of owning one.
But before you decide to make a purchase or not, it's worth stopping and considering why aluminum lawn chairs might cost so much in the first place. Many people assume that aluminum is expensive to manufacture and therefore causes these chairs to be costly for consumers. However, this isn't always true.
Reasons Why Aluminum Lawn Chairs are so Expensive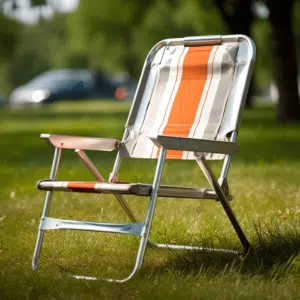 Durability
Perhaps the most important reason why aluminum lawn chairs can be so expensive has to do with their durability. Aluminum has been shown to be a very durable material, lasting a long time and withstanding heavy use.
A quality aluminum lawn chair will last a long time, lasting for many seasons of enjoyment. However, cheap aluminum lawn chairs fall apart easily and don't hold up under usage, making them a poor investment in the long run.
Weatherproof
Aluminum is resistant to many different types of weather and can withstand the elements all year long without breaking apart or rusting These chairs won't rust or stain, remaining an attractive part of any yard's decor for many years to come.
A good aluminum lawn chair also features a cover that is waterproof and easy to wipe off, protecting it from dirt and other elements while leaving it looking new for quite some time.
Low Maintenance
Of course, it's not just the enjoyment of your chair that makes aluminum so expensive. It's also the fact that these chairs require very little maintenance, requiring little oiling or cleaning.
Anyone who owns an aluminum lawn chair is probably someone who takes pride in their outdoor decor and doesn't mind taking care of their piece of furniture.
This can be an important step in justifying the expense since many people who purchase inexpensive lawn chairs don't care for them, but simply use them for a few years before replacing them with something more appealing.
Style Options
Another reason why aluminum lawn chairs seem so expensive is that they give you more options and styles than other types of lawn furniture. You can choose from a wide range of colors and designs, giving you the chance to find something that fits your unique tastes and home decorating needs. This makes them appealing to most people, but it also increases their cost.
Many people love to mix black with white, grey with silver, or pastels with bright colors. This makes it fun to pick out an aluminum lawn chair for your yard to reflect your personal style while also ensuring it will look nice for years to come.
Corrosion Resistant
While these chairs are weatherproof, they're also resistant to rust and corrosion, making it possible for them to look great for years without wearing out. This is an important feature because most aluminum lawn chairs are purchased by homeowners who take pride in their gardens and want their metal pieces to remain attractive for many years.
Aluminum has been shown to be a chemical-resistant material, able to withstand harsh weather and heavy use without rusting, staining, or tarnishing. Perhaps this is why people who buy these chairs don't mind going through the trouble of maintaining them as much as those who go with cheaper alternatives do.
Guide on Buying Lawn Chairs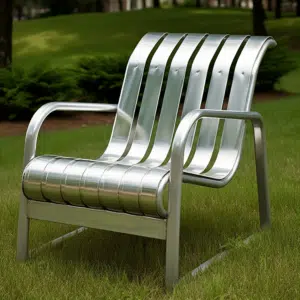 Buying outdoor chairs is a difficult task. You have to consider the size of your patio, what kind of features you want in a chair, and if you can afford it. The truth is that buying outdoor furniture isn't always easy unless you know how to properly pick the piece that will suit your needs best.
Choose the Right Size: The first and most important thing to do is to determine the size of your patio and pick a chair that will fit in it. You want to buy a patio set that will allow you to seat enough people comfortably when they gather together for an outdoor party. Some people prefer to have rectangular outdoor chairs that are meant to seat four people while others would rather have circular patio chairs that can seat up to six or more.
Consider the Look: You also want to take into consideration the look of the furniture you are buying. If you want something traditional, then you can go for traditional outdoor patio chairs. If modern is what you are looking for, then you can opt for modern patio furniture. The style of the furniture you are going to buy has a lot to do with the overall appearance of your patio.
Material: You will have to take into consideration what kind of material works best for your patio. For example, if you want to buy wrought iron furniture, then you can opt for an outdoor table made of this material so it will look more elegant in comparison with other kinds of wooden furniture you can buy for your patio.
Are Aluminum Lawn Chairs Worth It?
Everyone wants the best for their home, but it might be difficult to choose what that is when there are so many options. Aluminum lawn chairs seem like a good choice. They're sturdy and durable, easy on the eyes and skin (no green stains), and look great in any outdoor setting.
If you decide to purchase aluminum lawn chairs, you should think about which manufacturers are the best when it comes to lawn chairs. There are many great options when shopping for aluminum lawn chairs, but it's important to take certain factors into consideration if you want to find the best value for your money.
Find out what the reputation of the manufacturer is within the industry, how long they've been selling their chairs, and what types of products they make.